How To Book TRAVIS TRITT For Your Event!
Travis Tritt may be available for your next special event!



Grand Ole Opry Member
-- since 1992
How to Hire TRAVIS TRITT For Your Event!
Popular requests:
BOOKING FEE (booking price, booking cost).
GRAMMY AWARD winning James Travis Tritt is an American country music singer, songwriter, and actor.
Travis Tritt fell in love with music as a child, teaching himself how to play guitar when he was eight and beginning to write songs when he was 14. He was determined to have a musical career, but his parents didn't encourage him to follow his instincts. His mother didn't mind that he wanted to perform, but she wanted him to sing gospel (his first musical performances were made in children's choir at First Assembly Church of God); his father was afraid there was no money in singing.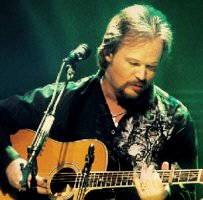 Hire Travis Tritt for your festival or concert plans!
When he was 18, he tried to settle down, work and have a family, but he was unsuccessful – he was married and divorced twice before he was 27. He continued to play music while working various jobs, including one at an air-conditioning company. The company's vice-president was a guitarist who gave up hopes of a musical career and he urged Tritt to follow his dreams. Travis quit his job and began pursuing a career full-time.
In 1982, Travis Tritt began his pursuit by recording a demo for a promotion man, who happened to be an executive at Warner Brothers. For the next several years, Travis recorded demos while he played the honky tonk circuit. The singer was developing a distinctive sound, adding elements of country-rock and Southern rock to his honky tonk.
Part way through in 1989, Warner Brothers' Nashville division signed Travis Tritt. Their investment paid dividends immediately as his first single, "Country Club," which still ranks among his top-selling singles, went Top 10 on the charts in 1989. The album, "Country Club", came out in 1990, and songs like "Put Some Drive In Your Country" earned Tritt a reputation as a country singer with one foot in rock.
Despite his success, the Nashville music industry was hesitant to embrace Travis Tritt. His music and stage show owed too much to rock & roll, and his image didn't conform with the behatted legions of new male singers. Nevertheless, Travis had a breakthrough success with his second album, 1991's "It's All About To Change." Prior to its release, he had hired manager Ken Kragen, who also worked with Lionel Richie, Trisha Yearwood, Kenny Rogers, and "We Are the World." Kragen helped market Travis Tritt in a way that appealed to both country fans and a mass audience, sending "It's All About To Change" into multi-platinum territory.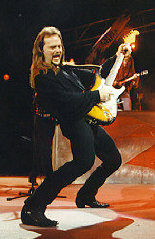 Hire Travis Tritt for your special event or occasion.
"T-R-O-U-B-L-E," Tritt's third album, was released in 1992. Although it didn't match the success of "It's All About To Change," it had the number one single "Can I Trust You With My Heart" and went Gold. Travis bounced back to form in 1994 with "Ten Feet Tall & Bulletproof," which went Platinum, spawned the number one single "Foolish Pride" and marked his highest position, number 20, on the pop charts. His 1995 compilation, "Greatest Hits – From the Beginning", went platinum within six months of its November release.
A part in the 1993 made-for-TV movie "Rio Diablo" led to feature film work in "The Cowboy Way" and "Sgt. Bilko." Travis Tritt also had a role in HBO's "Tales From The Crypt," performed in the Atlanta area for a Disney concert special titled "Coming Home," and provided half-time entertainment for a half-billion people at 1993's Super Bowl. The "Rhythm, Country & Blues" album, produced by Don Was, found Tritt singing with Patti LaBelle and he reunited The Eagles on the video shoot for "Take It Easy" from the "Common Thread: The Songs Of The Eagles" album. Tritt released a holiday album in 1992, "A Travis Tritt Christmas: Loving Time Of The Year." His autobiography, "Ten Feet Tall And Bulletproof," was released in conjunction with the album of the same name in 1994.
On his next album, "The Restless Kind," Travis Tritt decided not to use long-time producer Gregg Brown. Instead, he shared production duties himself with master producer Don Was and the two opted to go for a more traditional country sound, getting back to Tritt's musical roots. The result was a record that captures an artist at the peak of his creative powers, while keeping a personal and friendly feel. Among the many memorable performances were "More Than You'll Ever Know" and "Where Corn Don't Grow."
Tritt wrote or co-wrote five songs for "No More Looking Over My Shoulder," his next release (with Stewart Harris, Bruce Ray Brown and fellow Grammy-winners Gary Baker and Frank J. Myers as his collaborators). Rising country star Michael Peterson, co-writing with Craig Wiseman, contributed the album's title cut. Bowing to his rock 'n' roll impulses, Travis Tritt covered two songs written by Bruce Springsteen and Jude Cole. The remaining all-star writers on the album are J. P. Pennington and Les Taylor (of Exile fame), Larry Cordle (who wrote the Ricky Skaggs' hit, "Highway 40 Blues") and Leslie Satcher (composer of Pam Tillis' "I Said A Prayer").
The plaintive and heartfelt ballad, "If I Lost You," was the first single from the new package. It also served as the soundtrack for the final music video in the trilogy that features Travis Tritt as wounded war veteran Mac Singleton. "The first video, 'Anymore,' dealt with the friendship of two injured Vietnam vets, Mac and Al," Travis says. "The second, 'Tell Me I Was Dreaming,' concentrated on Mac and his pregnant wife, Annie, who is accidentally killed. But the baby, Annie, is saved. The third follows the story of Mac and Annie."
Most songs are written first and the concept for the video follows. "This was just the opposite," Travis says. "The other videos were so poignant and had such a strong message that I started thinking about what would Mac be doing right now? What kind of life would he have? I kept getting this picture of him watching Annie, now 5. I saw him thinking, 'I've lost the use of my legs. I've lost my wife. I've lost belief in myself. I've lost so many things in my life and I've learned to come to grips with all that. But I've built everything around you, Annie. There's no way in the world I could live if I lost you.'
Two more singles, "No More Looking Over My Shoulder" and "Start The Car," followed. In the summer of 1999, after 10 years with the label, Travis Tritt asked to be released from Warner Bros. records citing the need for a change. The parting was amicable and Travis has since been pursuing several of his many interests besides music (participating in an unbelievably successful series of Radiothons with other country stars to benefit St. Jude Children's Research Hospital in Memphis, as well as acting in a couple of TV shows: "Touched By An Angel" on CBS and "Arli$$" for HBO).
Travis signed a new record deal with SONY Nashville, allowing him to continue putting out the kind of music that has made him one of the most loved and respected musicians in the music business. When that happens, the road can't be far away and, once again, thousands of crazed fans will congregate in venues across America and the world to scream....
"TRAVIS...TRAVIS...TRAVIS"
Awards include --
| | | |
| --- | --- | --- |
| Grammy | Best Country Collaboration With Vocals | 1998 |
| TNN/Music City News | Vocal Collaboration of the Year | 1993 |
| CMA | Vocal Event of the Year | 1993 |
| Music City News Country | Star of Tomorrow | 1992 |
| TNN/Music City News | Star of Tomorrow | 1992 |
| CMA | Vocal Event of the Year | 1992 |
| Grammy | Best Country Vocal Collaboration | 1992 |
| CMA | Horizon Award | 1991 |
| TNN/Music City News | Song of the Year | 1991 |
Hit songs include --
Anymore
Best of Intentions
Can I Trust You With My Heart
Foolish Pride
Help Me Hold On
Here's a Quarter (Call Someone Who Cares)
I'm Gonna Be Somebody
It's a Great Day to Be Alive
Love of a Woman
Tell Me I Was Dreaming
The Whiskey Ain't Workin'
Drift off to Dream
More Than You'll Ever Know
Nothing Short of Dying
Lord Have Mercy on the Working Man
Where Corn Don't Grow
Country Club
Help Me Hold On
Put Some Drive In Your Country
Looking Out For Number One
Ten Feet Tall and Bulletproof
Start the Car
No More Looking Over My Shoulder
If I Lost You
Still in Love With You
She's Going Home With Me
Only You (And You Alone)
Modern Day Bonnie and Clyde
Strong Enough to Be Your Man
Country Ain't Country
The Girl's Gone Wild
I See Me
You Never Take Me Dancing
Hire Travis Tritt for your party or event!
Travis Tritt may be available for your next special event!
Book Travis Tritt, now!
For other great suggestions for booking music acts, look here.
Listen to music:
YouTube Music | Spotify

Genre: Country
Styles:
.Country-Rock. / CountryRock
.Outlaw Country. / OutlawCountry
.Southern Rock. / SouthernRock
.New Traditionalist. / NewTraditionalist
.Contemporary Country. / ContemporaryCountry
.Honky Tonk. / HonkyTonk


Years active:
x90s, x00s, x10s, x20s
1989-present

Born: ..in Georgia / born nGeorgia
Born: ..in Marietta / born MariettaGA
Born: Feb 9, 1963

Based: ..in US