How To Book TRICK DADDY For Your Event!
Trick Daddy may be available for your next special event!



Trick Daddy (formerly known as Trick Daddy Dollars or T Double D) grew up in the Liberty Square Housing Projects of the Liberty City section of Miami, Florida.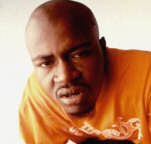 He has seen his share of trying times. As one of 27 children between his mother and father, Trick got more ass whippings than lectures during his formative years.
Although Trick wasn't born with a silver spoon dangling from his gold baby teeth, he absorbed every lesson that his parents embedded in him. But instead of letting the ghetto that surrounded him take him under, the Liberty City survivor made the most out of an unpleasant situation.
Naturally, Trick Daddy imparts those same self-taught life lessons within his rhymes.

"A lotta black folks learn to tell jokes to better deal with their problems, and that's how I learned to deal with my problems growing up," he enlightens. "We growed up hard in the projects, on welfare and food stamps. So instead of going to school and have somebody talk about my momma on food stamps or welfare, I would tell them 'my momma gotta go get recertified for her food stamps' or 'we gone trade these food stamps in and go get in the dice game.' I learned to laugh and joke at myself, so before you know it, they're on my side. They're waiting on me to crack on somebody else."
"I come from a big family. All of us are different and got our own ways," says Trick. "My daddy (is) a real street nigga. My momma is from Carolina, so she growed up in the struggle. My momma got 11 children from 10 different men. My daddy got 16 sons from all kinds of women.
"My momma met my daddy in Miami. Both of them are hood; they are ghetto. If my momma and daddy would've stayed together, one of them would've been dead, and the other would've been locked up for it."

Trick Daddy has been one of the most prolific southern talents since he first stepped onto the scene on Uncle Luke's timeless 1996 dance floor staple, "Scarred." He has built a substantial following in the South, with the regional hits "Nann Nigga" and "Shut Up" before breaking through to achieve national prominence in 2001 with his hit singles "Take It To Da House" and "I'm A Thug."
He has since had hit singles in "In Da Wind," "Sugar (Gimme Some)" and "Let's Go," which featured Twista & Lil Jon and production by Jim Jonsin, that was highlighted by a crunked up version of the Ozzy Osbourne staple "Crazy Train." "Let's Go" is one of his Trick Daddy's most successful hits to date, peaking at #7 on the Billboard Hot 100 singles chart.
As of this writing he has spawned five solo albums, four gold and platinum plaques and a bevy of ghetto hymnals. Generating such diverse hits as battle of the sexes "Na'an" with female agitator Trina, light-hearted ditty "Shut Up" and socially aware "Amerika," Trick Daddy hoisted himself from the Southern underground to national admiration.
"If you evaluate the stuff I said in my past albums, I kept it real from day one. It's easy to keep it real; that way, you won't get caught up in being a fake," Trick explains.
"Rappers tend to use words sometimes that just rhyme and don't really mean nothing. I tell it like it t-i-is. I tell it like I see it. I tell it like I vision it. I tell it like I live it. It ain't no fantasy raps in here," Trick enlightens.
Hit songs include --
Nann
Let's Go
Sugar (Gimme Some)
I'm A Thug
Take It To Da House
Shut Up
Thug Holiday
Bet That
In Da Wind
Tuck Ya Ice
Trick Daddy may be available for your next special event!
Watch videos:
YouTube

Genre: Rap
Styles:
.Hardcore Rap. / HardcoreRap
.Gangsta Rap. / GangstaRap
.Dirty South. / DirtySouth


Years active:
x90s, x00s, x10s, x20s

Born: ..in Florida / born nFlorida
Born: ..in Miami / born MiamiFL
Born: Sep 27 1973

Based: ..in US
Based: ..in Florida / based nFlorida
Based: ..in Miami, ..in Fort Lauderdale area / based MiamiFL