How To Book TRISHA YEARWOOD For Your Event!
Trisha Yearwood may be available for your next special event!





Grand Ole Opry member
-- since 1999
GRAMMY AWARD winning Patricia Lynn Yearwood, known professionally as Trisha Yearwood, is an American singer, actress, author and television personality.
Possessing a vocal ability that can convey any emotion, Trisha Yearwood dances through distinct facets of country, folk, rock and pop with unashamed interpretation and breathtaking verse.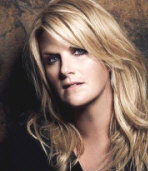 Trisha Yearwood's commitment and poise have paid off since day one. Growing up in rural Monticello, Georgia, a love of music and performing led her to Nashville. There she studied at Belmont College, worked odd jobs (such as record label receptionist and tour guide at the Country Music Hall of Fame), and most importantly began singing on songwriters' demos in which her pitch-perfect voice was heard by record company executives all over the industry.
After signing with MCA Nashville in 1990 and releasing her debut single "She's In Love With The Boy" (which went to #1), the floodgates burst open. The next year, "Trisha Yearwood" became the first debut album by a female country artist to ever reach platinum status, thus firmly establishing the young singer as an important new voice in music.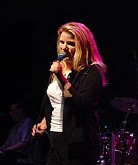 Since then, songs such as "Wrong Side of Memphis," "XXX's and OOO's (An American Girl)," "Believe Me Baby (I Lied)," "The Song Remembers When," "Everybody Knows" and an armory of other hits have propelled her career continuously upwards, with her seven subsequent albums selling in excess of thirteen million copies. In addition, she has earned ten #1 singles, nine top-10's, three Grammy Awards, multiple Country Music Association and Academy of Country Music Awards and an American Music Award (among others). Her song "How Do I Live" (written by Diane Warren and featured in the movie "Con-Air") was nominated for an Oscar, giving Trisha an opportunity in 1998 to fulfill a dream – a performance on the Academy Awards.
Accordingly, the release of her 1997 greatest hits package ("Songbook - A Collection of Hits") capped six albums worth of solid work. Not only did it debut at number one, as well as carry all three previously unrecorded singles to the same position ("How Do I Live," "In Another's Eyes" and "Perfect Love"), but it was followed by Trisha's winning of country music's Triple Crown: the Grammy, CMA and ACM awards for Female Vocalist of the Year.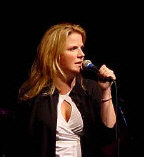 Hand in hand – though certainly more gratifying – is the continued respect she has been shown from her fans, the media and the industry. Trisha Yearwood has performed for millions of listeners in settings ranging from quaint theaters to major arenas and stadiums across the globe. She sang at the closing ceremonies of the 1996 Olympic Games, dueted with Pavarotti (at his request) in Italy in 1998 and performed (at Quincy Jones' invitation) at the White House for America's Millennium Celebration. Her 1999 induction into the Grand Ole Opry solidified her place within the country community and mirrored her love for it.
Peer recognition and project involvement are also indicative of Yearwood's depth. Her second album, 1992's "Hearts In Armor," paired her with Don Henley on the striking ballad "Walkaway Joe." She won a Grammy for Best Country Vocal Collaboration in 1994 for her rendition of "I Fall To Pieces" with Aaron Neville, and again in 1998 for "In Another's Eyes," her first duet with Garth Brooks. R & B artist/producer R. Kelly requested to work with her on a track for the motion picture "Life." An in-demand duet partner/harmony vocalist, she has also performed, either on record or live on stage, with Mary Chapin Carpenter, Natalie Cole, Bob Dylan, Whitney Houston, Emmylou Harris and Brian McKnight (among others).
Along the way she has also been involved in special projects such as: appearing as herself in the movie "The Thing Called Love," taking on a successful recurring acting role in the CBS television drama "JAG," and authoring the forward to "Love Always, Patsy" – a collection of letters sent by Patsy Cline to a fan. She has also recorded songs for the motion pictures "Hope Floats," "For The Love Of The Game," and "Stuart Little," as well as "Con-Air" and "Life," and the television movie "XXX's and OOO's."
Trisha Yearwood has crafted a musical career that is not only timely, but timeless. Day by day, she has earned success alongside only a handful of others not content with the immediacy of trend or compromise. Fortunately for her, the rewards have duly arrived. Fortunately for music lovers, the inspiration and virtue remain intact.
Awards include --
| | | |
| --- | --- | --- |
| CMA | Female Vocalist of the Year | 1998 |
| CMA | Female Vocalist of the Year | 1997 |
| GRAMMY | Best Country Collaboration With Vocals | 1997 |
| GRAMMY | Best Female Country Vocal Performance | 1997 |
| Academy of Country Music | Top Female Vocalist | 1997 |
| GRAMMY | Best Country Vocal Collaboration | 1994 |
| American Music Awards | Favorite New Artist | 1992 |
| Academy of Country Music | Top New Female Vocalist | 1991 |
Hit songs include --
Believe Me Baby (I Lied)
Perfect Love
She's in Love With the Boy
Thinkin' About You
Xxx's and Ooo's (An American Girl)
How Do I Live
In Another's Eyes
There Goes My Baby
Walkaway Joe
The Song Remembers When
Everybody Knows
I Would've Loved You Anyway
Like We Never Had a Broken Heart
The Woman Before Me
Wrong Side of Memphis
Powerful Thing
That's What I Like About You
You Say You Will
Down On My Knees
Better Your Heart Than Mine
I Fall to Pieces
You Can Sleep While I Drive
I Wanna Go Too Far
On a Bus to St. Cloud
I Need You
Where Your Road Leads
I'll Still Love You More
You're Where I Belong
Real Live Woman
Where Are You Now
I Would've Loved You Anyway
I Don't Paint Myself Into Corners
Georgia Rain
Heaven, Heartache and The Power of Love
This Is Me You're Talking To
They Call It Falling For a Reason
Every Girl in This Town
Hire Trisha Yearwood for your party or event!
Trisha Yearwood may be available for your next special event!
Book Trisha Yearwood, now!
For other great suggestions for booking music acts,
click here.
Watch videos
YouTube

Genre: Country
Styles:
.Contemporary Country. / ContemporaryCountry
.Country-Pop. / CountryPop


Years active:
x80s, x90s, x00s, x10s, x20s
1985-present

Born: ..in Georgia / born nGeorgia
Born: ..in Monticello / born MonticelloGA
Born: Sep 19, 1964

Based: ..in US
Based: ..in Oklahoma / based nOklahoma
Based: ..in Owasso / based OwassoOK

.Orchestra charts available. / OrchestraCharts