How To Book TWENTY ONE PILOTS For Your Event!
Twenty One Pilots may be available for your next special event!



Hits include: "Ride", "Stressed Out",
"Tear In My Heart", "Fairly Local",
"Holding On To You", "House Of Gold",
"Heathens", "Jumpsuit",
"Lane Boy", "Heavydirtysoul",
"Nico and the Niners", "Levitate",
"My Blood", "Chlorine", "The Hype",
"Polarize", "Doubt", "The Judge",
"We Don't Believe What's On TV",
"Goner", "Lovely", "Guns For Hands",
"Car Radio", "Message Man",
"Level of Concern", "Shy Away",
"Christmas Saves the Year",
"Choker", "Saturday", "The Outside".
GRAMMY AWARD winning Twenty One Pilots is an American musical duo from Columbus, Ohio.
Initially a band, the group was formed in 2009 by lead vocalist Tyler Joseph along with Nick Thomas and Chris Salih, who both left in 2011. Since their departure, the line-up has consisted of Joseph and drummer Josh Dun. The duo is best known for their singles "Stressed Out", "Ride", and "Heathens".

The group received a Grammy Award for Best Pop Duo/Group Performance at the 59th Annual Grammy Awards for "Stressed Out". The band independently released two albums, Twenty One Pilots (2009) and Regional at Best (2011), before being signed by record label Fueled by Ramen in 2012. Their label debut, Vessel, was released in 2013 and became the second album in history on which every track received at least a gold certification, making Twenty One Pilots the first band in the history of music to see every song on two albums earn gold or platinum awards.

The duo achieved breakthrough success with their fourth album, Blurryface (2015), which produced the successful singles "Stressed Out" and "Ride" and became the first album on which every track received at least a gold certification from the Recording Industry Association of America.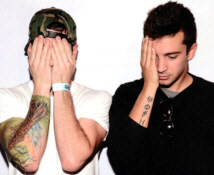 The duo grew up in strict Christian households where they had to either conceal their pop punk and hip hop albums from the censure of their parents, or find faith-friendly counterparts. Both still identify as Christians, albeit doubting ones. According to Dun, "I'd hide albums like Green Day's Dookie under my bed. They'd find a Christian alternative, like Relient K, and make me listen to that." However, his parents eventually relaxed on rock music, even allowing Dun to assemble a live drum kit in their basement. Joseph's very first favorite band was the Christian rap rock trio, DC Talk. He taught himself the piano by playing along to songs on the radio by artists like the Beatles and Celine Dion.

Twenty One Pilots's musical style has been described as alternative hip hop, electropop, indie pop, pop rock, rap rock, alternative rock, rock, synth-pop, pop, electronica, electronic rock, indie rock, hip hop, and indietronica with reggae, folk, psychedelic, new wave, and funk influences.
Hire Twenty One Pilots for your party or event!
Twenty One Pilots may be available for your next special event!
Book Twenty One Pilots, now!
For other great suggestions for booking music acts,
look here.

For more suggestions, proceed to the next page.
Click here --
Rap Music Roster or Alternative Music Roster
Or, click on one of the below links --
Music Menu
Fast Index
Entertainers Directory
Home