How To Book TWENTY-ONE PILOTS For Your Event!
Twenty-One Pilots may be available for your next special event!




Hits include: "Ride", "Stressed Out",
"Tear In My Heart", "Fairly Local",
"Holding On To You", "House Of Gold",
"Heathens", "Jumpsuit",
"Lane Boy", "Heavydirtysoul",
"Nico and the Niners", "Levitate",
"My Blood", "Chlorine", "The Hype",
"Polarize", "Doubt", "The Judge",
"We Don't Believe What's On TV",
"Goner", "Lovely", "Guns For Hands",
"Car Radio", "Message Man",
"Level of Concern", "Shy Away",
"Christmas Saves the Year",
"Choker", "Saturday", "The Outside".
How to Hire TWENTY-ONE PILOTS For Your Event!
Popular requests:
BOOKING FEE (booking price, booking cost).
GRAMMY AWARD winning Twenty-One Pilots is an American musical duo from Columbus, Ohio.
Initially a band, the group was formed in 2009 by lead vocalist Tyler Joseph along with Nick Thomas and Chris Salih, who both left in 2011. Since their departure, the line-up has consisted of Joseph and drummer Josh Dun. The duo is best known for their singles "Stressed Out", "Ride", and "Heathens".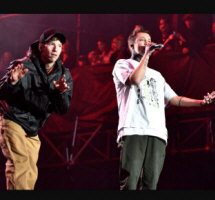 Hire Twenty-One Pilots for your festival or concert plans!
In 2010, the band posted two tracks to their SoundCloud account, a cover of "Jar of Hearts" by Christina Perri and "Time to Say Goodbye", an original song that samples "Con te partirò" by Andrea Bocelli and Sarah Brightman.
On May 31, 2016, a second tour for their Blurryface album, the Emotional Roadshow World Tour, started in Cincinnati. The tour covered the United States, Canada, Mexico, Europe, and Australia. Chef'Special and Mutemath opened for the American leg. Irish singer, Bry, joined the tour for its European leg.
In September 2016, the band contributed a cover of the piano ballad "Cancer" by My Chemical Romance to the tribute album, Rock Sound Presents: The Black Parade.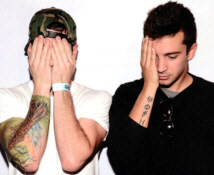 Hire Twenty-One Pilots for your special event!
Joseph and Dun collaborated with alternative rock band Mutemath, for a five-song EP, TOPxMM, composed of remixes and re-imaginings of four tracks from Blurryface as well as "Heathens".
Early material is post-emo, following bands such as My Chemical Romance and Dashboard Confessional, with show tune or glam rock esthetics. At the time of their major-label debut album, Vessel, Twenty-One Pilots was described as an indie rock duo. The album featured a fusion of rap, piano pop, rock and electronica.
Their breakthrough album, Blurryface, expressed elements of pop, EDM, breakbeat, reggae, and dancehall. Over time, hip-hop has become an increasingly prominent musical influence for the band. Twenty-One Pilots has since been hailed as a leading contemporary alternative rock group, having sent four singles to the summit of the hot rock charts, and ten to the top of the alternative charts, with most of their singles reaching at least the top ten as well.
The group received a Grammy Award for Best Pop Duo/Group Performance at the 59th Annual Grammy Awards for "Stressed Out". The band independently released two albums, Twenty-One Pilots (2009) and Regional at Best (2011), before being signed by record label Fueled by Ramen in 2012. Their label debut, Vessel, was released in 2013 and became the second album in history on which every track received at least a gold certification, making Twenty-One Pilots the first band in the history of music to see every song on two albums earn gold or platinum awards.
The duo achieved breakthrough success with their fourth album, Blurryface (2015), which produced the successful singles "Stressed Out" and "Ride" and became the first album on which every track received at least a gold certification from the Recording Industry Association of America.
The duo grew up in strict Christian households where they had to either conceal their pop punk and hip-hop albums from the censure of their parents, or find faith-friendly counterparts. Both still identify as Christians, albeit doubting ones. According to Dun, "I'd hide albums like Green Day's Dookie under my bed. They'd find a Christian alternative, like Relient K, and make me listen to that." However, his parents eventually relaxed on rock music, even allowing Dun to assemble a live drum kit in their basement. Joseph's very first favorite band was the Christian rap rock trio, DC Talk. He taught himself the piano by playing along to songs on the radio by artists like the Beatles and Celine Dion.
Twenty-One Pilots' musical style has been described as alternative hip-hop, electropop, indie pop, pop rock, rap rock, alternative rock, rock, synth-pop, pop, electronica, electronic rock, indie rock, hip-hop, and indietronica with reggae, folk, psychedelic, new wave, and funk influences.
In 2017, Twenty-One Pilots performed at the The Hangout Beach, Music & Arts Festival along with The Head and the Heart, Sigur Rós, Major Lazer, Band of Horses, Tory Lanez, Local Natives, RÜFÜS DU SOL, Louis the Child, Cheat Codes, MuteMath, and Rainbow Kitten Surprise.
In 2020, the band performed at the Main Square Festival along with Black Eyed Peas, Pixies, Sting, Sum 41, Alan Walker, Madeon, Alec Benjamin and Roger Hodgson.
Their discography includes six studio albums, three live albums, 10 extended plays, 28 singles and 33 music videos.
Hire Twenty-One Pilots for your party or event!
Twenty-One Pilots may be available for your next special event!
Book Twenty-One Pilots, now!
For other great suggestions for booking music acts, look here.

For more suggestions, proceed to the next page.
Click here --
Rap Music Roster or Alternative Music Roster
Or, click on one of the below links --
Music Menu
Fast Index
Entertainers Directory
Home