How To Book TWO FRIENDS For Your Event!
Two Friends may be available for your next special event!




How to Hire TWO FRIENDS For Your Event!
Popular requests:
Booking fee, booking price, or booking cost.
Two Friends is an American DJ/producer duo made up of Eli Sones and Matthew Halper.
The Los Angeles-based duo gained popularity for their remixes, original discography, and hour-long "Big Bootie" mixes. They have most notably remixed classics such as Blink 182's "I Miss You" and The Killers' "Mr. Brightside", with official remixes for Lana Del Rey, Tove Lo, The Chainsmokers, Tori Kelly, Vicetone and Echosmith as well.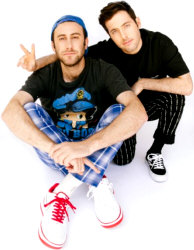 Hire Two Friends for your festival or concert plans.
Soon after starting to create music together, Sones moved to Nashville, Tennessee, to attend Vanderbilt University and Halper to Palo Alto to attend Stanford University. Halper majored in Product Design and Sones in Human & Organizational Development, but much of their time was dedicated to the Two Friends project. For the most part, the first four years of Two Friends was long-distance; however since graduating and returning home to Los Angeles in 2015, Halper and Sones have been working the Two Friends project full-time.
Two Friends described their music as "songs that are fun and get you dancing and moving, but also hopefully resonate with you on a more emotional level at the same time... [They are] kind of a melting pot of a lot of different elements and influences- whether from dance music, from pop, even from alternative rock or hip-hop."
One of their first big opportunities came in 2014, when their remix of Lana Del Rey's "Born to Die" was added to regular rotation on SiriusXM's EDM Station BPM. Later in 2014, they released two singles with the band Breach the Summit (now known as Armors) titled "Our Names in Lights" and "Long Way Home".
Their next originals came in 2016 with "Forever" and "Overdose" on Armada Music, both amassing millions of plays throughout Spotify, Soundcloud and other streaming services. In 2016, the musical group toured more vigorously than ever before, playing frequently across North America.
The duo has amassed more than twenty-seven #1 tracks on Hype Machine, as well as garnered praise from The Chainsmokers, who named them "Most Underrated Artist" in a 2017 Reddit Thread.
They have undertaken official remixes for artists such as Steve Aoki, Louis Tomlinson, Audien, 3LAU, Vicetone and many more.
Hire Two Friends for your party or event!
Two Friends may be available for your next special event!
Book Two Friends, now!
For other great suggestions for booking music acts, look here.

For more suggestions, proceed to the next page.
Click here --
Electronica Music Roster
Or, click on one of the below links --
Music Menu
Fast Index
Entertainers Directory
Home