How To Book Tyrese For Your Event
Tyrese may be available for your next special event!



Growing up in Watts, a notoriously rough area of Los Angeles, chiseled and handsome African-American singer-actor-model Tyrese Gibson had the big dream to be a garbage man when he grew up. By the age of fourteen, his singing talent had been discovered and soon all hopes for a career in sanitation would be left behind for a shot at stardom.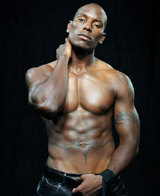 Trying out for a commercial at age sixteen, Tyrese almost blew the audition by arriving late. After hearing a few bars of his singing, producers were won over and cast the young hopeful as the new face of Coca-Cola with a memorable city bus-set spot that showcased his impressive pipes.
In 1996 at age seventeen, the tall, muscular and striking Tyrese began modeling and also made his TV debut on an episode of the ABC series "Hangin' With Mr. Cooper." Guest shots on "Martin" (Fox, 1997) "The Parent 'Hood" and "Sister, Sister" (both The WB, 1998) followed, as did a record contract with RCA, which led to the release of his debut album "Tyrese" (1998). The smooth R&B crooner won over many fans with his first effort, selling enough units to be certified platinum. In 1999, Tyrese replaced Bill Bellamy as host of "MTV Jams," appearing daily on the small screen to present the "MTV Jams Countdown."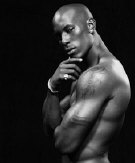 His ease on camera didn't go unnoticed by the industry, which was no doubt searching for projects to attract the good-looking hot property. John Singleton's "Baby Boy" (2000) won out. A gritty drama starring Tyrese as the titular immature young player with two children by two different women, "Baby Boy" would challenge the performer to rise to the formidable task of carrying the lead in a film on his first time out. With his sophomore album "2000 Watts" climbing the charts in 2001, Tyrese cut a track with "Baby Boy" co-star Snoop Dogg, who collaborated on the soundtrack's lead off single "I'm Just a Baby Boy."
Determined to keep music and his community service projects (Tyrese founded the 2000 Watts Foundation, an organization created to better his hometown and provide opportunities to its young citizens) at the fore, Tyrese would likely not be discouraged if his performance in "Baby Boy" led to the end of his acting career. If instead he lived up to the production's high expectations, this triple threat could prove an unstoppable force in entertainment.
Hit songs include --
Sweet Lady
How You Gonna Act Like That
I Like Them Girls
Nobody Else
Signs of Love Makin'
Lately
What Am I Gonna Do
One
Turn Ya Out
Pick Up The Phone
Too Easy
Stay
Nothing On You
Tyrese may be available for your next special event!

Genre: R&B
Styles:
.Contemporary R&B. / ContemporaryR&B
.Urban.


Years active:
x90s, x00s, x10s, x20s

Born: ..in California / born nCalifornia
Born: ..in Los Angeles area / born LosAngelesCA
Born: ..in Watts / born WattsCA
Born: Dec 30, 1978

Based: ..in US
Based: ..in California / based nCalifornia
Based: ..in Los Angeles / based LosAngelesCA

Tag: FormerMemberOf