Visit new page >>>
U2
How To Book U2 For Your Event!
U2 may be available for your next special event!



Hits include: "All Because Of You",
"Angel Of Harlem", "Beautiful Day",
"Discotheque", "With Or Without You",
"City of Blinding Lights", "Desire",
"New Year's Day", "Staring At The Sun",
"The Saints Are Coming", "Numb",
"Even Better Than The Real Thing",
"Hold Me, Thrill Me, Kiss Me, Kill Me",
"One", "Walk On", "Mysterious Ways",
"Magnificent", "Elevation", "The Fly",
"Night And Day", "Sweetest Thing",
"Vertigo", "Lemon", "Ordinary Love",
"Invisible", "Your Song Saved My Life",
"You're the Best Thing About Me".
How to Hire U2 For Your Event!
Popular requests:
BOOKING FEE (booking price, booking cost).
GRAMMY AWARD winning U2 are an Irish rock band from Dublin, formed in 1976. The group consists of Bono (lead vocals and rhythm guitar), the Edge (lead guitar, keyboards, and backing vocals), Adam Clayton (bass guitar), and Larry Mullen Jr. (drums and percussion).
Hire U2 for your festival or concert plans!
Initially rooted in post-punk, U2's musical style has evolved throughout their career yet has maintained an anthemic quality built on Bono's expressive vocals and the Edge's chiming, effects-based guitar sounds. Their lyrics, often embellished with spiritual imagery, focus on personal and sociopolitical themes. Popular for their live performances, the group have staged several ambitious and elaborate tours over their career.
The group's fifth album, The Joshua Tree (1987), made them international superstars and was their greatest critical and commercial success. Topping music charts around the world, it produced their only number-one singles in the US to date: "With or Without You" and "I Still Haven't Found What I'm Looking For".

Hire U2 for your special event!
U2 have released 14 studio albums and are one of the world's best-selling music artists, having sold an estimated 150–170 million records worldwide. They have won 22 Grammy Awards, more than any other band, and in 2005, they were inducted into the Rock and Roll Hall of Fame in their first year of eligibility. Rolling Stone ranked U2 at number 22 on its list of the "100 Greatest Artists of All Time".
The band cites the Who, the Clash, Television, Ramones, the Beatles, Joy Division, Siouxsie and the Banshees, Elvis Presley, Patti Smith, and Kraftwerk as influences. In addition, Van Morrison has been cited by Bono as an influence. The Rock and Roll Hall of Fame mentioned his influence on U2. U2 have also worked with and/or had influential relationships with artists, including Johnny Cash, Green Day, Leonard Cohen, Bruce Springsteen, B.B. King, Lou Reed, Bob Dylan, and Luciano Pavarotti.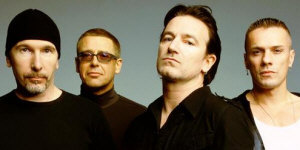 Hire U2.
U2 received their first Grammy Award in 1988 for The Joshua Tree, and they have won 22 in total out of 46 nominations, more than any other group. These include Best Rock Performance by a Duo or Group, Album of the Year, Record of the Year, Song of the Year, and Best Rock Album.
In the UK, U2 have received 7 Brit Awards out of 20 nominations from the British Phonographic Industry, including five wins for Best International Group. They were the first international group to win the Brit Award for Outstanding Contribution to Music. In Ireland, U2 have won 14 Meteor Awards since the awards began in 2001. Other awards won by the band and their members include one American Music Award, six MTV Video Music Awards, eleven Q Awards, two Juno Awards, five NME Awards, and two Golden Globe Awards. The band were inducted into the Rock and Roll Hall of Fame in March 2005. In 2006, all four members of the band received ASCAP awards for writing the songs "I Still Haven't Found What I'm Looking For" and "Vertigo".
In 2018, U2 performed at the iHeart Radio Festival along with Billy Idol, Drake, Miley Cyrus, OneRepublic, Sam Hunt, Sia, Twenty-One Pilots, Ariana Grande, Backstreet Boys, Britney Spears, Cage The Elephant, Florida Georgia Line, Hailee Steinfeld, Pitbull, Sting, Tears For Fears, Usher, and Zedd.
Their discography includes 14 studio albums, one live album, three compilation albums, 67 singles, and nine extended plays (EPs).
Hire U2 for your party or event!
U2 may be available for your next special event!
Book U2, now!
For other great suggestions for booking music acts, look here.

For more suggestions, proceed to the next page.
Click here --
Alternative Music Roster
Or, click on one of the below links --
Music Menu
Fast Index
Entertainers Directory
Home