The first single with Graduate, their initial label, was a double-A coupling of "Food For Thought," a bitter meditation on third-world poverty, and "King," a lament for Dr. Martin Luther King. "King" had seemed to be the favorite with live audiences, but it was "Food For Thought" that got the airplay and became the first hit. The single was released during the tour, without the benefit of major-label marketing or promotion, and headed straight for the top five. Such was the band's impact on their first major live audiences.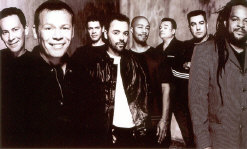 Hire UB40 for your festival or concert plans.
The first album was released on September of that year. The sleeve was a reproduction of the familiar buff-colored dole card (more familiar, at that time, than it had ever been), with the title "Signing Off" apparently rubber-stamped in red. It referred to "signing off" the dole, i.e. getting a job. It was both an acknowledgement of the band's inception, and a celebration of their new status.
Because they were from the West Midlands, and because they were a large mixed race group playing music of Jamaican origin, UB40 were initially thought to be part of the Two-Tone phenomenon which had burst out of nearby Coventry. "Signing Off" made it clear that they were nothing of the sort. They were part of the same social and political tendency, of course, but their musical approach was quite different. Their sound was more relaxed, more sophisticated and sexier. You couldn't help dancing to it, but you could do so without having to hold your hat on.
At the end of 1980, the contract with Graduate expired, and UB40 formed their own record company, DEP International.
Only nine months after "Signing Off," and while it was still in the charts, they released their second album "Present Arms." It was eagerly awaited and did not disappoint. It was as good as its predecessor, and featured "One In Ten," an anthem to rival "Food For Thought" and "Medusa." It even included another bonus 12-inch.
Four months later, in October 1981, the UBs asserted their allegiance to their mentors by releasing a dub version of the album "Present Arms." It could hardly be expected to match the extraordinary popularity of the first two albums, but it did resoundingly well for a dub album and went some way to establishing the band's credentials as serious students of reggae.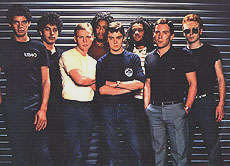 Hire UB40 for your very special event or occasion.
That commitment to innovation was further demonstrated by 1982's album, "UB44." It was an excellent record, unfortunately obscured by over-ambitious packaging. The first pressing was released in a plain black sleeve with a seemingly plain silver square, which actually contained the album's title in the form of a hologram. It was the first such use of holography, which was in its infancy, and the result proved rather too much for the casual purchaser. A brave failure.
The subsequent sleeve featured the monumental logo, now mercifully legible, in the background of an African landscape. It was a souvenir of the band's visit that year, to Zimbabwe – a bizarre story that has to wait for another time...
One year later, in September 1983, UB40 released the album they'd been planning, and putting off, since their first faltering efforts in that cellar in Moseley. It was their first direct tribute to the musicians who had inspired and influenced them, and the title "Labour Of Love" said it all.
"Labour Of Love," including the astonishingly popular single "Red Red Wine," was in the British chart for two years. It gave UBs their first truly worldwide hit and, eventually, their first American No.1.
UB40 have maintained their instantly recognizable and highly distinctive style through nine more albums, as well as two hits compilations. Released in November '87, "The Best Of UB40 - Volume One" stayed in the UK charts for 123 weeks.
"Baggariddim," their adventurous 1985 collaboration with local DJ's also contained "Don't Break My Heart" and "I Got You Babe" (with Chrissie Hynde), both memorable hit singles. Chrissie Hynde joined the band again for "Breakfast In Bed," the hit of the 1988 album simply called "UB40."
1989 saw the release of a second helping of "Labour Of Love," from which "Kingston Town" and "Homely Girl" were hits throughout Europe, while "Here I Am" and "The Way You Do The Things You Do" were similarly successful in the United States.
"Promises & Lies" brought us "I Can't Help Falling In Love With You," the band's biggest American hit to date, and "Guns In The Ghetto" included "Tell Me Is It True," which featured in the film "Speed II." The UBs reaffirmed their commitment to reggae with "UB40 Present The Dancehall Album," a collaboration with leading Jamaican artists, some of which are now recording for the Oracabessa label, founded by Ali and Brian.
There are now three volumes of "Labour Of Love." For more than twenty years, UB40 have continued the job of popularizing reggae around the globe. In the process, they continue to give enormous pleasure to a public too vast to be defined by age, generation tribe or fashion. Welcome to the party!