How To Book VAMPIRE WEEKEND For Your Event!
Vampire Weekend may be available for your next special event!




Hits include: "Unbelievers",
"Cousins", "Diane Young",
"Giving Up The Gun", "Run"
"California English", "White Sky",
"I Think Ur A Contra", "Taxi Cab",
"Step", "A-Punk", "Let It Be",
"Horchata", "Holiday",
"Harmony Hall", "Sunflower",
"Big Blue", "This Life",
"Unbearably White".
How to Hire VAMPIRE WEEKEND For Your Event!
Popular requests:
BOOKING FEE (booking price, booking cost).
GRAMMY AWARD winning Vampire Weekend is an American rock band from New York City, formed in 2006.
The band was formed by lead vocalist and guitarist Ezra Koenig, multi-instrumentalist Rostam Batmanglij, drummer Chris Tomson, and bassist Chris Baio. Batmanglij departed the group in early 2016.
In 2007, Vampire Weekend's song "Cape Cod Kwassa Kwassa" was ranked 67th on Rolling Stone's list of the "100 Best Songs of the Year". In November 2007, they toured the UK with The Shins.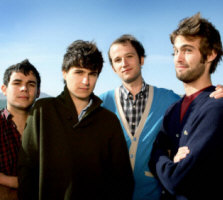 Hire Vampire Weekend for your festival or concert plans!
Vampire Weekend's eponymous first album, Vampire Weekend (2008)—which included charting singles "A-Punk" and "Oxford Comma"—showcased a blend of indie pop, Afropop influences, and chamber music elements, and has been hailed as one of the greatest debut albums.
In the March 2008 issue of SPIN Magazine, they were declared "The Year's Best New Band" and were the first band to be shot for the cover of the magazine before releasing their debut album.
Their following album, Contra (2010), was similarly acclaimed and garnered strong commercial success with debuted at number one on the US Billboard 200; it featured the single "Holiday".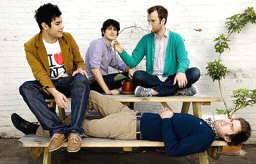 Hire Vampire Weekend for your special event or occasion!
On February 18, 2010, the video for their single "Giving Up the Gun" was released. It included cameos from Joe Jonas, Lil Jon, RZA, and Jake Gyllenhaal.
Also in 2010, Vampire Weekend embarked on a North American tour with Beach House and Dum Dum Girls.
In June 2010, Vampire Weekend performed at the Glastonbury Festival with other artists including Gorillaz, Snoop Dogg, Willie Nelson, Muse, Stevie Wonder, Jack Johnson, Norah Jones, The Flaming Lips, Florence and the Machine, The National, MGMT, The Black Keys, Mumford & Sons, Ellie Goulding, Pet Shop Boys and Tegan and Sara.
In January 2012, President Barack Obama added Vampire Weekend to a short list of musical artists from whom he sought support for his re-election campaign. Also on list were Jay-Z, John Legend, and Alicia Keys.
Vampire Weekend studio albums, Modern Vampires of the City (2013) and Father of the Bride (2019) continued its success, with each album topping the US chart and winning the Grammy Award for Best Alternative Music Album in their respective years.
At the 62nd Annual Grammy Awards, Vampire Weekend received three nominations: Album of the Year and Best Alternative Music Album for Father of the Bride and Best Rock Song for "Harmony Hall". They won for Best Alternative Music Album (their second win in the category).
Their discography includes four studio albums, two extended plays, fifteen singles, and ten music videos.
Hire Vampire Weekend for your party or event!
Vampire Weekend may be available for your next special event!
Book Vampire Weekend, now!
For other great suggestions for booking music acts, look here.

For more suggestions, proceed to the next page.
Click here --
Alternative Music Roster
Or, click on one of the below links --
Music Menu
Fast Index
Entertainers Directory
Home