How To Book VONDA SHEPARD For Your Event!
Vonda Shepard may be available for your next special event!



Vonda Shepard was born in New York City but relocated to California with her family as a child, and studied voice and piano from an early age. She began working in local clubs as a teenager, and before she was 20 had landed slots as a backing singer for Jackson Browne and Rickie Lee Jones (she has also worked with Al Jarreau, Julia Fordham, and Chaka Khan over the course of her career).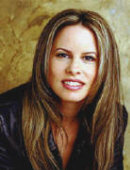 Shepard signed a solo deal with Reprise Records in 1987, and two years later released an anodyne rock collection that muted her distinctive bluesy voice. Her much improved sophomore collection, "The Radical Light," benefited from a more sympathetic production, but Shepard was dropped by Reprise shortly after its release. She retired to the Los Angeles club circuit to lick her wounds, building up a loyal following in the process and releasing an excellent, independently released album in 1996. Her big break came when producer David E. Kelley and his wife, Michelle Pfeiffer, spotted her at a club. Kelley was developing the television series "Ally McBeal," and cast Vonda Shepard as the resident singer in the local bar frequented by the star of the show and her legal co-workers.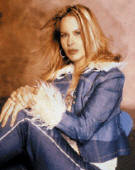 Shepard's "Searchin' My Soul," which originally appeared on her second album, was used as the theme tune to the hit series. An album of songs from the series, which cannily used a picture of the star Calista Flockhart on the cover, climbed to number 7 on the US album chart in May 1998 and sold more than one and a half million copies. The album also broke into the UK Top 5, while "Searchin' My Soul" reached number 10 in the singles chart in December 1998.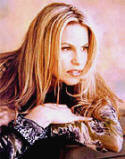 The following year's "By 7:30," which appeared on Jacket Records, was a far more satisfactory overview of Shepard's talents, and included a reworking of a track from her debut album, "Baby, Don't You Break My Heart Slow," recorded with Emily Saliers of the Indigo Girls. Two further collections of "Ally McBeal" songs have subsequently been released.
Vonda Shepard could be described as many things: angelic, ambitious, determined, sincere, sensitive, and an artist in the truest sense. Anyone who has met her or even just heard her sing, will tell you of a gentle soul that radiates spirit, a spirit that is carried into her records. If you doubt this at all, just watch her lips when she sings.
The miracle of her music is that she almost speaks in tongues, relaying her deepest emotions only in the subconscious. "I think of it as letting go of the controlling part of the brain, and letting the subconscious take over."
Hits include: "Don't Cry Ilene",
"Searchin' My Soul".
Other notable songs include --
My Heart Slow
Can't We Try
Maryland
Confetti
This Is Crazy Now
You and Me
Chances Are
You Belong to Me
Walk Away Renee
Vonda Shepard may be available for your next special event!
Watch videos.
YouTube

Genre: Rock 1
Styles:
.Adult Contemporary. / AdultContemporary
.Adult Alternative Pop/Rock. / AdultAlternativePopRock


Years active:
x80s, x90s, x00s, x10s, x20s

Born: ..in New York / born nNewYork
Born: ..in New York City / born NewYorkNY
Born: Jul 7, 1963

Raised: ..in California

Based: ..in US
Based: ..in California / based nCalifornia
Based: ..in Los Angeles / based LosAngelesCA