How To Book THE WAILERS For Your Event!
The Wailers may be available for your next special event!



The Wailers, after successfully completing a sold out 1999 spring and summer tour led by Aston "Familyman" Barrett, plan to carry on the spirit and musical dominance that was created by Bob Marley and "Familyman."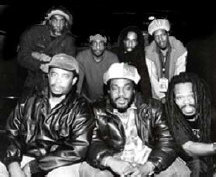 Recognized throughout the world as the architect of reggae, "Familyman" created a music genre that rose to world domination when he teamed up with Bob Marley as his bassist and musical director. "Familyman" and his band, The Wailers, have continued to tour the world leaving no doubt that the musical legacy he and Bob Marley created.
"Familyman" has pushed the limits of The Wailers by assembling 7 of the original band members that toured with Bob Marley, making this reunion an unprecedented musical event.
The name Wailers first applied to groups led by Bob Marley, Peter Tosh, and Bunny Livingston in the mid-sixties, when ska was the ruling sound in Jamaican music. By the end of the decade this triumvirate had teamed up with the Barrett brothers and begun to dominate the early reggae scene, recording untold hits for producer Lee "Scratch" Perry.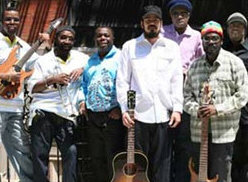 After signing to Island Records in 1971, the name Wailers referred to Bob Marley's backing band. When Peter and Bunny then left the group two years later, it was officially passed on to Aston "Familyman" Barrett and his late brother Carlton, who died in 1987. Bob Marley and The Wailers would then go on to break musical history by selling well over 250 million records worldwide. Clearly, "Familyman" is the sole beneficiary of The Wailers' mantle and while other long-standing members still record and tour with the band, it is Marley's former bassist and musical arranger, "Familyman," who continues to spearhead his musical legacy.
Apart from "Familyman" himself, the current line-up includes guitarist Al Anderson, percussionist Alvin "Seeco" Patterson and organist Earl "Way" Lindo, all of whom played alongside "Familyman" and Marley on many of those unforgettable recordings and live performances for the seventies. They are joined by Marcia Griffiths - still the reigning queen of Jamaican reggae music. Other current band members include the brass section from the TNT Bob Marley One Love special - Chico Chin, Nambo Robinson, and Everton Gayle, who between them have played on countless reggae classics, including Bob Marley and The Wailers. The lead singer is former City Heat vocalist Gary "Nesta" Pines, who is widely regarded as The Wailers' best frontman since the late, great Bob himself, while keyboard player Earl Fitzsimmonds has toured with former Wailer, Bunny Wailer.
In Summary, The Wailers Band remains the world's ultimate roots rock reggae outfit. No other aggregation can match them for either the depth or quality of their hit songs, or their widespread appeal. The cap still fits and, yes, the crowd still wants more.
Aston "Familyman" Barrett is one of the most successful reggae musicians of all time. He is also the most venerated, after having orchestrated the roots reggae sound with Bob Marley into a national superstar.
Born in Kingston, Jamaica in November 1946 and self-taught, his first ever recording session in 1967 yielded a notable Jamaican hit for The Uniques with "Watch This Sound." He also played sessions for Treasure Isle, Bunny Lee and several other legendary JA producers at this early stage of his career, notching up innumerable local hits in the process. He and his brother Carlton had started out playing live gigs as members of the Hippy Boys alongside Max Romeo, whose crossover hit "Wet Dream," "Familyman" also played on. The Hippy Boys' own debut hit was "Dr. No Go" in 1969, a tune which cemented their reputation as Jamaica's foremost rhythm section. That same year the two Barrett brothers played on two other memorable instrumental sides, both of which stormed the international charts; namely The Upsetters' "Return of Django," and Harry J All-Stars "Liquidator," the rhythm of which later reappeared behind The Staple Singers' 1972 hit "I'll Take You There."
From this point onwards, the Barrett brothers became the most in-demand session musicians in Jamaica, and not least by Lee "Scratch" Perry, who called them the Upsetters, and built his own early reputation upon their tight, innovative skills. Bob Marley, too, spotted them right from the beginning, having first enlisted their services as early as 1968. Their first successful collaborations between Marley's Wailers and the Barrett brothers were produced the following year by Perry and were to change the face of Jamaican music forever.
Songs like "Duppy Conqueror," "Small Axe" and "Soul Rebel" helped redefine reggae by slowing down the beat and introducing cultural messages into what had formerly been considered a novelty music by non-Caribbean audiences. With "Familyman" as the helm in this capacity as The Wailers' music director, the group signed with Island Records in 1971 and released their "Catch A Fire" album to universal acclaim.
As the decade unfurled, several other best-selling albums confirmed The Wailers status as the world's premier reggae band. In addition, "Familyman" continued to play endless sessions for other Jamaican producers, contributing bass, piano, organ and rhythm guitar, as well as co-production skills, to a vast number of undisputed roots reggae classics of the seventies. Artists such as Peter Tosh, Bunny Wailer, Augustus Pablo, Burning Spear, Big Youth, Horace Andy, John Holt, Dennis Brown, The Abysinnians, Jacob Miller, Dillinger, Little Roy, Yabby You, Junior Delgodo and many others all profited from his talents during this era, which is widely referred to as reggae's golden age. If the source of all this inspiration could be attributed to just one key musical influence, that person would have to be Aston "Familyman" Barrett.
Many successful US and European tours resulted after Marley's death in 1981, since The Wailers' band has consistently promoted his music to am international audience. Still led by "Familyman" himself, they continue to represent the true legacy of reggae music.
Marcia Griffiths began her professional singing career at the age of sixteen for Byron Lee and the Dragonaires band. Her recording years started at Coxsone Dodd-Studio One where she recorded her first hit "Feel Like Jumping," then she moved to the Harry J label teaming with great songwriter/vocalist Bob Andy, to achieve their first international hits "Young Gifted and Black" and "The Pied Piper." Following that debut success, she went solo again on the High Note label with Reggae's sole established female producer-Sonia Pottinger-hitting with several songs, including her own "Stepping Out of Babylon."
In 1973 Marcia became part of a group called the I-Threes. Together with Rita Marley and Judy Mowatt the I-Threes sang backing vocals for Bob Marley and the Wailers. For the remainder of the decade the I-Threes recorded and toured with Marley all over the world opening doors for reggae and raising the consciousness of millions to its hypnotic beat.
1989-1991 Marcia Griffiths won the Jamaican Musical Industry Awards and Caribbean Music Awards for Best Female Vocalist three consecutive years. In 1986 she won Best Dressed Female at the Jamaican Rockers Awards. She has also won the title of Best Female Vocalist on numerous occasions on radio and local reggae awards. In 1991 and 1992 she received the award for Best Female Vocalist at the Annual International Reggae Music Awards in Chicago, Illinois. In 1993 she was conferred the Jamaica Order of Distinction by the Governor General of Jamaica, Honorable Howard Cooke, in recognition of services in the field of entertainment. In 1994 she performed at the induction ceremony of Bob Marley into the Rock and Roll Hall of Fame alongside entertainers such as Elton John, Eric Clapton and Mariah Carey. She also received the "Living Legend" Award for outstanding contribution to Reggae Music and Jamaica's culture at the Soca Awards.
Marcia Griffiths is one of the leading artists on the Penthouse label by Producer Germain. She has a popular song "Close to You" which was written by Beris Hammond, who is also a part of the Penthouse crew. Marcia gained solo international recognition with her monster hit "Electric Boogie." This song was first recorded in 1982 and went to the #1 spot on the Jamaican Record charts. A new dance the Electric Slide was created from the "Electric Boogie" song and, as a result, sales soared and the "Electric Boogie" and the "Electric Slide" have become popular in to US. In 1997 she released her album "Land of Love" which sat on top of the reggae charts in New York, Miami and London. She toured Japan along with Girlztown and created history s the first all female group to tour Japan in Reggae Japan Splash. In 1999 she released "Certified" which was produced by Willy Lindo one of Jamaica's top producers.
All of these accomplishments have brought Marcia Griffiths to the forefront of the entertainment scene as a reggae internationalist. And it is no doubt that she deserves the royal and prestigious title of "Queen of Reggae."
When Bob Marley went solo in 1974, on the brink of international stardom, he surprised the Kingston music community by choosing as his lead guitarist a soft-spoken American named Al Anderson. Anderson already had impressive credentials as a result of his studio work in London and America, and playing with such stunning lead work on such classics as "No Woman No Cry," "Dem Belly Full" and "Curfew (Three O'clock Road Block)" that made instant converts of Jamaica's reggae fans.
Anderson has gone on to play with some of the biggest names in the business, including The Rolling Stones, but it is his years with the reggae master that provided some of his most magical moments. "We went from being completely broke in 1974, sleeping on the floors at Tuff Gong, Bob's headquarters, to huge successes internationally" recalls Anderson, speaking from his current base in Germany. Among the high points are the Zimbabwe Independence celebrations in April of 1980, where Anderson and the Wailers played to more then 100,000 ecstatic people. A similar-sized crowd awaited them two months later in Milan, in a soccer stadium where the Pope had appeared the week before. The Wailers outdrew the Pope!
On Bob Marley's 1978 tour, recorded for the double album "Babylon by Bus," Anderson remembers "Bob telling me, 'Now you can fly. Go for it!'" The result was one of the most tumultuously vital and ground breaking live albums ever, a landmark not just in reggae, but in pop music as well, dueling lead guitars soaring to heights of passion and bringing tens of thousands of fans to their feet in a state of rapture. That album, in addition to all the others that Anderson played on with Bob Marley, went gold, and still continues to sell unabatedly.
Over a billion dollars worth of Bob Marley's music, featuring Al Anderson's evocative guitar, has been sold worldwide. "Legend," Marley's 1984 greatest hits anthology, has passed the ten million sales mark, and the "Songs of Freedom" 4-CD box set has already sold a million copies, a figure matched only by that of Led Zeppelin.
Bob Marley's former partner in The Wailers, Peter Tosh, lured Anderson away for his "Legalize It" and "Equal Rights" tours in the mid-70's, and at the time of Peter Tosh's murder in 1987, Anderson was preparing a new group to accompany Tosh on a world tour. During the 80's, Anderson was an intermittent participant in the tours of the Wailers and Inner Circle. The fall of the Berlin Wall found Anderson jamming with James Brown at that historic site. He has also played with Stevie Wonder, Steel Pulse, Third World and Stanley Clarke. German fans recognize his melodious work with Heavy Roots and Papa Winnie. He brings a tasteful elegance to everything he plays, often helping lift ordinary music to an entirely different level.
Hit songs include --
Other notable songs include --
Blackman Know Yourself
Burnin' and Lootin'
Duppy Conqueror
Exodus
Get Up, Stand Up
How Many Times
I Shot the Sheriff
Jammin'
No Woman, No Cry
One Love
Put It On
Simmer Down
Small Axe
Soul Shakedown Party
The Wailers may be available for your next special event!
Watch videos.
YouTube

Genre: Reggae
Styles:
.Rocksteady. / xRocksteady
.Dub. / xDub
.Roots Reggae. / RootsReggae


Years active:
x60s, x70s, x80s, x90s
1963-present

Formed: ..in Jamaica
Formed: ..in Kingston
Formed: in 1963

Based: ..in Jamaica