How To Book THE WAR ON DRUGS For Your Event!
The War on Drugs may be available for your next special event!



Hits include: "Holding On",
"Under the Pressure", "Pain",
"Thinking of a Place", "Red Eyes",
"I Don't Live Here Anymore",
"Change".
How to Hire THE WAR ON DRUGS For Your Event!
Popular requests:
BOOKING FEE (booking price, booking cost).
GRAMMY AWARD winning The War on Drugs is an American rock band from Philadelphia, Pennsylvania, formed in 2005.
The band consists of Adam Granduciel (vocals, guitar), David Hartley (bass guitar), Robbie Bennett (keyboards), Charlie Hall (drums), Jon Natchez (saxophone, keyboards), Anthony LaMarca (guitar) and Eliza Hardy Jones (keyboards).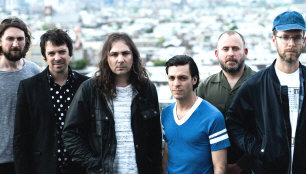 Hire The War on Drugs for your festival or concert plans!
Founded by close collaborators Adam Granduciel and Kurt Vile, The War on Drugs released their debut studio album, Wagonwheel Blues, in 2008. Vile departed shortly after its release to focus on his solo career. The band's second studio album, Slave Ambient, was released in 2011 to favorable reviews and a lengthy tour.
In 2012, the band performed at the Lollapalooza Festival alongside Of Monsters and Men, Red Hot Chili Peppers, The Black Keys, Jack White, Florence + the Machine, The Shins, Franz Ferdinand, Frank Ocean, The Head & the Heart, Alabama Shakes, Walk Off the Earth.
The band's third album, Lost in the Dream, was released in 2014 following extensive touring and a period of loneliness and clinical depression for primary songwriter, Granduciel. The album was released to widespread critical acclaim and increased exposure.
The War on Drugs released their fourth album, A Deeper Understanding, in 2017, which won the Grammy Award for Best Rock Album at the 60th Annual Grammy Awards.
The band has been described as indie rock, heartland rock and neo-psychedelia, as well as Americana. Their Dylan and Springsteen-influenced lyrical approach meets Tom Petty and Sonic Youth musically for a roots-soaked-synth-and-guitar approach to American rock and roll. Not only do they draw inspiration from artists like Bruce Springsteen, Talk Talk, and Granduciel's "favorite modern day band", Wilco, but they have inspired their own wave of guitar-forward, synth-layered indie rockers.
Hire The War on Drugs for your party or event!
The War on Drugs may be available for your next special event!
Book The War on Drugs, now!
For other great suggestions for booking music acts, look here.

For more suggestions, proceed to the next page.
Click here --
Alternative Music Roster
Or, click on one of the below links --
Music Menu
Fast Index
Entertainers Directory
Home