Visit new page >>>
WESTLIFE
How To Book WESTLIFE For Your Event!
Westlife may be available for your next special event!



Hits include: "Swear It Again",
"Dynamite", "Flying Without Wings",
"I Have a Dream", "Fool Again",
"My Love", "What Makes a Man",
"I Lay My Love on You", "Uptown Girl",
"When You're Looking Like That",
"Better Man", "World of Our Own",
"Bop Bop Baby", "Unbreakable",
"Tonight", "Hey Whatever", "Mandy",
"Ain't That a Kick in the Head",
"You Raise Me Up", "Obvious",
"When You Tell Me You Love Me",
"Amazing", "The Rose", "Home",
"Us Against the World", "Safe",
"What About Now", "Something Right",
"Lighthouse", "Hello My Love", "Smile",
"If I Let You Go", "Queen of My Heart".
How to Hire WESTLIFE For Your Event!
Popular requests:
BOOKING FEE (booking price, booking cost).
Westlife are an Irish pop group formed in Dublin, Ireland, in 1998. The group consists of members Shane Filan, Mark Feehily, Kian Egan, and Nicky Byrne. Brian McFadden was a member prior to leaving in 2004. The group disbanded in 2012 after 14 years, and later reunited in 2018.
In Ireland, the group has 11 number-one albums, 16 number-one singles, and 34 top-fifty singles. They have sold more than 55 million records and are holders of four Guinness World Records. Westlife has received numerous accolades, including one World Music Award, two Brit Awards, four MTV Awards, and four Record of the Year Awards.
Their first album, simply titled Westlife, was released in November 1999 and went to No. 2 in the UK and No. 1 in Ireland. The album was the biggest chart dropper on the top 40 in UK music history when, in its 58th week on the charts it leapt from No. 79 to No. 3 before falling to No. 37 the following week. In Scotland, the album debuted at number 6 in 1999, but subsequently peaked at number one years later in 2001.

Hire Westlife for your festival or concert plans.
Coast to Coast, their second album, was their first No. 1 UK album, beating the Spice Girls' Forever album by a large margin; the chart battle was widely reported by British media. It became the country's 4th biggest selling album of 2000. This is their second No. 1 album in Ireland. The album was preceded by the duet with Mariah Carey "Against All Odds (Take a Look at Me Now)" and the original song "My Love" (their second Record of the Year award). Both singles reached No. 1 on the UK charts, their sixth and seventh number ones respectively.
On 12 November 2001, Westlife released their third album, World of Our Own, peaking at No. 1 in the UK and in Ireland. "Uptown Girl" (their first single to be on the List of million-selling singles in the United Kingdom), "Queen of My Heart" and "World of Our Own" were released as singles, all of which peaked at No. 1 in the UK. "Bop Bop Baby" was also released as a single and peaked at No. 5 in the UK.
In 2002, Westlife went on their second world tour, the World of Our Own Tour. By the end of the year, IRMA awarded the band for 1 million units sold in Ireland. The group sold more than 12 million records in a span of three years.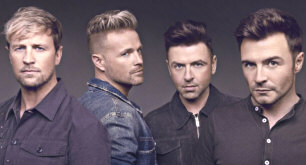 Hire Westlife for your very special event or occasion.
On 18 March 2009, Westlife won the Best Irish Pop Act on the 2009 Meteor Awards for the ninth consecutive time.
On 17 December 2021, a Westlife concert filmed at London's Bush Hall Venue and broadcast by Tencent's WeChat (Weixin) in China had an audience of almost 28 million. They were special guest performers on the Backstreet Boys livestream concert on the same platform on 24 June 2022.
Before their success, the band served as supporting opening acts for the boy bands Backstreet Boys and Boyzone. Since then, the group has recorded studio and live performances with music acts, including Mariah Carey ("Against All Odds (Take a Look at Me Now)"), Lulu ("Back at One"), Joanne Hindley ("The Way You Look Tonight"), Diana Ross ("When You Tell Me That You Love Me"), Donna Summer ("No More Tears (Enough Is Enough)"), and Delta Goodrem ("All Out of Love").
Westlife has performed live duets with many other music artists including: Will Smith, Wyclef Jean, Toby Keith, Esperanza Spalding, Luis Fonsi, Alexander Rybak, Amadou and Mariam, Willow Smith, Jaden Smith, Jada Pinkett Smith, Lang Lang, Wang Leehom ("You Raise Me Up"), Mary Black ("Walking in the Air"), Sinéad O'Connor ("Silent Night"), Dean Verbeeck ("Swear It Again"), Donny Osmond ("Crazy Horses"), Kevin Spacey ("Beyond the Sea" and "Fly Me to the Moon"), Mariah Carey ("Never Too Far/Hero Medley"), Secret Garden ("You Raise Me Up"), Lionel Richie ("Easy"), Boyzone ("No Matter What"), Ronan Keating ("The Dance"), Ray Quinn ("That's Life"), JLS ("Flying Without Wings"), and Dolores O'Riordan of The Cranberries ("Little Drummer Boy").
They recorded with various artists for a charity single and performed for a live concert or television performances specials with music artists such as Steps, Lisa Scott-Lee, 5ive, S Club 7, The Cheeky Girls, Tony Hadley, Blazin' Squad, Gareth Gates, Liberty X, Girls Aloud, Busted, McFly, Jonathan Wilkes, Suranne Jones, Darius, Emma Bunton, Leona Lewis, Rod Stewart, Cheryl, Mika, Michael Bublé, Joe McElderry, Miley Cyrus, James Blunt, Blue, Gary Barlow, Mark Owen, Jon Bon Jovi, James Morrison, Alexandra Burke, Jason Orange, Susan Boyle, Rachel Stevens, JLS, Jamie Cullum, Gloria Estefan, Kylie Minogue, and Robbie Williams.
Hire Westlife for your party or event!
Westlife may be available for your next special event!
Book Westlife, now!
For other great suggestions for booking music acts, look here.

For more suggestions, proceed to the next page.
Click here --
Rock Music Roster
Or, click on one of the below links --
Music Menu
Fast Index
Entertainers Directory
Home