Visit new page >>>
THE WHO
How To Book THE WHO For Your Event!
The Who may be available for your next special event!



Hit songs include: "Athena",
"You Better You Bet", "Squeeze Box",
"Saturday Night's Alright for Fighting",
"I Can See For Miles", "Who Are You",
"Won't Get Fooled Again", "Slip Kid",
"Eminence Front", "Another Tricky Day",
"Long Live Rock", "Twist and Shout",
"My Generation", "Wire and Glass".
How to Hire THE WHO For Your Event!
Popular requests:
BOOKING FEE (booking price, booking cost).
The Who are an English rock band formed in London as The Detours in 1962. Their classic lineup (1964–1978) consisted of lead vocalist Roger Daltrey, guitarist Pete Townshend, bassist John Entwistle and drummer Keith Moon. They are considered one of the most influential rock bands of the 20th century and have sold more than 100 million records worldwide.
They are cited as an influence by many hard rock, punk, power pop and mod bands.
Townshend considered himself less technical than guitarists, such as Eric Clapton and Jeff Beck, and wanted to stand out visually instead. His playing style evolved from the banjo, favoring down strokes and using a combination of the plectrum and fingerpicking.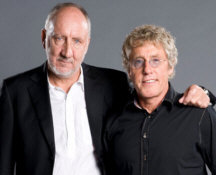 Hire The Who for your festival or concert plans!
Their appearances at Monterey and Woodstock helped give them a reputation as one of the greatest live rock acts and they have been credited with originating the "rock opera".
The group's contributions to rock include the power chord, windmill strum and the use of non-musical instrument noise such as feedback.
The Who have received many awards and accolades from the music industry for their recordings and their influence. They received a Lifetime Achievement Award from the British Phonographic Industry in 1988, and from the Grammy Foundation in 2001.
The band were inducted into the Rock and Roll Hall of Fame in 1990 where their display describes them as "prime contenders, in the minds of many, for the title of World's Greatest Rock Band", and the UK Music Hall of Fame in 2005.
In 2003, Rolling Stone's 500 Greatest Albums of All Time list included Who's Next at number 28, Tommy at number 96, The Who Sell Out at number 113, Live at Leeds at number 170, My Generation at number 236, Quadrophenia at number 266, and A Quick One at number 383. In 2004, on their 500 Greatest Songs of All Time list, Rolling Stone included "My Generation" at number 11, "Won't Get Fooled Again" at number 133, "I Can See for Miles" at number 258, "Baba O'Riley" at number 340, and "I Can't Explain" at number 371. They are ranked the 29th greatest artist of all time by Rolling Stone magazine, and the same magazine ranked Pete Townshend among the greatest songwriters.
In 2008, Pete Townshend and Roger Daltrey received Kennedy Center Honors as members of the Who.
In February 2022, the band announced they would embark on a new North American tour, entitled The Who Hits Back, beginning 22 April 2022 in Hollywood, Florida, and concluding 5 November 2022 in Las Vegas, Nevada.
Their discography includes 12 studio albums, 16 live albums, 27 compilation albums, four soundtrack albums, four extended plays, 58 singles and 23 video albums.

Hire The Who for your party or event!
The Who may be available for your next special event!
Book The Who, now!
For other great suggestions for booking music acts, look here.

For more suggestions, proceed to the next page.
Click here --
Rock Music Roster
Or, click on one of the below links --
Music Menu
Fast Index
Entertainers Directory
Home