How To Book Wilco For Your Event
Wilco may be available for your next special event!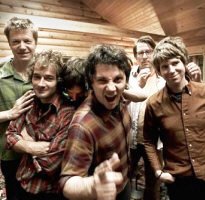 Wilco has won critical acclaim and two Grammys since its 1994 debut by mixing rock, country, and experimental influences on classic albums, like "Yankee Foxtrot Hotel" and "Blue Sky Blue".
Unforgettable in concert, Wilco released "Kicking Television: Live in Chicago," which Q magazine called one of top twenty best live albums.
Hits include: "You Never Know",
"Outtasite (Outta Mind)", "I Might".

For more suggestions, proceed to the next page.
Click here --
Alternative Music Roster
Or, click on one of the below links --
Music Menu
Fast Index
Entertainers Directory
Home