How To Book WU-TANG CLAN For Your Event!
Wu-Tang Clan may be available for your next special event!




How to Hire WU-TANG CLAN For Your Event!
Popular requests:
BOOKING FEE (booking price, booking cost)
.
Members: RZA, GZA, Inspectah Deck, U-God, Ghostface Killah, Method Man, Raekwon, Masta Killa, Cappadonna.
Wu-Tang Clan is an American hip hop collective formed in Staten Island, New York City, in 1992.
Debuting in 1993 with the seminal classic, "Enter the Wu-Tang (36 Chambers)," Staten Island's Wu-Tang Clan - RZA, GZA/Genius, Old Dirty Bastard, Method Man, Raekwon the Chef, Ghostface Killah, Inspectah Deck, U-God and Masta Killa - introduced the world to a rhyme syndicate vacuum-packed with ping-ponging emotion, larger-than-life personalities, eccentric genius, around-the-way commonality, urban gravitas and brooding menace.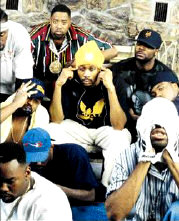 Hire Wu-Tang Clan for your festival or concert plans.
It wasn't long before the Clan reshaped the hip-hop industry in their own image. Seemingly overnight, multiple aliases, the super-group motif, the new vision of a solo album, the contracts for solo artists, the family-orientation and countless other Wu-inventions became staples of the rap game. Trends have changed, rap families have formed and broken up, movements have come and go, the Sun has set on countless crews, and labels have fallen off, but - after selling more than 15 million copies of their own albums in the U.S. alone - the Wu-Tang Clan is still here. "Money could never break us up," says Ghostface Killah. Adds U-God: "We've made money together, we've made money separately and we still come back together."
"As artists, we got to experiment with the music," says U-God. "We ain't just gonna cater to one sound and have that be Wu. We're global. So, for us to stay with one particular sound, we can't do that. Come out we sounding the same every time? We ain't them type of niggas."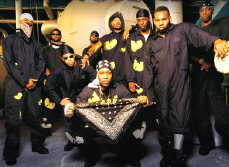 Hire Wu-Tang Clan for your very special event or occasion.
Lyrically, the Clan is supposed to represent - and they do. Where many rap crews share one flow, Wu-Tang Clan members come together like fruit cocktail. There's Ghostface's emotional roller coasters, U-God's word cubes, Method Man's ring-around-the-rosy twirls, RZA's breathless pearl necklaces, Inspectah Deck's metaphoric house of cards . . . and the list goes on. And anything is fair game for a rhyme topic-lions, tigers, bears, friends, Romans, countrymen, stars and garters can make their way onto a Wu rhyme at any given moment.
"As long as we stand together and represent this Wu-Tang Clan sound, no matter how many artists come and sell 5, 10 million records, we're still a reliable source of information," says RZA. "But if we waited another 2 or 3 years, the kids may not even have any idea of what we're trying to inject. I feel sorry for a lot of people out there because we've been real humble and real passive over the years, but right now the uzi's back and you're gonna hear that."
In March 2023, Wu-Tang Clan performed at Festival Estereo Picnic along with others including Drake, Billie Eilish, blink-182, Tame Impala, The 1975, Modest Mouse, Lil Nas X, Melanie Martinez and Chemical Brothers.

The Wu-Tang Clan has a wide range of collaborators and associates. Close collaborators to individual members or the group as a whole include or have included mainly East Coast-based artists, including Redman, Mobb Deep, Busta Rhymes, Erick Sermon, Nas, Pete Rock, and others.

Hits include:
C.R.E.A.M.
It's Yourz
Can It Be All So Simple
Protect Ya Neck (The Jump Off)
Uzi (Pinky Ring)
Method Man
Gravel Pit
Hire Wu-Tang Clan for your party or event!
Wu-Tang Clan may be available for your next special event!
Book Wu-Tang Clan, now!
For other great suggestions for booking music acts, look here.

Genre: Rap
Styles:
.Hardcore Rap. / HardcoreRap
.East Coast Rap. / EastCoastRap


Years active:
x90s, x00s, x10s, x20s
1992-present

Formed: ..in New York / formed nNewYork
Formed: ..in New York City / formed NewYorkNY
Formed: ..in Staten Island / formed StatenIslandNY
Formed: in 1992

Based: ..in US