How To Book WYCLEF JEAN For Your Event!
Wyclef Jean may be available for your next special event!



GRAMMY AWARD winning Nel Ust Wyclef Jean is a Haitian rapper, musician and actor. From his groundbreaking work with The Fugees to his genre-defying solo debut "The Carnival - featuring Fugees Allstars" to his acclaimed and Grammy-winning production and songwriting credits for, among others, Destiny's Child, Whitney Houston (the top ten smash "My Love Is Your Love") and Carlos Santana (the number one hit "Maria, Maria"), he has broadened and expanded the reach of hip-hop culture.
The son of a preacher, Wyclef was born in Haiti and, over the years, has emerged as a leading champion of that country, serving as a spokesman for many issues and heading up the Wyclef Jean Foundation to help children both in Haiti and the United States. Wyclef moved to Brooklyn's Marlborough Houses when he was nine years old. "I'm all about the projects. I was raised with this training from the church and the streets and the parks and it's what developed me as a person and as an artist."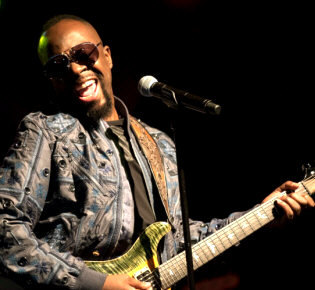 Hire Wyclef Jean for your festival or concert plans.
Wyclef received his first guitar from his mother. By high school, he had moved to New Jersey and where he majored in jazz. By the early 1990's he had formed a hip-hop group, The Fugees, with Lauryn Hill and Prakazrel "Pras" Michel. The trio toured non-stop and their 1994 debut, "Blunted On Reality," earned them good press but not much commercial attention.
Undeterred, Wyclef and his cousin and musical partner Jerry "Wonder" Duplesis seized production control of The Fugees next effort, which, in 1996, would emerge as "The Score," one of the largest-selling and most influential hip-hop records in chart history.
"The Score"'s staggering sales (more than 11 million units worldwide) and critical acclaim helped secure Wyclef's status as one of hip-hop and R&B's hottest producers. He went on to produce a diverse roster of acts including Cypress Hill, Sublime, Bounty Killer and Simply Red.
Hire Wyclef Jean for your very special event or occasion.
In 1997, Clef released his solo CD "The Carnival - featuring Fugees Allstars," which spawned the hits "Staying Alive" and the moving "Gone Till November," which earned Clef a Grammy nomination for Best R&B Vocal Performance, Male. Praised for its freewheeling, multi-cultural sound, "The Carnival" has been certified double platinum by the RIAA. Following the album's release, Wyclef toured, produced a slew of hip-hop and R&B recordings (including fellow Fugee Pras's hit "Ghetto Superstar"), participated in a televised tribute to Johnny Cash, and hosted two all-day fundraisers benefiting the Wyclef Jean Foundation.
In 2006, he was featured on the US Billboard Hot 100 number one single "Hips Don't Lie" by Shakira. His sixth studio album Carnival Vol. II: Memoirs of an Immigrant (2007), spawned the single "Sweetest Girl (Dollar Bill)" (featuring Akon, Niia & Lil Wayne)". Jean performed his single "Dar um Jeito (We Will Find a Way)", at the closing ceremony for the 2014 FIFA World Cup in Brazil.
He is the recipient of three Grammy Awards, the BET Humanitarian Award, and a Vanguard Award from the NAACP Image Awards, in addition to being nominated for a Golden Globe Award for his musical work.
His discography includes nine studio albums, one compilation album, two extended plays and 25 singles.
Hits include:
Gone Till November
We Trying To Stay Alive
911
Cheated (To All The Girls)
It Doesn't Matter
Sweetest Girl (Dollar Bill)
New Day
Two Wrongs
Guantanamera
Party To Damascus
Perfect Gentleman
Thug Angels
To All The Girls
Low Income
Industry
Take Me As I Am
Fast Car
Hire Wyclef Jean for your party or event!
Wyclef Jean may be available for your next special event!
Book Wyclef Jean, now!
For other great suggestions for booking music acts, look here.

Genre: Rap
Genre: R&B
Styles:
.Urban. / xUrban
.Contemporary R&B. / ContemporaryR&B
.East Coast Rap. / EastCoastRap
.Alternative Rap. / AlternativeRap
.Contemporary Singer/Songwriter. / ContemporarySingerSongwriter


Years active:
x90s, x00s, x10s, x20s
1989-present

Born: ..in Haiti
Born: ..in Croix-des-Bouquets
Born: Oct 17, 1972

Based: ..in US
Based: ..in New Jersey / based nNewJersey
Based: ..in Newark / based NewarkNJ

Tag: FormerMemberOf