How To Book YOUNG THUG For Your Event!
Young Thug may be available for your next special event!



Hits include: "Stoner", "Best Friend"
"With Them", "Digits", "Check",
"Pull Up", "Hercules", "That Go!",
"Wyclef Jean", "Floyd Mayweather",
"Harambe", "Guwop", "Future Swag",
"Pick Up the Phone", "Gang Up",
"Patek Water", "The London", "Potion",
"Hot", "Go Crazy", "Stay Down",
"Say You Love Me", "Bad Boy",
"Anybody", "Better Believe", "RiRi",
"Memo", "Tick Tock", "Slime Shit".
How to Hire YOUNG THUG For Your Event!
Popular requests:
BOOKING FEE (booking price, booking cost)
.
Grammy Award winning Jeffery Lamar Williams known professionally as Young Thug, is an American rapper, singer, and songwriter. He has received both praise and criticism for his eccentric and unique vocal style, which has been described as departing from traditional rap lyricism and sometimes intelligible meaning. Jeff Weiss of BBC called him the "most influential rapper of the 21st century".
According to The Fader, "in a typical Young Thug verse, he slurs, shouts, whines and sings, feverishly contorting his voice into a series of odd timbres like a beautifully played but broken wind instrument." Pitchfork called his style "extraordinarily distinctive" and "a weird, experimental approach to rapping" while praising his "presence, persona, mystique, and, potentially, star power."

Hire Young Thug for your festival or concert plans.
Billboard wrote that "Thug uses this multiplicative vocal delivery to his advantage: where another rapper might lapse into repetition, he finds a new way to distress and warp his tone, to burrow resourcefully into rhythmic cracks and crevices". Complex noted his aptitude for creating catchy, melodic hooks.
XXL called Young Thug a "rap weirdo", stating that "Thug's charisma, unhinged flow and hooks make his music intriguing". Critic Sheldon Pearce wrote that "Thug understands the modern pop song construction better than anyone: anything and everything can be a hook."
Young Thug has been noted for his fast-working method, with several collaborators observing his tendency to freestyle tracks live in the studio or quickly develop lyrics on the spot. He doesn't write down lyrics on paper but has been known to plan lyrics by drawing shapes and signs. Consequence of Sound stated that "his work is constantly rooted in improvisation, an inherently thrilling concept that's embedded itself in black music".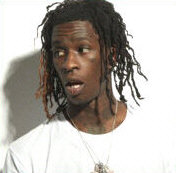 Hire Young Thug for your very special event or occasion.
Discussing his work, Young Thug has claimed the ability to write a hit song in ten minutes and said "I'm in the studio so much, I'll just try stuff. I just think and try, think and try. I don't really know how to sing, but I've been trying for years."
In 2017, Young Thug was featured on the worldwide hit "Havana" by Cuban pop singer Camila Cabello, which became his first number-one single on the Billboard Hot 100.
In 2019, he won the Grammy Award for Song of the Year for his contributions to Childish Gambino's "This Is America". Young Thug's debut studio album, So Much Fun (2019), debuted at number one on the US Billboard 200 and included the Billboard Hot 100 top-twenty singles "The London" and "Hot".
In 2020, his single "Go Crazy" with Chris Brown from the collaborative mixtape Slime & B peaked at number three on the Hot 100, becoming his first top-ten single as a lead artist. Additionally, he reached number one on the Billboard Hot 100 for the second time in his career with his feature alongside M.I.A. on Travis Scott's single, "Franchise".
In 2021, he released the compilation album Slime Language 2 which debuted at number one on the Billboard 200. Later that year, Thug would reach number one on the Hot 100 a third time by featuring alongside Future on Drake's "Way 2 Sexy".
Young Thug has cited American rapper Lil Wayne, as his biggest idol and influence. In an interview with Complex magazine he says, "I want to get in the studio with Wayne more than anybody in the world." He has also cited mentor Gucci Mane and Kanye West as influences.
His discography includes two studio albums, two compilation albums, twelve mixtapes, seven commercial mixtapes, three extended plays, and sixty-nine singles (including 71 as a featured artist).
Hire Young Thug for your party or event!
Young Thug may be available for your next special event!
Book Young Thug, now!
For other great suggestions for booking music acts, look here.
Listen to music:
YouTube Music | Spotify

For more suggestions, proceed to the next page.
Click here --
Rap Music Roster
Or, click on one of the below links --
Music Menu
Fast Index
Entertainers Directory
Home