Visit new page >>>
ZOÉ
How To Book ZOÉ For Your Event!
Zoé may be available for your next special event!


Hits include:
"Nada", "Soné".
How to Hire ZOÉ For Your Event!
Popular requests:
BOOKING FEE (booking price, booking cost).
Zoé is a Grammy Award and Latin Grammy Award-winning Mexican rock band.
Zoé was initially formed in Mexico City in 1994, although membership started to stabilize in 1997. The band has achieved success in Mexico and most Spanish-speaking countries with albums, such as Rocanlover, Memo Rex Commander y el Corazón Atómico de la Vía Láctea and Reptilectric.
Hire Zoé for your festival or concert plans!
Faced with a lack of venues in which to showcase their music, Zoé relied upon self-organized concerts, the Internet and a self-published demo. All of these efforts, plus a good deal of positive word of mouth, helped them gain popularity in Spanish-language radio stations in the United States.
In November 2003, Zoé released Rocanlover, produced by Phil Vinall, who had previously worked with bands like Placebo and Elastica. The main singles on this new album were "Peace and Love", "Love" and "Veneno".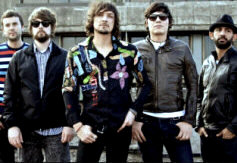 Hire Zoé for your special event!
On 1 September 2006, Zoé performed in Mexico's National Auditorium, a sold-out show in one of the most important stages for music in Mexico. Later, at the Palacio de los Deportes, they performed with Nick McCarthy, the guitarist (and sometimes vocalist) from the Scottish band, Franz Ferdinand.
In March 2011, the band released an MTV Unplugged album titled Música de Fondo (Ambient Music), with new interpretations of their biggest hits as well as new music. Guest performers included Adrian Dargelos, Enrique Bunbury, Chetes and Denise Gutiérrez of Hello Seahorse!.
In December 2022, Zoé performed at the Bésame Mucho Fest along with other artists such as Juanes, Julieta Venegas, Café Tacuba, Elvis Crespo, Los Enanitos Verdes and Sin Bandera.

Hire Zoé for your party or event!
Zoé may be available for your next special event!
Book Zoé, now!
For other great suggestions for booking music acts, look here.

For more suggestions, proceed to the next page.
Click here --
Latin Music Roster or Alternative Music Roster
Or, click on one of the below links --
Music Menu
Fast Index
Entertainers Directory
Home