Visit new page >>>
ZZ TOP
How To Book ZZ TOP For Your Event!
ZZ Top may be available for your next special event!
(Bassist Dusty Hill died July 27, 2021. He was 72.)



Rock and Roll Hall of Fame
-- inducted 2004
How to Hire ZZ TOP For Your Event!
Popular requests:
BOOKING FEE (booking price, booking cost).
Formed in Houston, Texas, USA, in 1970, ZZ Top evolved out of the city's psychedelic scene and consist of Billy Gibbons, Dusty Hill, and Frank Beard, the last two both ex-American Blues. ZZ Top's original line-up - Gibbons, Lanier Greig and Dan Mitchell - was also the final version of the Moving Sidewalks. This initial trio completed ZZ Top's debut single, "Salt Lick," before Greig was fired. He was replaced by Bill Ethridge. Mitchell was then replaced by Frank Beard, while Dusty Hill subsequently joined in place of Ethridge.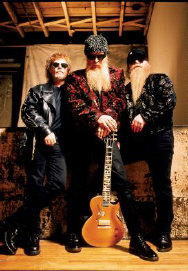 Hire ZZ Top for your festival or concert plans!
Initially ZZ Top joined a growing swell of southern boogie bands and started a constant round of touring, building up a strong following. Their debut album, while betraying a healthy interest in blues, was firmly within this genre, but "Rio Grande Mud" indicated a greater flexibility. It included the rousing "Francine" which, although indebted to The Rolling Stones, gave the trio their first hit and introduced them to a much wider audience.
Their third album, "Tres Hombres," was a powerful, exciting set that drew from delta music and high energy rock. It featured the band's first national hit with "La Grange" and was their first platinum album. The group's natural ease was highly affecting and Gibbons' startling guitar work was rarely bettered during these times.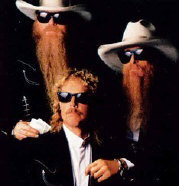 Hire ZZ Top for your special event or occasion.
In 1974, the band's first annual "Texas-Size Rompin' Stompin' Barndance And Bar-B-Q" was held at the Memorial Stadium at the University Of Texas. 85,000 people attended: the crowds were so large that the University declined to hold any more rock concerts, and it was another 20 years before they resumed.
However, successive album releases failed to attain the same high standard and ZZ Top took an extended vacation following their expansive 1976-1977 tour. After non-stop touring for a number of years, the band needed a rest. Other reasons, however, were not solely artistic, as the group now wished to secure a more beneficial recording contract.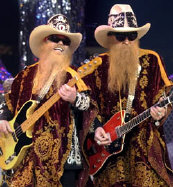 Hire ZZ Top!
They resumed their career in 1979 with the superb "Deguello," by which time both Gibbons and Hill had grown lengthy beards (without each other knowing!). Revitalized by their break, the trio offered a series of pulsating original songs on "Deguello" as well as inspired recreations of Sam And Dave's "I Thank You" and Elmore James' "Dust My Broom."
The transitional "El Loco" followed in 1981 and although it lacked the punch of its predecessor, preferring the surreal to the celebratory, the set introduced the growing love of technology that marked the group's subsequent releases. "Eliminator" deservedly became ZZ Top's best-selling album (10 million copies in the USA by 1996). Fuelled by a series of memorable, tongue-in-cheek videos, it provided several international hit singles, including the million-selling "Gimme All Your Lovin'." "Sharp Dressed Man" and "Legs" were also gloriously simple yet enormously infectious songs. The group skillfully wedded computer-age technology to their barrelhouse R&B to create a truly memorable set that established them as one of the world's leading live attractions.
The follow-up, "Afterburner," was another strong album, although it could not match the sales of the former. It did feature some excellent individual moments in "Sleeping Bag" and "Rough Boy," and the cleverly titled "Velcro Fly." ZZ Top undertook another lengthy break before returning with the impressive "Recycler."
Other notable appearances in 1990 included a cameo, playing themselves, in "Back To The Future 3." In 1991 a greatest hits compilation was issued and a new recording contract was signed the following year, with BMG Records. "Antenna" was the first album with the new company. Over the years, one of their greatest strengths has been their consistently high-standard live presentation and performance on numerous record-breaking (financially) tours in the USA.
One of rock's maverick attractions, Gibbons and Beard have retained their eccentric, colorful image, dark glasses and Stetson hats, complete with an almost casual musical dexterity that has won over hardened cynics and carping critics. In addition to having produced a fine (but sparse) canon of work they will also stay in the record books as having the longest beards in musical history (although one member, the inappropriately named Frank Beard, is clean-shaven).
Hit songs include --
Concrete and Steel
Doubleback
My Head's in Mississippi
Pincushion
Sleeping Bag
Stages
Gimme All Your Lovin'
Give It Up
Tube Snake Boogie
Rough Boy
What's Up With That
Breakaway
Can't Stop Rockin'
Gun Love
Legs
Sharp Dressed Man
She's Just Killing Me
Fearless Boogie
Decision or Collision
Velcro Fly
Hire ZZ Top for your party or event!
ZZ Top may be available for your next special event!
Book ZZ Top, now!
For other great suggestions for booking music acts, look here.

Genre: Rock 1
Styles:
.Classic Rock. / ClassicRock
.Southern Rock. / SouthernRock
.Blues-Rock. / BluesRock
.Hard Rock. / HardRock
.Arena Rock. / ArenaRock
.Boogie Rock. / BoogieRock
.Album Rock. / AlbumRock


Years active:
x70s, x80s, x90s, x00s, x10s, x20s
1969-present

Formed: ..in Texas / formed nTexas
Formed: ..in Houston / formed HoustonTX
Formed: in 1970

Based: ..in US