PRINTER FRIENDLY PAGE. To view this artist's HOME page, click or visit: https://www.delafont.com/music_acts/Bernice-Power.htm **

Booking Bernice Power - Tribute to Patsy Cline - © Richard De La Font Agency, Inc. - For serious booking requests only, click here: For More Information

Bernice Power
as
"Patsy Cline"
---
Bernice Power started singing at home with many musical family gatherings that consisted of guitar, fiddle, dancing and a lot of country singing.

Her grandmother, crossing an icy bay in Canada to sing and play the organ in church for 20 years, made a big impression on her. Though she continued her tap dancing lessons for ten years, singing was always in her heart. She soon started to perform in school choirs, school lays, church talent shows that were produced by her mother and singing in the play her mother wrote called "The Big Step" that was a big local hit and was told then, that with her God-given voice she could be the next "Loretta Lynn."
Because she was always asked to sing at jamborees, local club spots, summer concerts, art council shows and Indian ranch concerts, singing became a normal part of Bernice's life. She was also invited to sing on the Country Boy Eddie Show in Alabama by one of the musicians who had heard her sing in a local Nashville spot while she was there visiting. Soon her own band followed.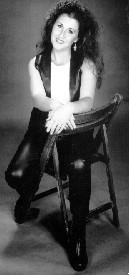 For several years she has been chosen as the Massachusetts Country Music Associations Most Promising Female Artist. She has been nominated for Female Vocalist and Female Entertainer of the Year many times during the past few years.
Bernice Power has always donated her talent to perform for the Jerry Lewis Telethon in Boston, St. Jude Children's Telethons, and many more fund raising events. After hearing her sing and enjoying her charismatic and magnetic personality in the "Octoberfest Summer Concert Series," Manny from the popular live radio program "The Manny Brando Show," asked Bernice to be a host and singer on his program. That now has lasted more than four years.
A special request was made of her to fill in for a Patsy Cline tribute show. A few years later she had performed all over New England and Canada by herself as well as with many other tribute personalities. Bernice also performed as Connie Francis and is always asked to sing as other personalities.
There are many newspaper articles and pictures that have been taken in support of her shows. Her many performances have grown steadily with legendary shows, conventions, cable shows, parades, summer concerts, dinner shows, club events, senior centers, as well as her own scheduled private shows with backup music and live bands. She now more than ever enjoys performing and singing as the legendary Patsy Cline and looks forward to recording her own music soon.
Bernice Power may be available for your next special event.
For booking information, click HERE!
---
To book Bernice Power for your special event,
contact Richard De La Font Agency, Inc.
For faster service, do this first - click on this link: https://www.delafont.com/contactselect.htm