During the first half of the '90's, when country music made a dramatic stylistic shift towards up-tempo material, Confederate Railroad rose to prominence with contributions like "Trashy Women" and "Queen of Memphis." In doing so, this Southern-rock influenced band fortified a collective musical style that helped put Americans from every walk of life back onto the dance floor, while at the same time providing classic ballads which helped define '90's country music.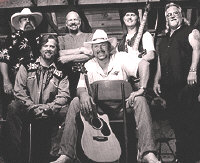 Although Confederate Railroad has taken its blend of simply-themed emotional ballads and turbo-charged dance floor favorites all over the map and up and down the music charts, the group's roots are traceable to several of country music's revolutionaries, including Waylon Jennings, The Charlie Daniels Band and Hank Williams, Jr.
In a 1992 interview, Chattanooga-born Danny Shirley explained, "Our roots are real deep in Southern rock. I used to run with the boys in Lynyrd Skynyrd, but what turned me on to country music was when Waylon and Willie hit. I saw that the music I grew up around could have some balls to it."
By the time Atlantic records released Confederate Railroad's self-titled debut album in 1992, the group had ten years of live performing experience, and had developed a beer-soaked, high-energy road show which melded traditional country sensibilities with the free-wheeling energy of rock, including several years as the house band at Miss Kitty's, a storied Atlanta area night club.
Led by Shirley, the original group which came to the attention of Atlantic president Rick Blackburn, consisted of guitarist Michael lamb, Gates Nichols on pedal steel, keyboard player Chris McDaniel, Wayne Secrest on bass and Mark DuFresne on drums. Lamb left the group in 1995 and was replaced by Jimmy Dormire.
Despite Confederate Railroad's outward appearance as a tougher-than-leather Southern rock band, it was a reflective ballad which spoke of two old reliable loves which vaulted the group into stardom. "Jesus and Mama" entered the country chart during the warm months of 1992, and hit the Top Five that autumn.
By that time, newcomer Billy Ray Cyrus had turned heads with the danceable but weird song, "Achy Breaky Heart," and duo Brooks & Dunn were riding high with "Boot Scootin' Boogie." Garth Brooks was delivering consistent chart toppers and Confederate Railroad firmly joined the ranks of hit new stars with "Queen of Memphis," one of the winter's biggest hits. So sturdy was "Queen of Memphis," it played steadily alongside Christmas music during the holiday season and didn't reach the top of the charts until the end of February 1993.
As much as Confederate Railroad contributed indelibly to the 1990's country music landscape, the youthful, energetic approach the group takes with everything from selecting the right songs to delivering them on stage, screen and video should serve them well on the road to the new millennium. No matter how far uptown their infectious blend of music takes them, there is a bit of healthy down-home reflection that emerges from that sound which evokes a not-so-glamorous time, and keeps them connected to their own roots and musical heritage.