PRINTER FRIENDLY PAGE. To view this group's HOME page, click or visit: https://www.delafont.com/music_acts/Contours.htm **

Booking The Contours - Nostalgia Groups - © Richard De La Font Agency, Inc. - For serious booking requests only, click here: For More Information

A Motown Music Revue and Party Band!!

In 1958, in Detroit, Michigan, Billy Gordon, Billy Hoggs, Joe Billingslea and Billy Rollins formed a quartet named The Blenders. After a short period of playing together, the group decided to replace Billy Rollins with a better quality singer named Leroy Fair. In 1960, the late Hubert Johnson, a cousin of the late Jackie Wilson, joined the group, making it a quintet. After a visit to a recording studio called "Flick and Contour Records," the group "borrowed" part of the name and changed its name to The Contours.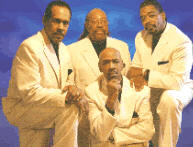 In Fall 1960, with some encouragement from Jackie Wilson, Berry Gordy, Jr, signed the group to a recording contract with Motown. In January 1961, they released "Whole Lotta Woman" b/w "Come On And Be Mine." The record did not have much success. Shortly afterward, there was some disappointing news for Leroy Fair. Despite his great voice, Leroy couldn't handle the required choreography, and the group (to steal the words of the song to come) broke his heart, cause he couldn't dance. The group replaced him twice before eventually finding Sylvester Potts as a permanent replacement for Leroy Fair. This group recorded, "The Stretch" b/w "Funny" which didn't fare much better than the first effort. However, for The Contours, the third time would become the charm!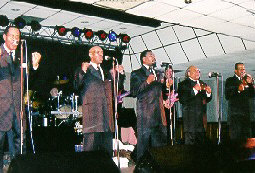 In 1962, Gordy created a new label for Motown Records called the Gordy label and signed The Contours as its first group. In the summer of 1962, the group recorded Berry Gordy Jr's, "Do You Love Me," resulting in the group's (and label's) first hit. Within two weeks of its release, the song roared to #2 on the Billboard Hot 100, taking the #1 spot on the R&B charts and #3 on the pop charts. It remained on the charts for five months. The song was the Gordy label's first million-seller, and it still holds the record as Motown's fastest rising hit of all time.
In 1963, the group charted another hit, sending "Shake Sherry" to the #21 position on the R&B charts (#43 pop). In 1964, they charted "Can You Do It" at #41 R&B. Still in 1964, they recorded a ballad entitled "The Day When She Needed Me." However, by the time this song was released, The Contours would undergo a major restructuring.
The group had irreconcilable creative differences with Motown. At a 1964 meeting with Berry Gordy, Jr., Billy Hoggs, Joe Billingslea and Sylvester Potts announced they were quitting. A week later Hubert Johnson also resigned, leaving Billy Gordon as the only original member of the group. Motown reconstructed the group as a quartet, adding Council Gay, Jerry Green and Alvin English. The reconstituted Contours recorded and released "Can You Jerk Like Me?" On the flip side was "The Day When She Needed Me" by the earlier members of The Contours. Both songs charted in 1965 (#15 R&B and #37 R&B/#47 pop respectively). The reconstituted Contours also charted "First I Look At the Purse" (#12 R&B/#57 pop, 1965).
After less than a year, in early 1965 Sylvester Potts returned to the group replacing Alvin English. However, almost immediately afterwards, the only remaining original member, Billy Gordon, quit and was replaced by Joe Stubbs (former lead singer of the Falcons and brother of the Four Tops' Levi Stubbs). This group charted "Just a Little Misunderstanding" (#18 R&B/#85 pop, 1966). Joe Stubbs quit and was replaced by Dennis Edwards (who would later replace David Ruffin in The Temptations). This iteration of The Contours charted "It's So Hard Being a Loser" (#35 R&B/#79 pop, 1967). After their contract with Motown expired, the Contours disbanded.
About 1971, original member Joe Billingslea revived the group, playing a few dates here and there. By 1981, the group consisted of Joe Billingslea, former Contour Council Gay, Arthur Hinson, Martin 'Beanie' Upshire and C. Autry 'Breeze' Hatcher. The Contours began to play a lot more dates. In 1984, Arthur Hinson left the group and was replaced by and current member R. Charles Davis. A week later, Council Gay left and Sylvester Potts returned to the group. In 1987, Hatcher left the group and Arthur Hinson returned.
That same year, "Do You Love Me" was included in the movie, "Dirty Dancing," starring Patrick Swayze and Jennifer Grey. This revived the song and it returned to the pop charts in July 1988 for eight weeks, peaking at #11. As certified by the Recording Industry Association Of America, "More Dirty Dancing (1987 Film Additional Soundtrack)" (which included "Do You Love Me") went multi-platinum at level 4.0.
The movie soundtrack spawned a "Dirty Dancing Concert Tour," which featured the Contours and other artists including Bill Medley, Eric Carmen, Ronnie Spector, Merry Clayton and a set of dancers from the movie. A week before the tour was to start, Beanie Upshire was replaced by Darrel Nunlee. This version of The Contours played the ten-month "Dirty Dancing Tour," entertaining over two million fans in eight countries. The "Dirty Dancing Tour" was Performance's 1998 Variety Act of the Year. The tour also gave birth to a live CD release. The Contours contributed "Get Ready," "Higher and Higher," "Cry to Me" and "Do You Love Me" to the 1989 release "Dirty Dancing Live In Concert." In September 1998, the Contours released a CD, "Great Dirty Dancing Hits," sprinkled with several of their hits as well as hits of other artists.
In 1990, Arthur Hinson left the group and The Contours continued as a quartet until 1993 when Darell Nunlee left and Gary Grier and Al Chisholm were added taking the group back to a five-man form. This configuration of The Contours existed until early 2004, when Sylvester Potts quit.
In July 1999, yet another Dirty Dancing CD, "Dirty Dancing: More Dirty Dancing [Original Recording Remastered]" which included "Do You Love Me" was released. In all, re-released version contributed to ten million new copies of the song, "Do You Love Me." It's fair to say that Dirty Dancing has been good to the Contours.
On July 20, 1989, the Contours were inducted into the Rock 'n' Roll Walk of Fame outside Royal Oak's Metropolitan Musicafe in Royal Oak, Michigan. They also received the Smokey Robinson Heroes And Legends Award in 2000 and have been nominated for The Rock and Roll Hall of Fame. They continue to perform in the US and abroad, bringing their energetic, versatile and entertaining show to hundreds of thousands of fans every year throughout the world.
Joe Billingslea and The Contours are --
Joe Billingslea - original member
Al Chisholm
Charles Davis
Gary Grier
Hit songs include ---
Do You Love Me (Now That I Can Dance)
First I Look at the Purse
Can You Jerk Like Me
Just A Little Understanding
Shake Sherry
It's So Hard Being A Loser
Can You Do It
Don't Let Her Be Your Baby
---
What Others Say About ...
The Contours
The Public Relations Group, Inc.:
"It is really invigorating to experience firsthand the style, charm and energy of musicians who apparently never age – or slow down. During their performances, I was literally transported to that magical period of our youth, when life seems to move at a luxurious pace, amidst warm, summer nights while cruising our hometown drag strips – up and down back and forth – with radios blasting.
What more can I say? Other than I would book the group all over again, in a heartbeat!!"
Vicki Lange, President
Ohio Festivals & Events Association:
"INCREDIBLE!!!!
Wow, here it is February, and I am still getting phone calls and comments regarding The Contours show during our convention in November.
Of all the years we have been doing the showcase portion of our convention, nothing has ever come close to the fantastic show that was put on that night. I remember telling everyone during the banquet not to leave before The Contours show, because they were going to knock the socks off of everyone.
No one was left sitting in their chairs, once the band started playing."
Chuck Jackson, President

---
Joe Billingslea and The Contours may be available for your next special event.
For booking information, click HERE!
To book Joe Billingslea and The Contours for your special event,
contact Richard De La Font Agency, Inc.
For faster service, do this first - click on this link: https://www.delafont.com/contactselect.htm
For serious booking requests only.
Thank you for this consideration.