PRINTER FRIENDLY PAGE. To view this group's HOME page, click or visit: https://www.delafont.com/music_acts/KCSunshine.htm **

Booking KC & the Sunshine Band - Rock Music Artists - K.C. & The Sunshine Band - Disco groups, Rock/Pop - © Richard De La Font Agency, Inc. - For serious booking requests only, click here: For More Information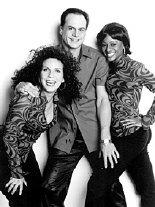 KC And The Sunshine Band is one of the most recognizable names from the disco craze of the '70s. KC, otherwise known as Harry Wayne Casey garnered a total of nine Grammy nominations, winning three of them, including two for his work on the Saturday Night Fever soundtrack, and an American Music Award as well.
KC's records literally sold millions (75 million to be exact) keeping him on a winning streak that lasted well into the eighties. KC became a one-man hit factory for South Florida's T.K. Records, helping several artists scale the charts with material he composed.
KC shares a distinction with The Beatles as the first artist to have four #1 singles in the span of one year: "Boogie Shoes," "Rock Your Baby," "Get Down Tonight" and "That's The Way (I Like It)." Notwithstanding, KC's other hits like "(Shake, Shake, Shake), Shake Your Booty" and "I'm Your Boogie Man" still stand as milestones of the disco age.

Back then, KC And The Sunshine Band were the most successful promulgators of the boisterous, tropically funky dance music known as The Miami Sound. Formed in 1973 in Hialeah, Florida and originally named KC And The Sunshine Junkanoo Band, the band ruled both the Pop and R&B charts, as well as the dance floors throughout the '70s.
With funky warm and vibrant tones, the brass oriented disco flavor that comprised the backbone of KC And The Sunshine Band's sound was flexible enough to incorporate the hodgepodge of additional styles that KC soaked up in Miami. Motown, Funk, Latin percussion, Caribbean spice, Southern soul, and groovin' pop hooks all seeped into the mix to create a tasteful blend of homegrown music that is purely KC.

Nevertheless, while it's nearly impossible to talk about the '70s without making mention of KC or his Sunshine Band, the disco king and his funked-out court continue to fuse kaleidoscopic guitar sounds and pulsating rhythms into a whirling blend of motion and emotion to this day.
Whenever KC is asked about his well deserved and continued success, or about the following of his loyal and devoted fans, KC graciously smiles and responds:
"That's The Way (I Like It)!"
Hit songs include --
(Shake, Shake, Shake) Shake Your Booty
Get Down Tonight
I'm Your Boogie Man
Boogie Shoes
Keep It Comin' Love
Please Don't Go
That's the Way (I Like It)
Yes, I'm Ready
I'm Your Boogie Man
I Like To Do it
Shotgun Shuffle
Do You Wanna Go Party
(You Said) You'd Gimme Some More
I Get Lifted
Rock Your Baby
Don't Run (Come Back To Me)
Give It Up
Yes, I'm Ready
Sound Your Funky Horn
Wrap Your Arms Around Me
I Betcha Didn't Know That
K.C. & the Sunshine Band may be available for your next special event.
For booking information, click HERE!
---
To book K.C. & the Sunshine Band for your special event,
contact Richard De La Font Agency, Inc.
For faster service, this is required first - click on this link: https://www.delafont.com/contactselect.htm