PRINTER FRIENDLY PAGE. To view this artist's HOME page, click or visit: https://www.delafont.com/music_acts/Keb-Mo.htm **

Booking Keb' Mo' - Blues Artist - Keb Mo - Contemporary Blues, Contemporary Acoustic Blues - © Richard De La Font Agency, Inc. - For serious booking requests only, click here: For More Information

In a historical sense, if any artist can be said to rule Billboard's Top Blues Albums chart, it is L.A.-bred singer/songwriter Keb' Mo' – black English for Kevin Moore. In fact, Keb' Mo' has never been absent from the chart during the course of its existence. His denominative 1994 debut peaked on Top Blues Albums the week it was initiated in September 1995; it enjoyed a 72-week stay, topping off at No. 4. For 28 weeks, both his debut album and his album "Just Like You" were on the chart simultaneously.
Keb' Mo' has won his share of critical accolades. "Just Like You" won a 1997 Grammy Award as best contemporary blues album, and the musician was named acoustic blues artist of the year at the 1997 W.C. Handy Awards. Those who have been intimately involved with the development of the bluesman's career ascribe his success to the pop-conscious way in which he presents his music.
Keb' came to the genre late. His early professional resume included work in rock/R&B fiddler Papa John Creach's band, a 1980 R&B-inflected solo album for Casablanca, and a stint with the vocal group The Rose Brothers. However, his work as a guitarist in Monk Higgins' group and his later interest in the music of blues legend Robert Johnson (to whom he bears an uncanny physical resemblance) led Moore to fuse his pop and blues sensibilities as Keb' Mo'.
Kevin'll be the first to tell you he's not a bluesman...What he's done is, he's spanned the gap, like Bonnie Raitt, like Robert Cray – artists who are probably most comfortable and at home with the blues but are taking it a step further. I'm not quite sure that it's actually calculated that way, as much as it is simply an extension of their expression.
Keb' Mo' says of one of his recent records, "I don't even know what it is. There's a lot of blues on it, but there's a lot of stuff that's not blues...I just go right from the hip, I go from the moment, and I know what the record is when I'm done with it. I'll probably catch a little heat. You gotta catch a little heat. If you don't catch a little heat, you didn't really try to do nothin'."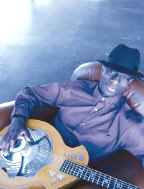 Keb's fans have packed his live performances all over North America and Europe including major US tours with Celine Dion (Spring '97) and Bonnie Raitt (Spring '98), and countless headlining gigs.
Keb' Mo' has torn the house down with his sets at the New Orleans Jazz & Heritage Festival, the Chicago Blues Festival, the Montreux Jazz Festival in Switzerland, and Holland's North Sea Jazz Festival. His television performances include "The Late Show With David Letterman," "The Rosie O'Donnell Show," "Sessions At West 54th," "Conan O'Brien" and "Touched By An Angel." Keb' also hosted the special "Best of the Blues" anniversary edition of "Austin City Limits."
Hits include: "Life Is Beautiful",
"The Whole Enchilada", "Do It Right",
"The Worst Is Yet To Come".
Notable songs include -- .
That's Not Love
Tell Everybody I Know
Love Blues
Am I Wrong
Stand Up (And Be Strong)
I'm on Your Side
Muddy Water
Just Like You
Door
Kindhearted Woman Blues
Keb' Mo' may be available for your next special event.
For booking information, click HERE!

---
To book Keb' Mo' for your special event,
contact Richard De La Font Agency, Inc.
For faster service, this is required first - click on this link: https://www.delafont.com/contactselect.htm