PRINTER FRIENDLY PAGE. To view this group's HOME page, click or visit:
https://www.delafont.com/music_acts/Kentucky-Headhunters.htm
**
Booking the Kentucky Headhunters - Country Music Recording Artists - Country-Rock, Contemporary Country, Southern Rock - © Richard De La Font Agency, Inc. - For serious booking requests only, click here: For More Information
Here they come, roaring out of Kentucky as their always unpredictable and always dangerous selves, the Kentucky Headhunters!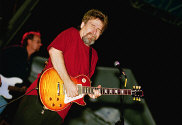 The musical renegades from Metcalfe County are in the spotlight with strong, tight and varied selections of songs. The Headhunters turned the music world upside down with their ground-breaking debut album "Pickin' On Nashville," a record so visionary it became the model for the country boom of the 1990's. The album soared to gold status almost instantly. Songs such as "Walk Softly on This Heart of Mine" and "Dumas Walker" were big hits on country radio. In 1990, they picked up CMA awards for Vocal Group of the Year and Album of the Year.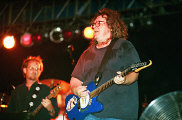 Country listeners and the Nashville music community see and hear in the Kentucky Headhunters the diversity and uncompromising style that country music has longed for. Their jagged mixture of Southern music represents a change that opens up country music to a larger and more varied audience.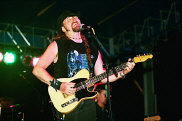 They have the kind of sound that can only come from a lifetime of shared influences and experiences. The Young brothers and their cousins, guitarist Greg Martin and bassist Anthony Kenney, have been playing together at the "practice house" where they started long before they were old enough to drive a car. The group has been called Aftermath, The Truce, and for 13 years, Itchy Brother.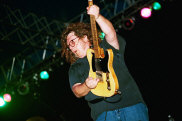 In 1986, Doug and Ricky Phelps joined up with the boys and the band finally settled on the name of the Kentucky Headhunters. In 1989 and 1991, the band released two landmark records "Pickin' On Nashville" and "Electric Barnyard." These records helped change the face of country music forever.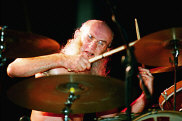 In 1992, Doug and Ricky left the band to pursue a duo career. Greg Martin stated, "It was a very emotional time for everyone involved." From 1992 through 1995, a friend of the band, Mark Orr stepped in as lead vocalist on the next two Headhunter albums, "Rave On" and the critically acclaimed "That'll Work" with legendary piano player, Johnnie Johnson.
Doug Phelps rejoined the Kentucky Headhunters at the beginning of 1996 and they haven't looked back since. The chemistry was so good that the band had 21 new songs written within the space of a month.
When it comes to influences, few bands have had as such a profound impact on the music of the 1990's as the Kentucky Headhunters. They came out and helped start a rockin' country thing and a lot of guys and gals took it somewhere else.
When reading about the Headhunters, one can't help but compare their life-long happiness, strife and their perseverance-to-succeed to the likes of Benny Goodman, Bob Wills, Elvis, the Grateful Dead and many, many more. The one thing that always is read between the lines, back then and today, with these acts and the Kentucky Headhunters – is good music!
Awards include --
1990 GRAMMY - Best Country Performance by Duo/Group with Vocals

1989 Academy of Country Music - Top New Vocal Duet/Group
Hit songs include --
Oh, Lonesome Me
Dumas Walker
Rock & Roll Angel
Walk Softly on This Heart of Mine
The Ballad of Davy Crockett
Honky Tonk Walkin'
With Body and Soul
Only Daddy That'll Walk the Line
It's Chitlin' Time
Too Much to Lose
Dixie Fried
The Kentucky Headhunters may be available for your next special event.
For booking information, click HERE!
---
To book The Kentucky Headhunters for your special event,
contact Richard De La Font Agency, Inc.
For faster service, do this first - click on this link: https://www.delafont.com/contactselect.htm
For serious booking requests only.
Thank you for this consideration.