PRINTER FRIENDLY PAGE. To view this artist's HOME page, click or visit:
https://www.delafont.com/music_acts/Peabo-Bryson.htm
**
Booking Peabo Bryson - Vocalists - Adult Contemporary, Urban, R&B, R&B/Soul, Soul - © Richard De La Font Agency, Inc. - For serious booking requests only, click here: For More Information
This talented soul singer and producer is a former member of Moses Dillard and the Tex-Town Display and Michael Zager's Moon Band. Between 1976 and 1978, Peabo Bryson had hits with this latter group, with "Reaching For The Sky" and "I'm So Into You." His numerous appearances in Billboard 's R&B chart include "Underground Music," "Feel The Fire," "Crosswinds," "She's A Woman" and "Minute By Minute." "Gimme Some Time," a 1979 duet with Natalie Cole, was the first of several successful partnerships.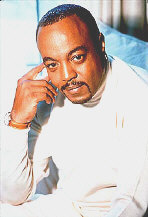 While his star-studded career as a recording artist and performer has spanned more than two decades, Peabo Bryson has been enjoying an unprecedented, across-the-board level of international recognition and success since the May 1991 release of "Can You Stop The Rain," his debut Columbia Records album. Aside from seeing both the album and its title track climb to the top of the R&B charts, Peabo's list of accomplishments is astounding.
Demonstrating his unique ability as a song stylist capable of interpreting material from literally every part of the musical spectrum, in February of 1992, Peabo became the first artist in history to have separate records atop four different charts: "A Whole New World" (Aladdin's Theme), a duet with label-mate Regina Belle, topped the Pop and Adult Contemporary charts and garnered two 1993 Grammy Awards; "The King And I," featuring "We Kiss In A Shadow," a duet with Tony winner Lea Salonga, became No. 1 on the Classical Crossover charts (remaining on that chart for more than a year); and Kenny G's multi-platinum "Breathless" featuring "By The Time This Night Is Over" with Peabo on vocals topped the Contemporary Jazz chart and enjoyed a three-month run as a hit single on the Hot 100.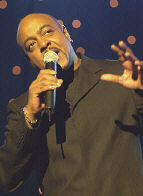 Adding further momentum to an incredible two-year period, Peabo Bryson was nominated for a total of five 1992 Grammy Awards (including one for "Lost In The Night," a single taken from the "Can You Stop The Rain" album) and walked away with a Grammy for "Beauty and the Beast," Peabo's No. 1 single with Celine Dion which won Best Pop Vocal, Duo/Group; "Beauty and the Beast" and "A Whole New World" (Aladdin's Theme) won Oscars for Best Song in 1991 and 1992 respectively. And for 1993, Peabo picked up his second Grammy for "A Whole New World" (Aladdin's Theme) for Best Pop Vocal by Duo/Group.
Writing, recording and performing music with love as a central lyrical theme has been at the core of Peabo Bryson's work as an entertainer. Born in Greenville, South Carolina, Peabo was exposed to music at an early age since his family were ardent concert-goers. During his teenage years, Peabo began singing with local bands, working the now-famous Southern "chitlin' circuit" and gaining the kind of on-stage experience that provided a strong foundation for his emergence as a major recording and performing artist.
In 1975, he signed with Atlanta-based Bang Records and enjoyed some regional success before switching to Capitol Records in 1977 where his auspicious debut album, "Reaching For The Sky" spawned a number of hits, including the now classic "Feel The Fire" (recorded later as a duet by Teddy Pendergrass and Stephanie Mills), the title track (also cut by Dionne Warwick) and "I'm So Into You," his first chart-topping single.
During the next six years, Peabo Bryson recorded a series of albums for Capitol and emerged as a successful headlining act as a result of consistent touring throughout the country. Duets with Natalie Cole ("What You Won't Do For Love") and Roberta Flack ("Tonight I Celebrate My Love," a Top 15 pop smash) earned Peabo the tag "King Of Balladeers" and in 1984, switching to Elektra Records, Peabo enjoyed another across-the-board Top 10 pop hit with "If Ever You're In My Arms Again," which was also No. 1 on the Adult Contemporary charts.
After four albums for Elektra, Peabo returned to Capitol for 1989's "All My Love" (a Top 10 R&B album), which spawned the #1 hit "Show And Tell." In 1990, Peabo signed a new deal with Columbia Records and began working on "Can You Stop The Rain," an album that included production by Walter Afanasieff, Peter Bunetta & Rick Chudacoff, and Peabo himself with longtime associates Dwight Watkins and Sir Gant. Special guests on the star-filled album included fellow Columbia stars Regina Belle (with whom Peabo had enjoyed a major hit in 1987 with the song "Without You") and Kirk Whalum, with songs written by such legendary writers as Barry Mann & Cynthia Weil, and John Bettis.
Spurred by the success of the album and the hit singles "Can You Stop The Rain" and "Lost In the Night," Peabo teamed up with Epic artist Celine Dion in 1992 to record the theme for the top-grossing Disney film, "Beauty and the Beast" and his career reached a new level of recognition and accomplishment.
His participation in the Grammy-nominated re-creation of the classic musical, "The King And I," and his subsequent duet with Regina Belle on the Grammy-winning "A Whole New World" (Aladdin's theme) (another globally successful Disney project) only served to reinforce Peabo Bryson's multi-dimensional artistry and talent.
Hit songs include --
Can You Stop The Rain
If Ever You're In My Arms Again
Show and Tell
A Whole New World
Do It With Feeling
Tonight, I Celebrate My Love
You're Lookin' Like Love To Me
All My Love
If Ever You're In My Arms Again
Let The Feeling Flow
Reaching For The Sky
Gimme Some Time
Closer Than Close
Minute by Minute
Feel The Fire
Make The World Stand Still
A Whole New World
I Just Came Here To Dance
Tonight, I Celebrate My Love
We Don't Have To Talk (About Love)
Peabo Bryson may be available for your next special event.
For booking information, click HERE!
---
To book Peabo Bryson for your special event,
contact Richard De La Font Agency, Inc.
For faster service, this is required first - click on this link: https://www.delafont.com/contactselect.htm