PRINTER FRIENDLY PAGE. To view this group's HOME page, click or visit: https://www.delafont.com/music_acts/alien-ant-farm.htm **

Booking Alien Ant Farm - Alternative Rock Music Artists - Post-Grunge, Alternative Metal - © Richard De La Font Agency, Inc. - For serious booking requests only, click here: For More Information

This alternative metal group was formed in Riverside, California, USA in 1995 by Dryden Mitchell (vocals), Terry Corso (guitar), Tye Zamora (bass) and Mike Cosgrove (drums). Their strange moniker, Alien Ant Farm, arises from Corso's concept of humanity being watched by aliens like a child watching his ant farm.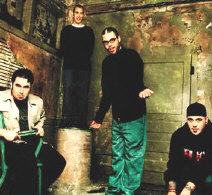 The quartet built up a strong following on the west coast of America and even ventured into Europe for some well-received festival dates. Their cheekily named debut "Greatest Hits," was released on the band's own Chick Music imprint in 1999, and was named best Independent Rock Album at that year's L.A. Music Awards.
A recording contract with Papa Roach's New Noize imprint followed, giving Alien Ant Farm all the benefits of the label's distribution deal with the major DreamWorks. "ANThology," released in March 2001, received good reviews and made in-roads into the U.S. national chart. The second single from the album, a quirky cover version of Michael Jackson's "Smooth Criminal" with an excellent promotional video, helped push the album into the upper regions of the Billboard 200 album chart.
Hit songs include --
Smooth Criminal
ANThology
Movies
These Days
Other notable songs include --
Wish
Calico
Flesh and Bone
Happy Death Day
Stranded
Sticks and Stones
Whisper
Courage
Alien Ant Farm may be available for your next special event.
For booking information, click HERE!
---
To book Alien Ant Farm for your special event,
contact Richard De La Font Agency, Inc.
For faster service, this is required - click on this link: https://www.delafont.com/contactselect.htm