PRINTER FRIENDLY PAGE. To view this artist's HOME page, click or visit: https://www.delafont.com/music_acts/anthony-hamilton.htm
**
Booking Anthony Hamilton, R&B artist - book R&B Artists - Urban, R&B - © Richard De La Font Agency, Inc. - For serious booking requests only, click here: For More Information
Rich, gritty and sexy as hell, his beautiful voice and equally beautiful songwriting are infused with convincingly wise-beyond-his-years grit that evokes-more than a little Bill Withers, Bobby Womack and the like. But unlike most of today's big-throated thrushes, Anthony Hamilton is a real musician: equally proficient as a writer, singer and producer, he can front a band as well.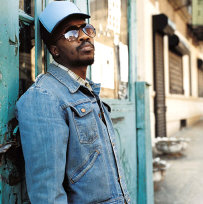 Anthony Hamilton has been humbly paying his dues for more than a decade and has made a lot of friends along the way. Born and raised in Charlotte, North Carolina, the Harlem resident discovered his talent while singing in his church choir at age 10. As a teenager, he honed his chops while making the rounds on the local nightclub and talent show circuit, performing alongside fellow Charlotte natives Horace Brown and the members of Jodeci. "I outgrew that real quick, though," he recalls, "I knew I had to leave Charlotte in order to make it in the music business."

In 1993, Anthony Hamilton left Charlotte for New York City, where he signed with Andre Harrell's Uptown Records imprint - then the epicenter of New Jack Swing and the bourgeoning hip-hop-soul movement with an all-star roster that included Jodeci and Horace Brown, in addition to Heavy D, Mary J. Blige and Guy. Unfortunately for Hamilton, the label folded soon after he completed his unreleased first album in 1995.
Following Uptown's demise, Anthony Hamilton relocated to MCA, which put out his wonderful, yet widely overlooked debut album, 1996's "XTC." After the album's release, Hamilton briefly reunited with his former mentor at Harrell Entertainment before landing at the Los Angeles-based Soulife label, launched in 1999 by his hometown cronies Mark Sparks and Chris Dawley. While Soulife geared up for the release of Sunshine Anderson's "Your Woman," Hamilton recorded another album's worth of new material and penned songs for other artists, including Anderson ("Last Night") and Donell Jones ("U Know What's Up," "Pushin'").
In 2000, D'Angelo recruited Anthony Hamilton to sing background vocals on his worldwide Voodoo Tour. "I went all over the world - Europe, Brazil - and had the best time of my life," Hamilton recalls. But by the time he returned from globetrotting with D'Angelo, Soulife had also collapsed and the singer-songwriter found himself back at square one. "I became depressed," Hamilton confesses. "I was like, 'Why? Lord, why? All this love I have for the music. What's going on?' Still, I kept praying and working and looking for a better deal."
For the next two years, Anthony Hamilton kept busy by singing background vocals and appearing on songs by the likes of Eve ("Ride Away"), Xzibit ("The Gambler") and 2Pac ("Thugz Mansion"). Finally, in 2002, he received the break he'd been waiting for when he was tapped to sing the catchy chorus on "Po' Folks," the lead single from Nappy Roots' debut album, "Watermelon, Chicken and Gritz." Thanks to Hamilton's contribution, the song became an instant smash that was nominated for Best Rap/Song Collaboration at the 2003 Grammys. The day before the ceremony, renowned entertainment attorney L. Londell McMillan invited Hamilton to close the show at his star-studded Grammy brunch. Blown away by the singer's galvanizing performance, Michael Mauldin, a music industry veteran with a famously keen eye for talent, urged his son, Atlanta hit-maker Jermaine Dupri, to take a meeting with Hamilton. Dupri indulged his father's request and, after absorbing an earful of the singer's work, eagerly signed him to his So So Def imprint within 48 hours.
After enduring the bureaucracy of the music industry for more than a decade, Anthony Hamilton maintains a remarkably positive outlook. "Everything that's happened up until this point in my career has been preparing people for my arrival," he says. "Back when I was signed to Uptown, my music was labeled 'alternative soul.' Now, people have reference points for my sound, so it won't be shocking or abrasive to the ear; it'll be well worth the wait."
"I wanna change the game in a way where I'm not knocking nobody out of the way, not claiming to be the best at this or that, but just doing wonders with the gift I've been given," says Hamilton. "I'm thankful I was standing in the way when God was throwing out musical talent, and I just wanna pass it on to the people and remain humble and shine a little bit... and smile."
Hit songs include --
Charlene
Can't Let Go
Cool
Struggle No More
Sista Big Bones
Do You Feel Me
Comin' From Where I'm From
Nobody Else
The Point of It All
Anthony Hamilton may be available for your next special event.
For booking information, click HERE!
---
To book Anthony Hamilton for your special event,
contact Richard De La Font Agency, Inc.
For faster service, this is required first - click on this link: https://www.delafont.com/contactselect.htm