PRINTER FRIENDLY PAGE. To view this group's HOME page, click or visit: https://www.delafont.com/music_acts/b-52s.htm **

Booking The B-52s / B-52s / B52s - book Alternative Rock Music Artists - New Wave, Alternative Pop/Rock, Post-Punk, College Rock, Pop/Rock, Dance-Pop - © Richard De La Font Agency, Inc. - For serious booking requests only, click here: For More Information

After more than twenty-five years and twenty million albums into a career that began as a low-rent lark in Athens, Georgia, the B-52s remain the most unlikely pop superstars ever. The first band to glorify pop culture with an almost Warholian sense of purpose, the B-52s purveyed their absurd B-movie style and off-kilter sound celebrating the weirdness lurking just beneath the surface of Americana – not exactly a recipe for chart success but way ahead of its time, nonetheless. The B-52s unforgettable dance-rock tunes start a party every time the music begins.

The B-52s early days are well documented. Formed on an October night in 1976 following drinks at a Chinese restaurant, the band played their first gig at a friend's house on Valentine's Day 1977. Naming themselves after Southern slang for exaggerated "bouffant" hairdos, the newly-christened B-52s (Fred Schneider, Kate Pierson, Keith Strickland, Cindy Wilson and Ricky Wilson) began weekend road trips to and from New York City for pick-up gigs at CBGB's and a handful of other rundown venues. Before long, their thrift store aesthetic, beehive hairdos, toy instruments and genre-defying songs were the talk of the post-punk underground.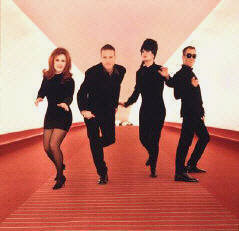 A record deal soon followed and their self-titled debut disc, produced by Chris Blackwell, sold more than 500,000 copies on the strength of their first singles, the garage rock party classics "Rock Lobster," "Planet Claire" and "52 Girls." With virtually no radio support, the B-52s began to attract fans far beyond the punk clubs of the Lower East Side – galvanizing the pop world with their 'stream-of-consciousness' approach to songwriting and outrageous performance. The B-52s had clearly tapped into a growing audience for new music that was much larger than anyone could have anticipated. "We always appealed to people outside the mainstream," says Kate Pierson, "and I think more people feel they're outside the mainstream these days."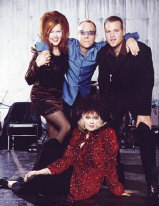 An unexpected commercial and critical success, the band inadvertently formed the core of the burgeoning early '80's New Wave 'movement' and, along with such contemporaries as Blondie and Talking Heads, continued the pop music revolution that punk began. With the release of their second studio effort, "Wild Planet" (1980), the B-52s, co-producing with Rhett Davies, proved that their success was no fluke, scoring hits with "Private Idaho," "Party Out Of Bounds" and "Strobelight." In just two albums, the B-52s had created a lexicon of songs, styles, phrases and images which would set the standard for the development of the 'alternative music scene' for the next decade.
The success of "Mesopotamia," produced by David Byrne (1982), and "Whammy" LP (1983) thrust the B-52s into the pole position in the New Wave derby, with the band graduating to arena tours and becoming MTV regulars as well as alternative radio staples. At the time of their greatest achievement, however, they were to suffer their greatest tragedy – the death of guitarist Ricky Wilson from AIDS. "He really had a vision," said sister Cindy Wilson. "He was one of the strongest elements of the B-52s from the beginning."
Wilson's passing in 1985 came just after the sessions for "Bouncing Off The Satellites" (1986). The album, dedicated to Wilson, had taken nearly three years to complete and was worth the wait, serving up the favorites "She Brakes For Rainbows" and "Summer Of Love." Too heartbroken to promote the album as aggressively as they had in the past, the B-52s questioned their future in music.
Even as the period of mourning grew into a three-year hiatus, Strickland, now on guitar, gradually resumed writing music for a new album. Working together on vocal melodies, lyrics and arrangements for the new tracks, Keith, Kate, Fred and Cindy emerged from their hiatus with the Don Was/Nile Rodgers co-produced "Cosmic Thing" (1989), the B-52s greatest commercial achievement and an album that propelled them from cult act to international superstars. "When we started writing for the new album," explains Fred, "we realized that a lot of the songs seemed to hark back to our roots, the time spent in Athens. It was a way to reassert who we were and why we got together in the first-place." The look back was actually a great leap forward for the B-52s.
The album soared to #3 on the Billboard Album chart, sold four million copies and yielded their first-ever Hot 100 hits – "Love Shack," "Roam" and "Deadbeat Club." Thought to have gone the way of their late, great New Wave contemporaries, the B-52s would, ironically, chart their greatest pop smashes in the '90's – and advance their reputation as the greatest party band on the planet to a whole new generation. The band played to sold-out audiences worldwide as part of a tour that would last more than 18 months.
Exhausted from constant touring – including a 1990 Earth Day gig before nearly 750,000 people in New York City's Central Park – and promotion to ensure their hard-won success, the band took stock and, soon thereafter, Cindy Wilson amicably departed. "I'd been a B-52 for a long time, and it just felt like time for a change," said Cindy. Before long, Wilson had successfully completed her first solo project – a baby girl. Meanwhile, Kate collaborated with other artists, including Athens compatriots R.E.M., for whom she guest-starred on "Shiny Happy People" and CBGB's friend Iggy Pop, dueting with the ex-Stooge on the lovelorn "Candy."
Now a trio, Fred, Keith and Kate re-enlisted the tag team of Was and Rodgers to produce the energetic "Good Stuff" (1992). Including the title cut and interactive concert favorite "Is That You Mo-Dean?," "Good Stuff" is more than just a great pop record – it is also the group's most overtly political album. Activists and fund-raisers for environmental, AIDS and animal rights causes for many years, the B-52s had rarely expressed themselves so openly in their music. "We're out there to entertain people," said Fred, "but it's great to get people thinking and dancing at the same time."
In typically surprising B-52s fashion, the band followed-up the socially-conscious "Good Stuff" with a completely apolitical cover of the "Flintstones" theme song, recorded for the soundtrack to the big-budget film revival of the '60's Hanna Barbera cartoon. Apart from Schneider's Steve Albini-produced solo effort "Just ...Fred" (1996), the "Meet The Flintstones" single would be the last that B-52s fans would hear from them for a while.
Reuniting with Cindy, the B-52s wrote and recorded two new tracks that fit perfectly into "Time Capsule"'s stellar collection of hits.
It has been said that the B-52s are as quintessentially American as the Beach Boys. The B-52s are finally taking much-deserved credit for a body of work that is as unique, beloved and timeless in its own way. Once visionary strip-miners of American pop culture, they are now very much a reference point in our cultural consciousness for future generations. The B-52s influence cuts a wide path through much of so-called 'modern rock' – from the low-fi efforts of nouveau garage bands to the retro-hip of ultra-lounge to the very ascendancy of dance music itself. "Maybe people are at last beginning to pick up on what we're doing and what we've been doing all along," muses Strickland. "The underlying message of the B-52s is, 'It's okay to be different.'"
Hits include: "Channel Z", "Good Stuff",
"Love Shack", "(Meet) The Flintsones",
"Mesopotamia", "Summer Of Love", "Private Idaho",
"Shake That Cosmic Thing", "Whammy Kiss",
"Girl From Ipanema Goes To Greenland", "Roam",
"Tell It Like It T-I-Is", "Hallucinating Pluto",
"Deadbeat Club", "Debbie", "Rock Lobster",
"Funplex", "Legal Tender".
The B-52s may be available for your next special event.
For booking information, click HERE!
---
To book The B-52s for your special event,
contact Richard De La Font Agency, Inc.
For faster service, this is required first - click on this link: https://www.delafont.com/contactselect.htm