PRINTER FRIENDLY PAGE. To view this artist's HOME page, click or visit: https://www.delafont.com/music_acts/bebe.htm **

Booking Bebe - Latin Music Artists - Latin Pop, Dance-Pop, Rock en Español - © Richard De La Font Agency, Inc. - For serious booking requests only, click here: For More Information

Bebe emerged from near-obscurity in 2005 to become the most talked-about Latin artist in America after she was awarded a shocking five Latin Grammy nominations to become, far and away, the year's most nominated act.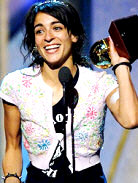 The Spanish singer/songwriter from Valencia doesn't neatly fit into any stylistic category, which made her Grammy nominations' sweep all the more curious. Bearing a strong resemblance to mid- to late-'90s Aterciopelados - edgy dance-pop songs that brazenly defy gender stereotypes - as well as more contemporary alternative Latinas such as Natalia Lafourcade, Ely Guerra, and Julieta Venegas, Bebe didn't sound totally out of place when she debuted in 2004 with Pafuera Telarañas. In fact, some described her as Laura Pausini with attitude, while others billed her style as flamenco-punk.
Before the wave of attention that followed her Grammy nominations, Bebe was a steadily developing artist with a small buzz. Back in the '90s she sang for a group called Vanagloria, and she subsequently enjoyed a lot of success in Spain as a solo artist, selling hundreds of thousands of albums, scoring numerous hit singles, and winning a few major awards. But it wasn't until 2005 that she crossed over to America in the wake of her Grammy nominations, which were announced almost exactly a year after the stateside release of Pafuera Telarañas.
Hit songs include --
Malo
Ella
Heaven
It's O.K.
If Anything Ever Happened To You
Thank You
Celebrate New Life
I'll Take You There
Depend On You
Other notable songs include --
7 Horas
Como los Olivios
Con Mis Manos
Corre
Cuidándote
El Colpe
Men Señara
Razones
Revolvió
Bebe may be available for your next special event!
For booking information, click HERE!
---
To book Bebe for your special event,
contact Richard De La Font Agency, Inc.
For faster service, this is required - click on this link: https://www.delafont.com/contactselect.htm