PRINTER FRIENDLY PAGE. To view this artist's HOME page, click or visit:
https://www.delafont.com/music_acts/bela-fleck.htm
**
Booking Bela Fleck, Béla Fleck and the Flecktones - New Acoustic, Contemporary Bluegrass, Post-Bop, Fusion, Progressive Bluegrass - © Richard De La Font Agency, Inc. - For serious booking requests only, click here: For More Information
Since the age of 15 when he heard "Dueling Banjos" by Weissberg & Mandell, and Flatt & Scruggs' "Ballad of Jed Clampett," Bela Fleck has developed into one of the world's most talented and creative banjo pickers. Named after composer Bela Bartok, Fleck's versatile repertoire includes old time bluegrass, R&B, bebop, and progressive jazz.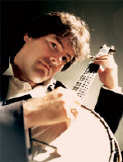 This New York City native's broad musical interests were fostered at the High School of Music and Arts in New York. His eclectic musical influences include Chick Corea, Little Feat, Charlie Parker, Earl Scruggs, Aretha Franklin, John Coltrane, the Allman Brothers, Tony Trischka, and the Byrds.
Upon graduation, he headed to Boston to join a group called The Tasty Licks, which recorded two albums then split in 1979. Fleck moved on to join the Kentucky Band Spectrum, and shortly after recorded his first solo album, "Crossing the Tracks." This album won notice when Frets magazine named it "Best Overall Album."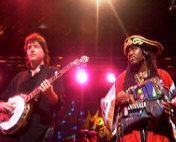 Fleck's popularity gained momentum when he joined the New Grass Revival in 1982, and he was nominated for a Grammy award in 1988 for his song "Drive." Frets magazine inducted him into their Hall of Greats in 1990, further validating his success. In 1989, Fleck and several talented acquaintances (Sam Bush on mandolin, Mark O'Connor with his fiddle, Edgar Meyer on bass, and Jerry Douglas playing the dobro) formed the group Strength In Numbers, out of which was produced "The Telluride Sessions."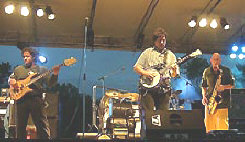 PBS television invited Bela Fleck to share his music on their 1992 Lonesome Pine Special. He agreed and appeared with several well-known musicians, including Howard Levy on piano, harmonica, ocarina, and other instruments; Victor Lemonte Wooten on bass guitar; and Victor's brother Roy "Futureman" Wooten, who played the drumitar. They called themselves the Flecktones, and released their self-titled debut album in 1990. Immediately after, they released "Flight of the Cosmic Hippo" in 1991.

Two years later came "UFO Tofu," an album that blended bluegrass, worldbeat, R&B, and other musical flavors. Later albums include "Tales from an Acoustic Planet," "Live Art," and "Three Flew Over the Cuckoo's Nest."
Notable songs include -- .
Flight of the Cosmic Hippo
Water Gardens
Way of Love
Backwoods Galaxy
Yee-Haw Factor
Sunset Road
Sinister Minister
Turtle Rock
Geocentricity
Earl in Shanghai
Bela Fleck and The Flecktones may be available for your next special event.
For booking information, click HERE!
---
To book Bela Fleck and The Flecktones for your special event,
contact Richard De La Font Agency, Inc.
For faster service, this is required first - click on this link: https://www.delafont.com/contactselect.htm
For serious booking requests only.
Thank you for this consideration.