PRINTER FRIENDLY PAGE. To view this artist's HOME page, click or visit: https://www.delafont.com/music_acts/bette-midler.htm **
Booking Bette Midler - book Vocal Music Artists - © Richard De La Font Agency, Inc. - For serious inquiries only, click here: For More Information

Bette Midler began her career as an extra in Hawaii, which prompted a move from her Honolulu hometown to New York in 1965. Within months, she debuted on stage in Miss Nefertiti Regrets, and went on to take over the role of Tzeitel in the hit Broadway musical Fiddler on the Roof.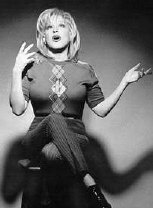 Following singing engagements at New York cabarets, Bette Midler opened a record-breaking run at the Continental Baths, which led to a recording contract, and in 1973 she won a Grammy for her platinum-selling debut album, "The Divine Miss M." She later earned additional Grammys for the title song from "The Rose," "Blueberry Pie" and the "Beaches" soundtrack album, featuring "Wind Beneath My Wings." Many of her albums have achieved platinum status, and her concerts and stage shows opened to sold-out houses. Her appearance at Broadway's Palace Theatre earned a Tony Award and her 1993 tour Experience the Divine broke all box office records for a concert by an individual.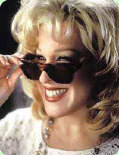 Among Midler's feature credits are 1979's "The Rose," which earned her an Oscar nomination and two Golden Globe Awards, followed by the film adaptation of her Broadway show "Divine Madness," and starring roles in "Jinxed," "Down and Out in Beverly Hills," "Ruthless People," "Outrageous Fortune," "Big Business," "Beaches," "Stella," "Scenes From a Mall" and "For the Boys," for which she won a Golden Globe Award and an Oscar nomination for Best Actress. She also starred in "Hocus Pocus," "Get Shorty," "The First Wives Club," "That Old Feeling" and "Isn't She Great," and hosted Disney's "Fantasia 2000."
On television, Bette Midler won a People's Choice and a TV Guide Award for her debut series role in the comedy Bette. She headlined the HBO specials The Fabulous Bette Midler Show and De Tour, the Emmy Award-winning CBS special Ol Red Hair is Back and HBO's concert film Diva Las Vegas, which brought an Emmy Award for her performance and received a record 10 nominations for the year. She won an Emmy for her moving appearance on Johnny Carson's final Tonight Show episode, as well as a Golden Globe and a National Board of Review award for her performance in the 1992 television adaptation of the musical Gypsy.
Bette Midler is starred in The Stepford Wives opposite Nicole Kidman, Glenn Close and Matthew Broderick. Columbia Records released her album, "Bette Midler Sings the Rosemary Clooney Songbook," on September 30th, 2003.
Bette Midler is the Founder, and very active guiding light, of the New York Restoration Project, which she established in 1997. The organization works to uncover, reclaim and clean neglected public spaces, in part through partnerships with government, but fundamentally by nurturing community empowerment and fostering civic pride in local communities. The NYRP brings these spaces back to life, gives them back to the public and secures the resources to make all that happen.
Hit songs include --
Boogie Woogie Bugle Boy
From A Distance
I'm Beautiful
Wind Beneath My Wings
The Rose
From A Distance
To Deserve You
Fever
Strangers In The Night
In These Shoes?
Every Road Leads Back To You
Night And Day
White Christmas
My One True Friend
Do You Want To Dance?
The Gift of Love
To Deserve You
In My Life
Married Man
When A Man Loves A Woman
Bette Midler may be available for your next special event.
For booking information, click HERE!
---
To book Bette Midler for your special event,
contact Richard De La Font Agency, Inc.
For faster service, this is required first - click on this link: https://www.delafont.com/contactselect.htm
For serious booking requests only.
Thank you for your cooperation.