PRINTER FRIENDLY PAGE. To view this artist's HOME page, click or visit: https://www.delafont.com/music_acts/beverly-crawford.htm **

Booking Beverly Crawford - book Gospel Music Artists - Contemporary Gospel, CCM - © Richard De La Font Agency, Inc. - For serious booking requests only, click here: For More Information

Beverly Crawford says of her style, "Some people say they see my energy in so many different people, such as Shirley Caesar, Tina Turner, Aretha Franklin. I just love to have fun!"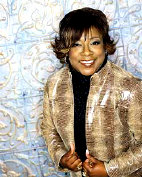 Ministry is a way of life for Beverly Crawford. A native of Gainesville, Florida, she began singing at the age of three. As a young child she joined her musical siblings singing at the church pastored by their father, Walter Camp.
"I used to sing in our front yard with a stick in my hand as a microphone," she recalls, laughing. "I would imagine the grass was my audience and in my mind I could hear people clapping."

As a young adult, she performed with her four sisters in a family Gospel act known as The Camp Sisters, which quickly gained acclaim in the region. The Camp Sisters sent a homemade video to gospel legend Bobby Jones. Jones liked the group, but was even more impressed with the talents of young Beverly. She would be a member of Bobby Jones and New Life for six years before striking out on her own in 1996, releasing two critically-lauded albums for Warner Bros. "Jesus, Precious King" would bring Beverly Crawford her first Stellar Award nomination, while 1998's "Now That I'm Here" would take her to the Grammy Awards.

Today, Beverly Crawford maintains a grueling schedule that sees her perform more than 200 concerts a year. What fuels this drive is her heart for ministry. During concerts, she says, "my prayer is to touch lives. That's what I'm all about. When people walk in, my hope is they will never be the same again."
"I love to give all of Beverly on stage. Everything I have, from the depth of my soul, my bones – even my hair!," she laughs. "I give Him everything! When you do that, people can't help but be blessed."
Beverly Crawford has come a long way from the little girl who sang for an audience of blades of grass. Today, she is a living testament that with God on your side, if you can dream it, then you can do it.
(Note: This is Beverly Crawford, the gospel singer,
not Beverly "Bam" Crawford, the pastor.)
Notable songs include -- .
He's Done Enough
Jesus, Precious King
Just as Soon (I'll Be Shouting)
Praise Jehovah
So Glad He Loves Me
I Won't Go On
Farewell
Healing Virtue
Come on Everybody
It All Begins and Ends With You
Lay It All on Him
Beverly Crawford may be available for your next special event.
For booking information, click HERE!
---
To book Beverly Crawford for your special event,
contact Richard De La Font Agency, Inc.
For faster service, do this first - click on this link: https://www.delafont.com/contactselect.htm