PRINTER FRIENDLY PAGE. To view this group's HOME page, click or visit: https://www.delafont.com/music_acts/big-bad-voodoo.htm **

Booking Big Bad Voodoo Daddy - Swing Music Artists - Retro Swing - © Richard De La Font Agency, Inc. - For serious booking requests only, click here: For More Information

Drums pound, feet tap, fingers snap. A sultry voice begins to croon, and suddenly the horns make their entrance. Man, these cats have got rhythm, and now the vintage-clad crowd is boogying with unharnessed glee. "Go, Daddy!" shout the dancers that make up the fringe of a circle, as a boy in a zoot suit flips and flings his glamorous-looking partner with wild abandon. Welcome to the swing scene, where the music, dance, and style of the 1940s have been revived with a passion. Welcome to Big Bad Voodoo Daddy.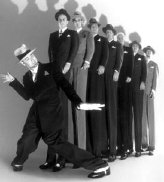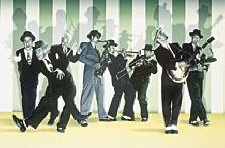 Big Bad Voodoo Daddy has led the international revival of the jump of the Big Band era, with a sound that is not just big and bad, but huge and awesome! In the rich traditions of musical masters Benny Goodman, Duke Ellington and Glenn Miller, Big Bad Voodoo Daddy has jumped into the spotlight of the swing dance craze with a brassy, updated and upbeat style of jazz.
Their credits include performing as the halftime entertainment at the Super Bowl, Orange Bowl, The White House, Billboard Music Awards, the Cable Ace Awards, the opening of the Getty Center Art Museum in Los Angeles, the Macy's Thanksgiving Parade. The group's videos are routinely featured on MTV and VH1 and they have performed on many television shows including "The Tonight Show with Jay Leno", "Late Night with Conan O'Brien" and "Live with Regis."
The group penned the theme song for the NBA, and performed the theme music for the popular NBC show "Third Rock From The Sun." With a goal to throw the wildest party they can for their fans, Big Bad Voodoo Daddy knows what fun sounds like, and has treated every major concert venue in the world to their special brand of music! The Grammy nominated retro-swing band has produced a platinum album, while leading a revival in American swing dance music.
The band's biggest break came when they were cast to be the musical focal point of the movie "Swingers." Their signature tune, "You & Me & The Bottle Makes Three" was featured on Big Bad Voodoo Daddy's first hit album along with several winning original tunes, including "Mr. Pinstripe Suit" and a cover version of Calloway's "Minnie The Moocher." The album went on to achieve gold sales and be nominated for a 1999 Grammy Award. The follow-up, "This Beautiful Life," was released in October 1999.
With a truly contagious sound, rhythm, and lyrics that bring passion back into music, Big Bad Voodoo Daddy will feed your soul.
This is one hot funky dance band!
Notable songs include -- .
Go Daddy-O
She's Gone
King of Swing
You & Me & The Bottle Makes 3 Tonight (Baby)
Jumpin' Jack
I Wanna Be Like You
Maddest Kind Of Love
Cruel Spell
Mr. Pinstripe Suit
So Long-Farewell-Goodbye
Big Bad Voodoo Daddy may be available for your next special event.
For booking information, click HERE!
---
To book Big Bad Voodoo Daddy for your special event,
contact Richard De La Font Agency, Inc.
For faster service, this is required first - click on this link: https://www.delafont.com/contactselect.htm