PRINTER FRIENDLY PAGE. To view this artist's HOME page, click or visit: https://www.delafont.com/music_acts/big-boi.htm **

Booking Big Boi, rap artist, Antwan Patton - book Rap Music Artists - Dirty South, Southern Rap - © Richard De La Font Agency, Inc. - For serious booking requests only, click here: For More

Big Boi and Dre came together at Atlanta's Tri-City high school where OutKast was formed. They signed a contract with LaFace Records just prior to graduation and began their exceptional career in the rap game.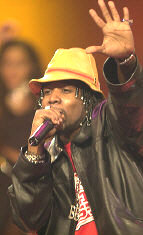 The depth, emotion and intricacy of OutKast's words can be partially explained in the fact that they've lived the city life since childhood.
Dre (Andre Benjamin) grew up in a single parent home moving from place to place within southwest Atlanta until he was 15 and went to live with his father. It was during his adolescence that Andre fell victim to a negative lifestyle like many urban youth as a means of survival. Big Boi's (Antwan Patton) story is similar, moving from Savannah to Atlanta to join Andre in the ranks of the young, gifted, black and untapped as he ran the Atlanta city streets as well.
Big Boi is a self-described player and is available as a solo concert performer.
Notable songs include --.
A.D.I.D.A.S.
In da Wind
In da Wind [Ride Out Mix]
All N My Grill
Dez Only 1
Poppin' Tags
85
Big Boi may be available for your next special event.
For booking information, click HERE!
---
To book Big Boi for your special event,
contact Richard De La Font Agency, Inc.
For faster service, this is required - click on this link: https://www.delafont.com/contactselect.htm