PRINTER FRIENDLY PAGE. To view this group's HOME page, click or visit: https://www.delafont.com/music_acts/black-eyed-peas.htm **

Booking Black Eyed Peas - book Rap Music Artists - Hip-Hop, Alternative Rap - © Richard De La Font Agency, Inc. - For serious booking requests only, click here: For More Information

Ever since they were a fledgling group in the environs of Los Angeles, The Black Eyed Peas have flaunted a passionate, energetic hip-hop spirit people have always been drawn to. They've earned fans worldwide with their inventive approach to hip-hop music, inspiring people with loose rhymes, and a positive spirit and funkafied vibe.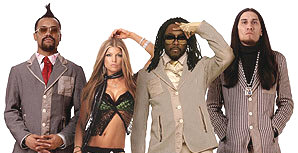 BEP's music has always been firmly entrenched in hip-hop but also with an eye to other musical forms.
Black Eyed Peas are keeping it real real. Real how they see it. With hip-hop music influenced by soul, jazz and Latin rhythms. With a live band. With pumpin' live shows that inspire Black Eyed Peas to burst into acrobatic movements and that drive audiences to a frenzy.
"Just cuz we dress the way we do and perform with a band doesn't mean we're not hip hop," begins will.i.am, Black Eyed Peas' co-founder and lead rapper. "That's who we are and we're not about fronting."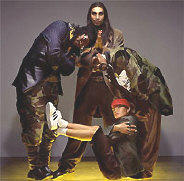 "This isn't about an image; this is about the music, whether it fits in the current scene or not." Behind (as in beyond) the fronting, behind (as in to the rear of or in) the surfaceskin, behind (as in advocating the music) are three MC's: main mic man will.i.am, acrobatic Apl.de-Ap (apple-d-ap) and hypnotizing Taboo. And a four-piece band.
While in high school, Will and Apl formed the dance crew Tribal Nation. That group evolved into Atban Klann (A Tribe Beyond A Nation); they signed a deal with Ruthless Records in 1992. Atban Klann recorded an album that was half programming and half live band, but the record never saw the light of day. Will and Apl reformed as Black Eyed Peas with Taboo also serving as MC; BEP began playing around Los Angeles all the while gathering musicians to create a live band.
"We wanted the emotions and spontaneity of a live group," begins Will. "Each time is like a new time because of the energy and feeling that's put into it; it's like you're performing a different song even though the lyrics are the same."
In 1995, they won BNE and ASCAP showcases and discovered the final necessary ingredient to the band – singing backing vocals for another group. Will recruited Kim Hill to sing on a demo track and after one session, her sweet voice became an integral part of the BEP sound. Interest started building until their shows – the heart and heat of the group – were crowded with fans as well as reps from many major record labels; Black Eyed Peas signed with Interscope Records in July 1997. With Will and keyboardist Brian Lapin at the controls, BEP recorded 50 songs at a Los Angeles recording studio from July 1997 to February 1998; those 50 were narrowed down to the 16 that appear on "Behind the Front."
"People got special powers. Black Eyed Peas has the power to be to able create music, and through dig power we hope we can influence people in a positive way," stresses Will. "'We're not the only kind of individuals like this, and we're not about preachin,' we're just doin' what is real to us, what gives us energy and what feels good. That's power to us."
Hit songs include --
Meet Me Halfway
I Gotta Feeling
Don't Phunk With My Heart
My Humps
Where Is The Love?
Let's Get It Started
Request Line
Don't Lie
Pump It
Hey Mama
Shut Up
Request + Line
Weekends
Gone Going Gone
Joints & Jam
My Style
BEP Empire
Dum Diddy
Black Eyed Peas may be available for your next special event.
For booking information, click HERE!
---
To book Black Eyed Peas for your special event,
contact Richard De La Font Agency, Inc.
For faster service, this is required first - click on this link: https://www.delafont.com/contactselect.htm