PRINTER FRIENDLY PAGE. To view this group's HOME page, click or visit: https://www.delafont.com/music_acts/blood-sweat-tears.htm **

Booking Blood, Sweat & Tears - Rock Music Artists - Pop/Rock, Blues-Rock - © Richard De La Font Agency, Inc. - For serious booking requests only, click here: For More Information

Blood, Sweat and Tears' first album sold an amazing ten million copies and launched three gold singles, "You've Made Me So Very Happy," "And When I Die" and "Spinning Wheel." The album won an unprecedented five Grammy awards, including album of the year and best performance by a male vocalist. Five successive gold albums and three more gold singles, "Hi De Ho," "Lucretia MacEvil" and "Go Down Gamblin'" followed, and by 1972 Blood, Seat & Tears was at the very top of the music industry.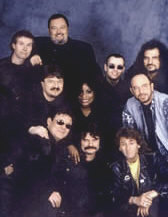 Blood, Sweat and Tears, daring and innovative, a fiery fusion of jazz and rock, blues and the classics . . . This superb band defied all boundaries, performing with consummate artistry in front of a symphony one night, thousands of rock fans the next. BS&T played the Metropolitan Opera, the Fillmores, the Newport Jazz Festival, and Caesar's Palace - all in the same year. It was the first contemporary band to break through the iron curtain with the historic 1970 tour of Eastern Europe, and of course headlined at Woodstock, Madison Square Garden, Carnegie Hall and the Hollywood Bowl . . . Blood, Sweat and Tears was the hottest concert ticket in America.
From the beginning, Blood, Sweat & Tears was a strange hybrid. The Julliard graduates, with their classical training, felt the band should aspire to loftier musical goals, and Bartok and Satie became a part of the repertoire. The Berklee grads were jazz purists, and long improvised solos became a part of the show. Others were pure rockers whose experience included "The Blues Project" and Frank Zappa's "Mother's of Invention."
Yet in spite of the success and accolades, the old tensions and rivalries still existed in the band. Here lies the magic - and the eventual downfall - of the early band. The Julliard types, embarrassed by the hype of pop stardom, tried to steer the band in a more classical direction, disdainful of both jazz and rock. The Berklee boys resented the structure of the classics and the simplicity of rock and pushed towards a more complex improvisational style.
By the mid-70's, Blood, Sweat and Tears was submerged in a wave of its own creation. Every record company had its horn bands: Chicago, Earth Wind And Fire, Tower of Power... even The Rolling Stones carried a horn section.
The founding members of Blood, Sweat & Tears began to drift away to pursue their own musical ambitions. The classical musicians went on to film scoring and teaching fellowships. The jazz players left to play pure jazz. One by one they were replaced with an illustrious lineup of renowned musicians: Joe Henderson, Jaco Pastorius, Mike Stern, Larry Willis, Don Alias, Gregory Herbert. In concert, the band was a musical powerhouse, but inwardly it was in turmoil. The unique creative team was gone, so the band took to the road, playing 300 concerts a year through the 70's. David Clayton-Thomas left the band twice, exhausted by the brutal touring schedule and frustrated by the lack of creative time. In 1976, even Bobby Colomby, the sole remaining founding member, left to become a music executive, and David was the only one left from the glory years.
They recruited musical director/trumpeter Steve Guttman, graduate of Oberlin Conservatory of Music, former musical director for the 70's recording stars Gloria Gaynor and Evelyn "Champagne" King, and alumnus of the Tito Puente and Machito big bands, and he assembled an exciting lineup of top New York musicians. With Steve conducting, Blood, Sweat & Tears began performing with prestigious American symphonies like the Detroit, the Houston, and the Oklahoma City Symphony Orchestras.
Larry Dorr was right. A revitalized Blood, Sweat and Tears under his direction came storming back to the concert stages of the world, playing international jazz festivals, symphonies, concert halls and casino show rooms. The personnel of the band stabilized, and BS&T once again delivered the same exciting diverse sound that made it such a well-loved part of America's musical heritage.
In 1996, David Clayton-Thomas was inducted into the Canadian Music Hall of Fame, where he takes his place alongside his country's musical giants... Oscar Peterson, Joni Mitchell, Neil Young... Artists of legendary stature around the world.
In 2005, David Clayton-Thomas left the group again.
Hit songs include --
Spinning Wheel
And When I Die
You've Made Me So Very Happy
You're The One
Hi-De-Ho
Lucretia Mac Evil
Go Down Gamblin'
So Long Dixie
Got To Get You Into My Live
Lisa, Listen To Me
Tell Me That I'm Wrong
Blood, Sweat and Tears may be available for your next special event.
For booking information, click HERE!
---
To book Blood, Sweat and Tears for your special event,
contact Richard De La Font Agency, Inc.
For faster service, do this first - click on this link: https://www.delafont.com/contactselect.htm
For serious booking requests only.
Thank you for this consideration.