PRINTER FRIENDLY PAGE. To view this group's HOME page, click or visit: https://www.delafont.com/music_acts/boyz-II-men.htm **

Booking Boyz II Men, R&B artists - book R&B Artists - Urban, New Jack Swing, Adult Contemporary, Club/Dance - © Richard De La Font Agency, Inc. - For serious booking requests only, click here: For More Information

Note: Boyz II Men is currently a trio.

Formed in Philadelphia at that city's High School for the Performing Arts, Boyz II Men were discovered by New Edition member Michael Bivins when they broke into an impromptu routine for him at a Bell Biv DeVoe concert. Bivins, who had previously started his own production company, signed the group and landed them a contract at Motown. Their first album, 1991's "Cooleyhighharmony," was a smash, led by the great dance cut, "Motownphilly." "Cooleyhighharmony," now at 9 million units and counting, became the biggest-selling album ever released by an R&B group.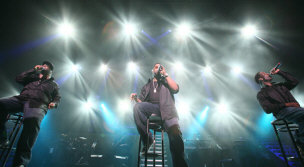 The follow-up single, an a cappella remake of G.C. Cameron's "Hard to Say Goodbye to Yesterday," became the year's hottest love song and the beginning of a supergroup.
With the tightest harmonies of any Soul group in the 90s, Boyz II Men brought an acoustic, old school spirit to a Soul music world that was enamored with electronic funk, and their smooth, romantic approach was embraced by millions.
But unlike the big Soul groups of the 60s and 70s that were formed around dynamic lead singers, Boyz II Men had no recognizable lead voice, but were at their best when all four members sang in unison.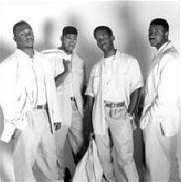 Boyz II Men's next studio album, "II," released in September, 1994, reached a stunning 11 million units in 1995. It was boosted by a record-breaking single, "I'll Make Love To You," which claimed the #1 spot for 14 weeks, tying Whitney Houston for the all-time record.
The group followed "II" with another smash, this time the duet with Mariah Carey, "One Sweet Day."
Boyz II Men have also reached platinum status with their other releases: "Christmas Interpretations," "The Remix Collection" and their video compilation, "Then II Now."
Their 60's street harmony and hip-hop doo wop style serves as the foundation for the groups' exceptional vocals which, at times a cappella, meld the five-men Boyz II Men into one living and golden entity as exemplified by their single "The End of the Road," which set a new record for its No. 1 position on the charts.
Boyz II Men returned in full force in 1997 with their next album, "Evolution." With Boyz II Men now the biggest group in the world, expectations ran high for this album. It included the hits "A Song For Mama" and "4 Seasons of Loneliness" from the movie Soul Food.
They returned in July 2002 with "Full Circle."
In 2004, group member Mike McCary retired from the group due to a chronic back ailment, leaving Boyz II Men as a trio.
Hit songs include: "4 Seasons of Loneliness",
"End of the Road", "I'll Make Love To You",
"It's So Hard To Say Goodbye to Yesterday",
"On Bended Knee", "Uhh Ahh" "A Song For Mama",
"In The Still of The Night (I'll Remember)",
"Water Runs Dry", "Motownphilly" "Please Don't Go"
"Vibin'", "No Dejemos Que Muera el Amor",
"4 Estaciones de Soledad (4 Seasons of Loneliness)",
"Thank You", "Can't Let Her Go", "Let It Snow",
"I Will Get There", "The Tracks of My Tears",
"Pass You By".
Boyz II Men may be available for your next special event.
For booking information, click HERE!
---
To book Boyz II Men for your special event,
contact Richard De La Font Agency, Inc.
For faster service, this is required first - click on this link: https://www.delafont.com/contactselect.htm