Through a body of work that includes three best-selling albums – including the 1998 double platinum-plus "Anytime" – McKnight has displayed the kind of understated brilliance and vision you expect from musical legends twice his age.
There's a certain genius in sharing your talent with everyone – pop audiences, hip-hoppers, R&B lovers. Brian McKnight manages to do that and he makes it sound easy."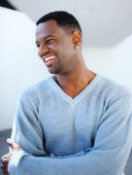 His expansive repertoire has always been rooted in the gospel and jazz on which he was weaned while growing up in Buffalo, New York – reared in a musical family that includes older brother Claude, a founding member of the vocal group Take 6.

A talent of prodigious proportions early on, Brian McKnight was proficient on keyboards, guitar and trumpet by high school years and leading his first band, a jazz-fusion unit at the age of 17. After tenure at Oakwood, a Christian College in Huntsville, Alabama, he met longtime co-writing partner Brandon Barnes and began recording demos. He signed with the Mercury label at age 19.

His first album, 1992's "Brian McKnight" (which featured the classic ballad, "One Last Cry"), and 1995's "I Remember You" (which included the sterling cover of Van Morrison's "Crazy Love"), achieved platinum status.

Both "Crazy Love" and Brian McKnight's production of "You Will Know" (performed by the all-star assemblage of vocalists called Black Men United), appeared on the soundtrack for the hit urban film "Jason's Lyric." Meanwhile, "Every Beat of My Heart" (a track from "I Remember You") was adopted as a theme for the classic TV soap "As the World Turns" – and won an Emmy nomination.

Indeed, in a period just short of a decade, McKnight's creative output has been relentless. He produced tracks for Boyz II Men's "Christmas Interpretations," scored a Top 3 duet with Vanessa Williams' "Love Is," sang on Quincy Jones' "Q's Jook Joint," appeared on the soundtrack of "The Addams Family," performed "Signed, Sealed, Delivered (I'm Yours)" on the NBA "AT 50" compilation, recorded with Diana King the title track of the Academy Award-winning Muhammad Ali documentary, "When We Were Kings," and has produced Take 6, Chico DeBarge, and Xscape among others.

Television discovered Brian McKnight's dashing looks and star presence. He became a recurring guest star on the WB Network's flagship sitcom, "Sister Sister," with star twins Tia and Tamera. He has also co-hosted both the highly rated annual "Soul Train Music Awards" and "Lady of Soul Awards."

McKnight's blossoming brand power was in full effect in 1998 when Motown, Mercury's sister label, released "Anytime." Collaboration-choked with such A-list players as songwriter Diane Warren, Mary J. Blige, and the Trackmasters production team, the LP's combustive first single, the top 20 pop hit, "You Should Be Mine," a collaboration with hip-hop superstar Sean "Puffy" Combs, immediately took off.

However, it was McKnight's own "Anytime," the album's elegant, solemnly soulful title track, that sparked a chart and sales run unprecedented in McKnight's career. "Anytime" garnered 11 award nominations – including 2 Grammys (Pop and R&B Male Singer categories), American Music Award, MTV Music Award, Image Award, and Blockbuster Award – and received a Soul Train Award for Best Male Singer. A triumphant concert tour showcased McKnight as fans had never before witnessed under the white hot lights: dynamic, unusually self-assured, and funny.

McKnight closed out 1998 with "Bethlehem," his very first collection of Christmas songs. He also participated in the inspirational soundtrack from the Dreamworks animated epic "Prince of Egypt" and the accompanying NBC-TV special. Mid-1999 saw McKnight duet with superstar Mariah Carey, a longtime McKnight fan, on the track "Whenever You Call," featured on Carey's multi-platinum #1's album package.

The multi-platinum selling Brian McKnight stands on the verge of forging yet new ground, and not just through millions of units sold: he also happens to be one of the few young artists truly equipped as a singer, songwriter and musician, to take classic pop/soul craftsmanship into the next millennium.

However, he takes a far more uncomplicated view. "I just focus on what I do best," he says, "which is make music." Fine. No matter how you view it, his is a ritual that will forever return Brian McKnight to where we need him to be.