PRINTER FRIENDLY PAGE. To view this artist's HOME page, click or visit: https://www.delafont.com/music_acts/Bruce-Hornsby.htm **

Booking Bruce Hornsby - Heartland Rock, Adult Alternative Pop/Rock, Pop/Rock, Adult Contemporary - © Richard De La Font Agency, Inc. - For serious booking requests only, click here: For More Information

Since the release of his first album in April of 1986, Bruce Hornsby has created a musical life that has expanded far and wide to include a broad stylistic range of activity and a most impressive list of credits. From his days in the lounges and bars of Virginia to his days in the Los Angeles music studios to his days with The Range to his current status as a solo artist, Hornsby has always brought something unique to his music.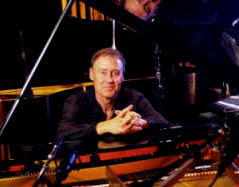 Bruce Hornsby is a nine time Grammy nominee, and has won three...in 1987 with The Range for Best New Artist for their debut LP "The Way It Is"; in 1989 for Best Bluegrass Recording for his version of his hit "The Valley Road" which appeared on The Nitty Gritty Dirt Band's album "Will The Circle Be Unbroken, Volume II"; and with Branford Marsalis in 1993 for Best Pop Instrumental Performance for their song for the Barcelona Olympics, "Barcelona Mona." Bruce was nominated twice in 1996 for Best Pop Instrumental for his solo piano piece "Song B," and with Chaka Khan for Best Song For A Motion Picture for "Love Me Still" from the soundtrack of Spike Lee's "Clockers."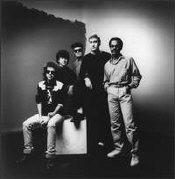 Hornsby's five albums - "The Way It Is" (1986), "Scenes From The Southside" (1988), "A Night On The Town" (1990), "Harbor Lights" (1993), and "Hot House" (1995) - have sold more than eight million copies worldwide. The title cut from "The Way It Is" was the most played song on American radio in 1987, winning ASCAP's Song of the Year award. In Keyboard Magazine's Reader's Poll, Hornsby won six years in a row, including the 1994 award for Best Rock Pianist "Harbor Lights" was the 1994 winner of the Downbeat Readers' Poll Beyond Album Of The Year.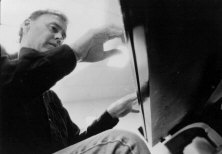 In addition to his own hit records, Bruce Hornsby has co-authored many hits for other artists, such as "Jacob's Ladder" for Huey Lewis and "The End Of The Innocence" for Don Henley. Bruce has played on more than 70 albums in the last eight years, including records by Bob Dylan, Don Henley, The Grateful Dead, Bob Seger, Crosby, Stills & Nash, Bela Fleck, Bonnie Raitt and Shawn Colvin.
Bruce Hornsby was also a part time member of The Grateful Dead from 1990-1992, playing more than one hundred concerts with the band in America and Europe.
Hit songs include --
Across The River
Mandolin Rain
The Valley Road
The Way It Is
Every Little Kiss
A Night On The Town
Look Out Any Window
On The Western Skyline
Fields of Gray
Walk In The Sun
Defenders of The Flag
Harbor Lights
Lost Soul
Dreamland
Set Me In Motion
Rainbow's Cadillac
Great Divide
Gonna Be Some Changes Made
Bruce Hornsby may be available for your next special event.
For booking information, click HERE!
---
To book Bruce Hornsby for your special event,
contact Richard De La Font Agency, Inc.
For faster service, this is required first - click on this link: https://www.delafont.com/contactselect.htm