PRINTER FRIENDLY PAGE. To view this artist's HOME page, click or visit:
https://www.delafont.com/music_acts/buddy-guy.htm
**
Booking Buddy Guy - Blues Music Artists - Modern Electric Chicago Blues, Electric Blues, Blues, Electric Chicago Blues, Chicago Blues - © Richard De La Font Agency, Inc. - For serious booking requests only, click here: For More Information
Rock and Roll Hall of Fame
-- inducted 2005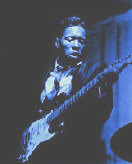 As the king of the contemporary Chicago blues scene, celebrity superstars patiently queue up to meet and jam with Buddy Guy. Network TV guest appearances are commonplace. His new albums inevitably rank with the genre's top sellers, but Buddy Guy's roots lie deep in the searing recordings that he did for Chess Records from 1960-1967.
Born in Lettsworth, Louisiana, George Guy spent time playing with "Big Poppa" John Tilley and Baton Rouge harpist Raful Neal before moving to Chicago in 1957. Before moving to the Windy City, Buddy made a two-song demo tape at Baton Rouge radio station WXOK and took the tape with him to Chicago, intent upon handing it to Leonard Chess personally. But things went considerably slower than anticipated for the hungry guitar hopeful until he was introduced to southpaw guitarist Otis Rush at the 708 Club.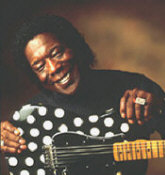 A few days later, Buddy's idol, Muddy Waters, fed him a salami sandwich and talked him out of retreating to Louisiana. In 1958, thanks in part to the recommendations of Otis Rush, Buddy landed his first recording contract with Artistic Records, a short-lived subsidiary of Eli Toscano's Cobra label. Under Willie Dixon's supervision, Buddy cut two impressive singles for the firm, but the label folded before too many folks had the chance to hear the songs. Even so, Guy was fast building a reputation as a master showman around the South and West sides of Chicago by the time he signed a deal with Chess in 1960.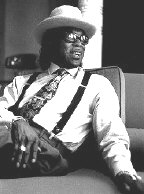 His first session for Chess Records was indeed an auspicious one, producing the harrowing song, "First Time I Met The Blues," a nightmarish diatribe written by pianist Eurreal "Little Brother" Montgomery. The music Buddy Guy created was a thoroughly modern brand of blues that combined Muddy's brash sensuality with the crackling electrical guitar style pioneered by B.B. King (a sound later characterized by musicologists as emanating from the West Side, though Buddy disdains the overly broad categorization today).
In December of 1960, Buddy returned to the Chess studios to lay down two more enduring classics: the tortured "Ten Years Ago" and the relentlessly shuffling "Let Me Love You Baby." Harpist Junior Wells played on both songs, inaugurating a fruitful off-and-on musical partnership and a permanent friendship. The following year, Buddy recorded the sinuous, sax-soaked rocker "Watch Yourself," the super-intense "Stone Crazy" and the powerful "I Found A True Love." Of those songs, only "Stone Crazy" saw the light of day. The other two songs were later featured on a late 1960's Buddy Guy archival collection.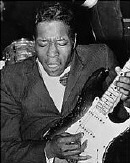 A smoldering slow blues style, complete with incendiary underpinnings, were Guy's specialty in the 1960's as evidenced by the 1962 release, "When My Left Eye Jumps" and "Worried Mind," (also known as "Stick Around") released the following year. "No Lie," cut in early 1963, sports a light and bouncy jazz-tinged beat that Guy handles adroitly. But 1964's release, "My Time After Awhile" (a scorching cover of a song by Bay Area vocalist Tiny Powell) was more in keeping with Buddy's obvious strengths. In addition to his own recordings, (Buddy wasn't one to hog the vocal spotlight) he backed rhythm guitarist Lacy Gibson (who's still active on the Chicago circuit) on the gorgeous 1963 ballad "My Love Is Real."
"Leave My Girl Alone," like many of Buddy's Chess efforts, has been redone a few times over the years in a variety of settings, but Buddy's original rendering still sends chills up your spine with its simmering intensity. The energetic "Got To Use Your Head" was recorded at the same time in 1965.
The driving "Keep It To Yourself" and the funky "She Suits Me To A T" stem from a 1966 session that found Buddy Guy surrounded by saxman Gene "Daddy G" Barge, guitarist Matt Murphy, bassist Phil Upchurch and drummer Charles Stepney. The fleet-fingered guitarist recorded the Willie Dixon-penned "I Cry And Sing The Blues" (a crisper remake of his Artistic debut back in 1958) in July of 1967, shortly before he left Chess Records to sign with Vanguard Records.
Although he's made a slew of albums for Vanguard, Blue Thumb, Atlantic, Alligator and most recently Silvertone, Buddy Guy has never been as consistent in the studio as he was during his tenure at Chess Records. When he wasn't recording his own songs, Buddy often worked as a session guitarist, backing the legendary Muddy Waters, Howlin' Wolf, Sonny Boy Williamson and Little Walter. These sessions allowed him to acquire invaluable first-hand knowledge about music that Buddy still puts to salient use every time he strides across a concert stage.
Jimi Hendrix, Eric Clapton, Jeff Beck and Stevie Ray Vaughan idolized Buddy Guy and a generation of Chicago blues fans rate him at the absolute peak of his profession. Amid all of his success, Guy still remains an intrinsically humble icon who is quick to give credit where credit's due. Buddy Guy cites his earliest influences as: Guitar Slim, Lightnin' Hopkins, Lightnin' Slim and Muddy Waters.
Notable songs include -- .
Stone Crazy
Messin' With the Kid
Let Me Love You Baby
Sit and Cry (The Blues)
She Suits Me to a T
You Sure Can't Do
My Time After Awhile
First Time I Met the Blues
Damn Right, I've Got the Blues
Five Long Years
Buddy Guy may be available for your next special event.
For booking information, click HERE!
---
To book Buddy Guy for your special event,
contact Richard De La Font Agency, Inc.
For faster service, this is required first - click on this link: https://www.delafont.com/contactselect.htm