PRINTER FRIENDLY PAGE. To view this artist's HOME page, click or visit: https://www.delafont.com/music_acts/busta-rhymes.htm **

Booking Busta Rhymes, Trevor George Smith Jr., rap artist - book Rap Music Artists - Hardcore Rap, East Coast Rap, Alternative Rap - © Richard De La Font Agency, Inc. - For serious booking requests only, click here: For More Information

Busta Rhymes began rapping at the age of 12, when he moved from Brooklyn to Long Island. He then started to get involved with rapping, he started going to contests and eventually met what he wanted to be.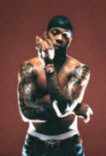 Busta Rhymes became the toast of the American hip-hop community with the release of his Elektra Records debut, "The Coming," in 1996. Although offering nothing outstanding in its lyrics, album tracks such as "Everything Remains Raw" and "It's A Party" highlighted his compelling ragga-influenced delivery to good effect, and the catchy single "Woo-Hah!! Got You All In Check" broke into the US Top 10.
Busta Rhymes had originally rapped as part of the highly praised Leaders Of The New School, with MC Charlie Brown, Dinco D and Milo In De Dance, releasing the acclaimed "A Future Without A Past" in 1991. He has also worked with a stellar cast of singers, including Boyz II Men, Mary J. Blige, TLC and A Tribe Called Quest, and appeared in the movies "Who's The Man?" and "Higher Learning."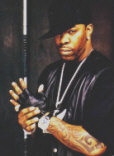 Attempts to promote "The Coming" in the UK ended in disaster. His planned performance at the Kentish Town Forum in May ended in calamity when delays in securing a work permit prevented him from appearing. Outraged fans caused damage after they rioted in protest.
Busta Rhymes released the ambitious US Top 5 album "When Disaster Strikes" in September 1997, exploring pre-millennial fears and the future of rap. The album included a powerful duet with Erykah Badu on "One" and "Turn It Up/Fire It Up," with a remix of the latter entering the US Top 10. The track also provided Rhymes with his highest UK chart placing the following April when it debuted at number 2.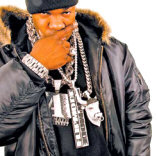 The same year he released "The Imperial Album" as part of the Flipmode Squad, a collaborative project with rappers Rampage, Lord Have Mercy, Spliff Star, Rah Digga and Baby Sham. Rhymes' fascination with film helped form the same year's "Extinction Level Event: The Final World Front," which took its title from the disaster movie "Deep Impact."
The frenetic "Gimme Some More" reached number 5 in the UK singles chart in January 1999. Busta Rhymes enjoyed further transatlantic success in April when the highly catchy "What's It Gonna Be?!," featuring Janet Jackson, reached the US and UK Top 10.

Rhymes has kept up his frantic work rate, juggling his music career with his acting roles. In 2000 he worked on several movie projects, including the remake of "Shaft," and released his final album for Elektra, "Anarchy."
Hit songs include --
Dangerous
Turn It Up
What's It Gonna Be
Woo-Ha!! Got You All in Check
I Know What You Want
Touch It
Pass The Courvoisier
Break Ya Neck
As I Come Back
It's A Party
I Love My B****
Light Your A** on Fire
Make It Clap
Fire
In The Ghetto
Gimme Some More
Get Out!
What It Is
Shorty (Put It On The Floor)
Do The Bus a Bus
Busta Rhymes may be available for your next special event.
For booking information, click HERE!
---
To book Busta Rhymes for your special event,
contact Richard De La Font Agency, Inc.
For faster service, this is required - click on this link: https://www.delafont.com/contactselect.htm
For serious booking requests only.
Thank you for your cooperation.