Her music is at once sensuous, romantic and loving. Passion, intimacy, and warmth are the ingredients she uses to create just the right vibe, the perfect mood for love. Her own heartfelt compositions, jazzy grooves, and soulful ballads are her stock in trade. When she performs, her music comes alive with vibrancy and energy.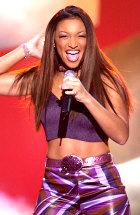 She is strikingly beautiful: elegant, yet accessible.
A minister's daughter, Chante Moore came of age in San Francisco and San Diego, singing along to gospel records and setting her own poetry to George Duke and Lee Ritenour jams. In her teen years, Moore decided to pursue a career in music after being inspired by the reaction she got to her role in a high school production of The Wiz.
"A Love Supreme" is the important next step in Chanté Moore's ever-growing career, a natural musical progression from her gold debut, "Precious." The first release from Louil Silas, Jr.'s MCA-affiliated label, "Precious" spawned two Top 5 R&B hits: "Love's Taken Over" and "It's Alright." Tracks like "As If We Never Met," "Candlelight and You" (a duet with Keith Washington), and "Who Do I Turn To" helped to create a foundation for Moore, ensuring that "Precious" stayed on Billboard's R&B charts for more than a year.
The public's response to Moore's sensuous blend of pop, soul, and jazz resulted in some remarkable achievements for the vocalist. In addition to appearances on "The Tonight Show With Jay Leno," "The Arsenio Hall Show," "Showtime at the Apollo," "The Essence Awards" and the 1993 "Soul Train Music Awards," Moore was featured in the first-of-its-kind one-hour BET special, "Candlelight and You: Chanté Moore Live."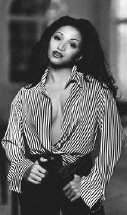 European audiences have also reacted to Chante Moore with instant approval. She performed at the Montreux Jazz Festival in 1992 and at the prestigious MIDEM convention in 1993 in Cannes, France, during a special tribute to Marvin Gaye. Readers of Britain's esteemed Blues & Soul magazine voted Moore 1993's "Best Female Vocalist" and "Most Promising Newcomer," and named "Precious" the year's "Best Album," an unprecedented trio of achievements for a new artist. Her 1993 performances in the U.K. won Moore immediate official acclaim and established a firm following for her in Great Britain.
In the U.S., a 1993 summer tour allowed Chante Moore the opportunity to show off her skills as a live performer. "I learned a lot being on the road," she recalls. "I got to see what I could do to really win people over. It was challenging and very exciting – I had a great time making my music come alive!" Guest appearances in both 1993 and 1994 on the annual "Divas Simply Singing" show in Los Angeles became further highlights in a two-year period filled with accomplishment and success.