PRINTER FRIENDLY PAGE. To view this artist's HOME page, click or visit: https://www.delafont.com/music_acts/chemical-brothers.htm **

Booking the Chemical Brothers, The Chemicals, The Chems - book electronic music artists - Big Beat, Funky Breaks, Electronica, Trip-Hop, Club/Dance - © Richard De La Font Agency, Inc. - For serious booking requests only, click here: For More Information

Since they first met more than a decade ago, the Chemical Brothers have been on a mission. Their aims: to find the sounds no one had heard before, to push their music as far as it will go, to make each record fresher and more exciting than the last. From "Song To The Siren" in 1992 to the brain-blitzing mutant psychedelic of their third album, "Surrender," that's what they've done.

On the way, they've invented (and transcended) big beat, toured the globe, remixed the world and his brother, sound-tracked some of the messier nights out of the last few years and made some of the most influential music of the decade.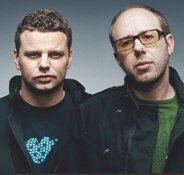 Ed Simons (tall, curly hair) and Tom Rowlands (taller, long hair) met while studying history at Manchester Poly in l989. They had come from the south to Manchester for the music and launched themselves at the club scene with a vengeance. From nights at the legendary Hacienda, to raves in Blackburn and misbehavior at clubs like Justin Robertson's Spice and Most Excellent, they soaked it all up. When they started to DJ ("borrowing" the name the Dust Brothers from the American producers of the Beastie Boys' Paul's Boutique), they put their own spin on things.
During their first residency at Naked Under Leather (as debauched as its name suggests), they established a party-starting reputation for going where most other DJs feared to tread: joining the dots between acid house, hip hop and rock.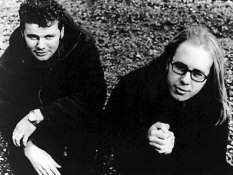 Tom Rowlands was already part of struggling Henley-on-Thames Balearic band Ariel, but when he went into the studio with Ed Simons in 1992 everything clicked into place. The result was "Song To The Siren," a record that mixed breakbeats, sirens, shuddering bass and ethereal indie vocals. They sent one of the 500 copies to Andrew Weatherall, who played it every time he DJ'd and signed the duo to his Junior Boys Own label.

1994 was the year that the Chemical Brothers changed dance music. For starters, there were the groundbreaking "14th Century Sky" (featuring Chemical Beats) and "My Mercury Mouth" EPs and a track donated to the charity album "Serious Road Trip." Rapidly becoming the most in demand remixers in the country, they also reworked everyone worth reworking, from the Manic Street Preachers to Saint Etienne.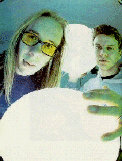 In one fortnight alone they tackled Prodigy, Primal Scream and the Charlatans and came out on top every time. They also made their live debut at Weatherall's Sabresonic club. Finally, for 13 weeks that summer and autumn, they helmed the decks at London's notorious hedonism hotspot, the Heavenly Social, and introduced everyone who could get in (including Paul Weller, Tricky and Primal Scream) to the delights of dancing to Barry White, Oasis, Chicago Acid and Eric B & Rakim all in one night.

The duo also played acetates of tracks from their own forthcoming debut album, "Exit Planet Dust." Signing to Virgin, the Chemical Brothers (now renamed after a dust-up with the original Dust Brothers) finally released it in June 1995. It sold 275,000 copies in Britain alone and over a million copies worldwide, while the singles "Leave Home" and "Life Is Sweet" both went Top 20 in the UK. With guest vocalists Tim Burgess and Beth Orton, the album captured everything that was exciting about the Social: messy, ferocious and often emotional.

Other producers soon copied the Chemical formula and the duo inadvertently spawned the entire big beat movement, with artists like Fatboy Slim still citing them as the original inspiration. Two years later, even U2 was making Chemical-style tracks. The next stage was the limited edition "Loops of Fury" EP in January 1996. The title track appeared in the suitably frantic Sony Playstation game "Wipeout 2097/WipeOut XL" and "Get Up On It Like This" was reincarnated a year or so later on their second album.

Much of '95 and '96 was spent either on the decks (at the now weekly Heavenly Social, the DJ mix album "Live At The Social, Volume One" and an acclaimed "Radio I Essential Mix"), on the road (America, Europe, Tribal Gathering, Phoenix, Ibiza, supporting Oasis) or in the studio looking for a way to get everyone excited all over again. They slowed the flood of remixes to a trickle and the Manics, Method Man and Dave Clarke were the three lucky recipients, with the Manics remix making an appearance on Playstation's Gran Turismo. Meanwhile, Tom briefly moonlighted with the Charlatans on their contribution to the charity album "Help" and their next single, "One To Another."

Before the year was out, though, the Chemicals were back in force with Oasis top man, Noel Gallagher, and the car crash on vinyl of "Setting Sun." To their amazement it rocketed to the top of the charts and became the most punk number one of the year. They celebrated with a sell-out four-date British tour and a return to the States, where "Exit Planet Dust" had sold an unexpected 150,000 copies (it has now sold more than twice that amount).

Spring 1997 brought "Dig Your Own Hole," the Chemicals' second album and one which confirmed their status as one of the best bands in the country. "Back with another one of those block rockin' beats," promised the opening track, which swiftly became their second number one UK single. But there was a lot more to the album than that. As well as Noel, Beth Orton appeared again, and cult American band Mercury Rev contributed to the album's epic showpiece, "The Private Psychedelic Reel." It was their finest moment yet and finally replaced "Chemical Beats" as their set-closing anthem. "I think the key is to change how you make your music and how it sounds but still keep what was good about it to start off with," reasons Tom.

The rest of the year was spent on a mammoth world tour that included a residency at Tokyo's Liquid Rooms, a triumphant set at a swamp-like Glastonbury and climaxed at the Brixton Academy in December. Two further singles, "Elektrobank" and "The Private Psychedelic Reel," were released off "Dig Your Own Hole." Somehow, Tom and Ed managed to squeeze in a remix of spacerock gospel heroes Spiritualized, done at their own request.

1998 was meant to be a quiet year for the Chemical Brothers, working on the next album and getting back to their roots as DJs. Such was the anticipation for their deck skills, though, that every DJ appearance – from the Heavenly Social's third birthday party to Glastonbury – became an event in itself. Apart from remixes of Mercury Rev and the original Dust Brothers, their only release of the year was "Brothers Gonna Work It Out," released on their own Freestyle Dust subsidiary of Virgin.

A mix album that mashed up their own tracks and DJing favorites into a full throttle, manic frenzy. It was voted Compilation Of The Year by most music magazines. More bizarrely, "Block Rockin' Beats" netted a prestigious Grammy Award for Best Rock Instrumental. The Chemical Brothers were not aware they made rock instrumentals, but they accepted it anyway. "Dig Your Own Hole" went on to achieve gold status in the USA, selling 500,000 there and more than two million worldwide.
Hit songs include --
Do It Again
It Began in Afrika
Star Guitar
Galvanize
Hey Boy Hey Girl
Come With Us
Block Rockin' Beats
The Boxer
Let Forever Be
Get Yourself High
Life Is Sweet
Out of Control
Elektrobank
Setting Sun
Believe
Other notable songs include --
Chemical Beats
Music: Response
Song to the Siren
The Chemical Brothers may be available for your next special event.
For booking information, click HERE!
---
To book The Chemical Brothers for your special event,
contact Richard De La Font Agency, Inc.
For faster service, this is required - click on this link: https://www.delafont.com/contactselect.htm