PRINTER FRIENDLY PAGE. To view this group's HOME page, click or visit: https://www.delafont.com/music_acts/Chicago.htm **

Booking Chicago the band - Jazz-Rock, Pop, Pop/Rock, Soft Rock, Adult Contemporary - © Richard De La Font Agency, Inc. - For serious booking requests only, click here: For More Information

Many who know call Chicago the most successful American rock band of all time. The group came together on February 15, 1967, in the Windy City – from which it eventually would take its name.

The band members were looking to put together a rock group with a fully integrated horn section. The original group consisted of Walter Parazaider on saxophone and woodwinds, Lee Loughnane on trumpet, Terry Kath on guitar and vocals, Danny Seraphine on drums, James Pankow on trombone, and Robert Lamm on organ and vocals. In December 1967, bassist/vocalist Peter Cetera joined from rival band, the Exceptions.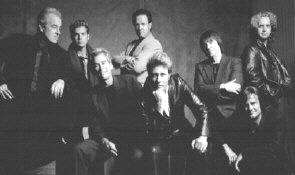 Chicago's first self-titled album sold more than two million copies and spawned four chart singles, beginning a string of massive hits that lasted to the end of the decade, with each album cover sporting a variation on the Chicago logo and a sequential title with a roman numeral: Chicago II, Chicago III, etc. Chicago's music was a combination of many varying styles, from hard rock to light pop, and often included elements of jazz and classical.
Following Cetera's gold-selling #1 hit in 1976, "If You Leave Me Now," the group became more identified with romantic ballads than anything else. Chicago went into decline after a split with Guercio in 1977 and the accidental death of Kath in 1978, but it quickly rebounded in 1982 with "Hard to Say I'm Sorry" and the million-selling "Chicago 16," and was able to sustain its renewed popularity despite Cetera's departure for a solo career in 1985.
Hit songs include --
Beginnings
Call On Me
Hard To Say I'm Sorry
Here In My Heart
If You Leave Me Now
Look Away
Wishing You Were Here
You're The Inspiration
Another Rainy Day In New York City
What Kind of Man Would I Be?
Will You Still Love Me?
Hard Habit To Break
I Don't Wanna Live Without Your Love
Old Days
Saturday In The Park
Baby, What A Big Surprise
Ballet For A Girl in Buchannon: 25 or 6 to 4
Just You 'N' Me
Does Anybody Really Know What Time It Is?
No Tell Lover
Chicago may be available for your next special event.
For booking information, click HERE!
---
To book Chicago the band for your special event,
contact Richard De La Font Agency, Inc.
For faster service, do this first - click on this link: https://www.delafont.com/contactselect.htm