PRINTER FRIENDLY PAGE. To view this artist's HOME page, click or visit: https://www.delafont.com/music_acts/chris-isaak.htm **

Booking Chris Isaak - book Rock Music Artists - College Rock, Pop/Rock, Roots Rock - © Richard De La Font Agency, Inc. - For serious booking requests only, click here: For More Information

Chris Isaak is a crooner in the Roy Orbison mould who had been active on the music scene a long time before he broke through in the late '80s. The son of a forklift truck driver, Isaak spent time participating in an exchange program at a university which led him to study in Japan. He also worked as a tour guide for a film studio and held teenage boxing ambitions, ultimately leading to his distinctive flattened nose.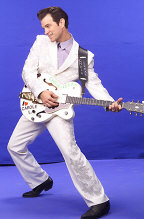 After graduating with a degree in English and Communication Arts, he put together his first band, Silvertone. This rockabilly outfit, comprising James Calvin Wilsey (guitar), Rowland Salley (bass) and Kenney Dale Johnson (drums), remained with Isaak as his permanent backing band.
After acquiring a contract with Warner Brothers Records in 1985, Chris Isaak and the band moved through three years and two albums with little success, apart from "Blue Hotel," which was a hit in France. The debut "Silvertone" was raw and diverse, with country blues mingling with conventional folk ballads. The self-titled follow-up saw him hone his style to sophisticated R&B. Throughout he was backed by the excellent moody guitar of Wilsey, whose mimicry of '50s styles is impeccable.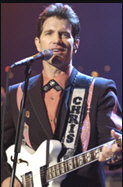 Isaak's 1989 album, "Heart Shaped World," began selling strongly out of the gate and eventually achieved double-platinum status.
After working with David Lynch on the movie "Wild At Heart," he had a major hit in December 1990 with "Wicked Game" (US number 6/UK number 10), while a re-released "Blue Hotel" also charted at UK number 17 in February 1991.
Another superb single, April 1993's "Can't Do A Thing (To Stop Me)," failed to recreate the success of his earlier hits. In a music scene frequently dominated by synthesized, frantic pop, his simple approach has proved refreshing: "I just respond to music where the singer and melody are right up in the mix, whereas in most modern stuff the drum is usually the loudest thing."
Though Chris Isaak has yet to match the commercial success of "Wicked Game" and "Heart Shaped World," he has maintained a sizeable fan base. Both his 1993 album "San Francisco Days" and 1995's "Forever Blue" achieved gold sales. The single "Somebody's Crying," among others, was a minor radio and video hit. In 1996, Isaak released "The Baja Sessions."
His acting career has had a parallel path to his singing career with cameo roles in "Married To The Mob" and "Silence Of The Lambs," and a headlining role in "Little Buddha." Isaak also starred in his own critically-acclaimed cable television Showtime series "The Chris Isaak Show," which was launched in March 2001.
Hit songs include --
Wicked Game
Can't Do A Thing (To Stop Me)
Don't Make Me Dream About You
Santa Claus Is Coming To Town
Somebody's Crying
Baby Did A Bad Bad Thing
Go Walking Down There
Chris Isaak may be available for your next special event.
For booking information, click HERE!
---
To book Chris Isaak for your special event,
contact Richard De La Font Agency, Inc.
For faster service, this is required - click on this link: https://www.delafont.com/contactselect.htm