PRINTER FRIENDLY PAGE. To view this group's HOME page, click or visit: https://www.delafont.com/music_acts/coldplay.htm **

Booking Coldplay - book Alternative Rock Music Artists - Adult Alternative Pop/Rock, Alternative Pop/Rock, Britpop - © Richard De La Font Agency, Inc. - For serious booking requests only, click here: For More Information

This is a story about ambition. About four people who formed a band not to become famous or provide fresh soundtracks for TV ads, but because Coldplay wanted to write great songs, to make music with real honesty and passion. "We were trying to say that there is an alternative," says singer Chris Martin. "That you can try to be catchy without being slick, poppy without being pop, and you can be uplifting without being pompous. Because we're sometimes playing quieter stuff, it's hard to sound like we're trying to change things, but we wanted to be a reaction against soulless rubbish."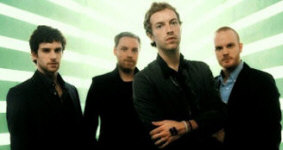 It seems quite a few of us were ready for this alternative. Coldplay's debut album, "Parachutes," was a collection of direct, soulful, utterly beautiful songs stripped right back to expose the raw emotion underneath. Showing that you don't always have to shout to be heard, it has sold nearly five million copies worldwide, winning a clutch of NME and Q awards, two Brits in 2001 and the Grammy award for Best Alternative Album in 2002. Almost overnight, the band moved from playing small pubs to T In The Park in Glasgow, The Big Day Out in Australia and a headlining US tour. "It was nerve-wracking, quite surreal," laughs Jonny. "But also the biggest high ever."

Chris Martin grew up in Devon, Will Champion in Southampton, Guy Berryman in Scotland and later Kent, Jonny Buckland in North Wales. They met in the mid-90s during their first week as students at University College London, and quickly became friends. Chris began writing songs with Jonny. Guy liked what he heard, and joined in on bass. Will was so keen to be part of it that he moved from guitar to drums. All four shared a passion for music, and a quiet determination to be as good as they possibly could be. They rehearsed almost every night: "We used to play in bathrooms, the basement, even in the park," laughs Chris. "Anywhere we could find to play."

"We were determined to do it, from the start," adds Jonny. "And from the moment I met Chris I really did think that we could go all the way. Do something."

They recorded a four-track EP and pressed 500 copies, which got them a gig at the In The City music festival in Manchester in 1998. Their set brought them to the attention of Simon Williams, who signed them to his Fierce Panda label for one single, "Brothers And Sisters," which in turn led to their deal with Parlophone. Although they signed to a major, Coldplay's attitude remains fiercely independent. They like to have control. They co-produced both of their albums, and are closely involved in everything from videos to artwork (they even took the photograph on the cover of "Parachutes" themselves). Despite numerous requests, no Coldplay track has ever been used in an advertisement, and so far they haven't allowed any of their songs to be used on film soundtracks.

"It's been all on our own terms," says Will. "We have 100 per cent control over any aspect of whatever we do, and that's really important to who we are and the music we make. We take control of the recording, the videos, the artwork. We're not a band that can be pushed around, although we do have some amazing advisors."

Their second album, "A Rush of Blood to the Head," was rather later than expected because of that control. They used the same team as "Parachutes": Ken Nelson co-produced and mixed with the band, and Mark Phythain handled the computers. They started work in October 2001, and by Christmas the recording was finished. Everyone was happy - except the band. "There was a feeling it was almost going too smoothly," recalls Jonny. " We were pleased with it, but then we took a step back and realized that it wasn't right. It would have been easy to say we'd done enough, to release an album to keep up the momentum, but we didn't. And I'm glad because now we have something we'll be happy to tour with for two years."

"I think we day-jobbed it a bit," agrees Chris. "It was good, but not good enough. So we went back to Liverpool, to the tiny studio where we did a lot of the last album. Just the four of us, and Ken and Mark, a little gang. Songs like "Daylight," "The Whisper" and "The Scientist" splurged out over two weeks, and we recorded them very quickly. We just felt completely inspired, and felt we could do anything we liked. We didn't have to do the acoustic thing, we didn't have to do a loud rock thing, we didn't have to react against anything. We started seeing a lot of Ian McCulloch, and he was saying, 'Try this, try that.' Brilliant!"
For their third studio album, "X&Y," it took a marathon 18 months of work before they were ready for the last minute creative sprint to the finish line. When you are passionate about your music, you do whatever it takes. "We pushed ourselves as hard as we could go," explains guitarist Jonny Buckland. "We needed to feel we had moved on, that we were excited by it, and were not willing to put it out until it was right."

Says Chris. "We might as well make the most of things and live everything utterly with conviction. It's about making the most of this amazing opportunity, because we can't believe we've been given it. That applies to the band and to our lives in general. And it's about girls, of course. Because isn't everything?"
Hit songs include --
Clocks
Talk
Viva La Vida
In My Place
Speed of Sound
Violet Hill
Yellow
The Scientist
Fix You
Moses
Shiver
Trouble
The Hardest Part
Lost!
Coldplay may be available for your next special event.
For booking information, click HERE!
---
To book Coldplay for your special event,
contact Richard De La Font Agency, Inc.
For faster service, this is required first - click on this link: https://www.delafont.com/contactselect.htm