PRINTER FRIENDLY PAGE. To view this artist's HOME page, click or visit: https://www.delafont.com/music_acts/cyndi-lauper.htm **

Booking Cyndi Lauper - book Rock Music Artists - Pop/Rock, New Wave - © Richard De La Font Agency, Inc. - For serious booking requests only, click here: For More Information

Starting her career as a singer in Manhattan's clubs, Cyndi Lauper began writing her own material when she met pianist John Turi in 1977. They formed Blue Angel and released a self-titled album in 1980, which included raucous versions of rock classics as well as their own numbers.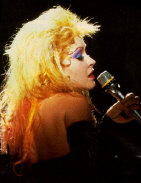 She split with Turi and in 1983 began working on what was to become her multi-million-selling solo debut, "She's So Unusual." It made number 4 in the USA and provided four hit singles – the exuberant "Girls Just Want To Have Fun" (US/UK number 2), which became a cult anthem for independent young women; "Time After Time" (US number 1/UK number 3, later covered by Miles Davis on "You're Under Arrest" and by the jazz duo Tuck And Patti), "She Bop" (US number 3, which broached the unusual subject of female masturbation) and "All Through The Night" (US number 4, written by Jules Shear). The album also featured Prince's "When You Were Mine."
At the end of 1984 Billboard magazine placed Cyndi Lauper first in the Top Female Album Artists and she was awarded a Grammy as Best New Artist. Her image was one that adapted for the American market, something of a colorful "punk" image that would not offend parents too much but at the same time retain a sense of humor and rebelliousness that would appeal to the youth.
Pundits in the UK claimed to have seen through this straight away, yet they acknowledged Lauper's talent nonetheless. "True Colors" did not have the same commercial edge as its predecessor, yet the title track still provided her with an US number 1 and a Top 20 hit in the UK. The follow-up, "Change Of Heart" (written by Essra Mohawk and featuring The Bangles), reached US number 3 in November 1986.
In 1988, Cyndi Lauper took a role as a beautician in the film, "Vibes." She made a brief return to the charts in 1990 with the US/UK Top 10 single "I Drove All Night" from "A Night To Remember." Another film appearance in "Off And Running" was not seen in the UK until two years later.
Seen in some quarters as little more than a visual and vocal oddity, Cyndi Lauper has nevertheless written several magnificent pop tunes ("Time After Time" is destined to become a classic) and, in 1985, boosted her credibility as a singer when she performed a stirring duet with Patti LaBelle at LaBelle's show at the Greek Theater in Los Angeles.
Lauper was joined by her former writing partners Ron Hyman and Eric Bazilian for "Hat Full Of Stars," a successful mix of soul/pop/hip-hop with a smattering of ethnic/folk. A reworked version of her biggest hit, retitled "Hey Now (Girls Just Want To Have Fun)," reached number 4 in the UK charts in September 1994. In 1998, she recorded the seasonal album "Merry Christmas, Have A Nice Life," her final release for Sony Records.
Hit songs include --
Girls Just Want To Have Fun
Time After Time
Change of Heart
All Through The Night
True Colors
I Drove All Night
What's Going On
Disco Inferno
Goonies 'R' Good Enough
She Bop
Walk On By
Come On Home
That's What I Think
You Don't Know
Money Changes Everything
Ballad of Cleo & Joe
Hole In My Heart (All The Way To China)
My First Night Without You
Boy Blue
Cyndi Lauper may be available for your next special event.
For booking information, click HERE!
---
To book Cyndi Lauper for your special event,
contact Richard De La Font Agency, Inc.
For faster service, do this first - click on this link: https://www.delafont.com/contactselect.htm