PRINTER FRIENDLY PAGE. To view this artist's HOME page, click or visit: https://www.delafont.com/music_acts/daniel-rodriguez.htm **

Booking Daniel Rodriguez - Vocal Music Artists - Classical, Tenor - © Richard De La Font Agency, Inc. - For serious booking requests only, click here: For More Information

"America's Tenor"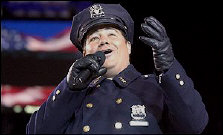 As it did for all Americans, history intervened for Daniel Rodriguez on September 11, 2001. Like his colleagues, the seven-year veteran of the New York Police Department stepped up in the aftermath of the terrorist attacks on America, going above and beyond the call of duty to help restore a sense of stability and community.
But Daniel Rodriguez had something unique to offer in this difficult time – the magical effect of his remarkable tenor voice. In a matter of days, his stirring a cappella performances of "God Bless America" and the National Anthem seemed to be something far greater than graceful patriotic gestures. Ringing, heartfelt and beautiful, these songs became transcendent statements of solidarity, determination and hope that galvanized his fellow New Yorkers and fellow Americans. Daniel Rodriguez became "America's tenor."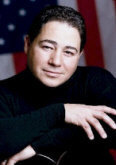 Inspired by the voice of the legendary tenor, Mario Lanza, the Brooklyn native earlier had captured the imagination of the public when former New York City Mayor Rudolph W. Giuliani introduced him at a New York Yankees game, where he captivated the crowd with his rendition of the National Anthem. The wave of acclaim that greeted his appearances after 9/11 only confirmed that first impression.
In the fall of 2001, Daniel Rodriguez signed a recording contract with Manhattan Records, a division of Capitol Jazz & Classics. The tenor makes his album debut February 12, 2002 with the release of "The Spirit of America," produced by Tom Scott. This follows on the heels of his first single "God Bless America" (with a spoken introduction by former New York City Mayor Giuliani) and a new song, "We Will Go On." The single was released on December 11, 2001 on the three-month anniversary of the terrorist attacks on the World Trade Center and the Pentagon, with proceeds from its sales going to the Twin Towers Fund. Both songs are included on "The Spirit of America."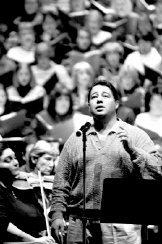 Daniel Rodriguez has stirred television audiences with appearances on "The Today Show," "Live with Regis & Kelly," "Good Morning America," "Larry King Live," "Late Show With David Letterman," "The World Series," and ABC TV's "New Year's Eve 2002 with Peter Jennings" as well as performances on CNN and at the Macy's Thanksgiving Day Parade and the Christmas Tree Lighting Ceremony at Rockefeller Center. Rodriguez also won the admiration of operatic superstar Plácido Domingo, who invited Rodriguez to study with him at the Washington Opera Company for three months beginning in March 2002.
Daniel Rodriguez has been a serious student of singing since he was ten, but "The Spirit of America," produced by the renowned composer/producer Tom Scott, showcases his unique ability to touch his listeners.
"I'm living my life-long dream," says Rodriguez, who continued to pursue his singing career even after taking on a "day job" as a police officer at the Manhattan South Precinct. "I'm singing songs that are both meaningful to me and that inspire others. The album is a compilation of what my life has been about – a bit of the conqueror as well as the conquered, and a lot of faith. The songs reflect my own hills and valleys."
Rodriguez and Tom Scott met last fall, when the tenor was slated to sing on the second rescheduling of the Emmy Awards telecast, which was postponed when the U.S. began its war on terrorism in Afghanistan. Scott, the program's musical director, remembers his first encounter with Rodriguez's vocal prowess. "I was told at first that the Emmy's producer, Don Mischer, was conducting a search among New York singers for a suitable finale guest. When he finally announced that it was to be the Singing Policeman, I replied, 'I heard him sing on HBO at Madison Square Garden for a fight – he's really great!' Don was surprised that I knew who he was talking about – most of his notoriety at the time was in the New York area. So, the next week I arranged for him to sing "America the Beautiful" with a 300-member choir. We rehearsed over fiber optic lines, Daniel in New York and us in Los Angeles, and we were all impressed by how professional he was, especially how he hung on to that final note."
Unfortunately, a few hours later, the show was cancelled and a dejected Scott retreated to his mountain cabin two hours north of Los Angeles. "The next morning the idea came to me like a bolt out of the blue," he recalls. "Tom, you're going to be the guy to produce the Singing Policeman." Scott contacted Rodriguez, started a dialogue and soon thereafter signed with Manhattan Records, a division of Capitol Jazz & Classics. "I've worked with plenty of singers before, but Daniel is by far the most compassionate, the most down-home," Scott says. "He's a good-hearted and funny guy, and a major talent. He has an amazing gift to give to the world. Daniel brings such a powerful voice to all the songs on the album. He has a very successful career ahead of him."
As for Rodriguez, he is pleased to have been in the right place at the right time. "This is an amazing turn of events for me," he says. "It's a dream come true. Singing is my passion... having been blessed with this gift of music, it is my heartfelt desire to, in turn, bless others with it as well." Rodriguez discovered singing when he was a student at Dewey Junior High School in Brooklyn. Like Plácido Domingo, he was trained initially as a baritone, and even sang at Carnegie Hall's Weill Recital Hall as a baritone when he was only 17. But his hero was Mario Lanza. "When I saw the movie The Great Caruso starring Lanza, I was immediately taken by his voice," Rodriguez remembers. "To me, he epitomized the tenor. I wanted to be like him. I listened to the nuances of his voice and emulated his vocal technique and eventually incorporated some of that into my own style of singing."
Daniel Rodriguez reached a personal crossroads when he turned 30, and, like many promising singers, needed an income to support his dream. Daniel decided to become a member of the New York Police Department. His vocal talent immediately impressed his superiors. When he and his police academy classmates graduated in March 1996, he was asked to sing the National Anthem at the ceremony in front of two thousand policemen in Madison Square Garden. In addition to his other duties (as a beat patrolman, then later as a police security officer at the Manhattan South precinct), Rodriguez became one of the official singers for the NYPD, performing at departmental retirement parties, groundbreakings and other events, as well as public events, such as singing the National Anthem at a New York Jets-New York Giants football game. Daniel performed at the 2002 Olympics on February 8th in Salt Lake and performed at the White House on March 4th for President Bush.
What others say --
Plácido Domingo
"Life can be wonderful, especially when it bestows a natural talent on an individual and also endows that person with the perseverance to see a dream come true. Daniel Rodriguez was born with a beautiful tenor voice. His success is a source of great joy to me because he truly deserves it."

Composer/Producer Tom Scott
"He's a good-hearted and funny guy, and a major talent. He has an amazing gift to give to the world. Daniel brings such a powerful voice to all the songs on the album. He has a very successful career ahead of him."
Hit songs include --
Daniel Rodriguez may be available for your next special event.
For booking information, click HERE!
---
To book Daniel Rodriguez for your special event,
contact Richard De La Font Agency, Inc.
For faster service, do this first - click on this link: https://www.delafont.com/contactselect.htm